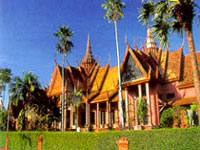 Phnom Penh Shopping
The most popular destination for visiting shoppers is undoubtedly Russian Market, a square block of covered stalls between Streets 440 and 450. There is an interesting mix of paraphernalia, pirated gear and religious icons on offer but you must be prepared to bargain hard. Central Market is an art deco city landmark and a good place to buy silk and fabrics, as well a range of souvenirs.
Another good location for traditional fabrics is Mekong Arts on Street 178. To find essentials and grocery items try Lucky Market which is where the city''s expats do their weekly shopping. For a Cambodian version of the modern mall experience head to Sorya Shopping Centre, just south of the Central Market. For art galleries and boutiques offering a more high-end selection of goods than the markets, head for Street 240.
When shopping in Phnom Penh remember that cash is king, and both dollars and riel are accepted. Don''t try to use credit cards or travellers cheques. And of course, bargaining is expected and essential.