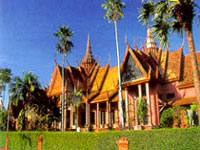 Things to do in Phnom Penh
Phnom Penh is a good example of a two-day city, where there is plenty of see and experience in a short time but little to keep one longer. The Royal Palace and National Museum are worth a morning, to get a sense of the country''s rich heritage, then as a counterpoint, visit the Tuol Sleng Museum and Killing Fields to understand the terrible atrocities suffered by the Khmer people during Pol Pot''s reign of terror. In a lighter vein, enjoy the lively shopping scene in Central and Russian Markets while taking time to watch the sunset on the river at the Foreign Press Club''s balcony bar.
Getting around between sights can be a hassle. It''s not a bad idea to engage a taxi driver for the day, or for the more adventurous, rely on the services of moto-taxi where you sit on the back of a moped. Walking is an interesting option, but best avoided during the heat of the day and at night. Grab a free copy of the quarterly as it contains a useful map and good summaries of major attractions.