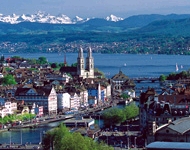 Zurich Overview
While browsing in the elegant boutiques along Zurich's Bahnhofstrasse, one of the most beautiful shopping areas in Europe, you'll notice that the streets may not be paved with gold, but you can be certain that a couple of metres below, unimaginable treasures are lying in underground vaults.
Zurich is the world's banking capital, but as well as being a city of fat cats parading in pin-stripes, glued to their mobile phones and swinging patent leather briefcases, you'll also discover that this is the city that gave birth to the avant-garde Dadaist movement, and where James Joyce wrote . The city's Museum of Fine Arts houses one of Europe's most extensive collections, from 15th century religious iconography to the modern art works of Dali, Arp, Hockney, Cezanne, Monet, Gaugin, Munch and Picasso.
Visitors can spend days exploring Zurich's cobbled streets, wandering through its museums, exploring its flea markets or walking away with free gifts from its chocolate factories. The quays, with their promenades, are made for walking, especially along the shores of the lake. Zurich also boasts an active café culture that's ideal for people-watching, and a lively, multi-ethnic population to rival any other major European city. The exacting order of the Swiss, with their passion for neatness and precision, may create an impression of rather a prim and staid society, but visitors will discover quite the opposite when exploring Zurich's nightlife. With more bars, clubs and restaurants than you can shake a stick at, as well as a calendar packed full of street parades and festivals, a holiday in Zurich can exhaust even the most energetic party animal.