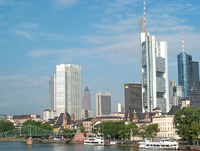 Frankfurt Kids Attractions
Although parents would never bring children to Frankfurt for a holiday, there are plenty of worthy attractions for kids to enjoy. Parks and gardens are ideal in the summer months allowing children the space to let off some steam, while in winter or rainy weather there are plenty of child-friendly museums and exhibitions. Here are some ideas for entertaining the kids on a short visit to Frankfurt:
| | |
| --- | --- |
| | The Frankfurt Zoo, located in Ostend, was nearly totally destroyed in World War II, with only 20 animals surviving. It was rebuilt in the early 1950s and since then has grown to include several... |
| | This spectacular garden in Frankfurt was opened to the public in 1871 and features 50 acres (20 hectares) of flora from rain forest and mangrove, to savannah and thorn forest vegetation. During... |
| | The Children's Museum of Frankfurt gives provides an interactive and exciting glimpse of what life is like under the streets of Frankfurt. Exhibitions take in the various geology, biology... |
| | One of the biggest natural history museums in Germany and a UNESCO World Heritage Site, the Senckenberg Museum of Natural History in Frankfurt features exhibits of recent biodiversity of life and... |
| | The Struwwelpeter Museum features memorabilia of the children's books, Struwwelpeter (' ), which were written and illustrated in the early 19th century by Dr. Heinrich Hoffman. These tales reflect... |
| | A visit to the Rebstock pool on a hot summer's day in Frankfurt is a must for children of all ages. It features a huge 394-foot (120m) water slide, wave pool, hot tubs, saunas and even an... |
Travel guide by (c) Globe Media Ltd. By its very nature much of the information in this travel guide is subject to change at short notice and travellers are urged to verify information on which they're relying with the relevant authorities. We cannot accept any responsibility for any loss or inconvenience to any person as a result of information contained above.