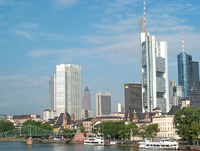 Frankfurt Overview
Visitors to Germany do not find much to make them linger in the sprawling city of Frankfurt on the River Main, unless their purpose is business rather than pleasure. For most visitors to the country, however, Frankfurt's huge showpiece airport is the point of arrival and departure. The city is a major transport hub and an industrial and financial metropolis that ensures it is the economic powerhouse not only of Germany, but central Europe. Frankfurt is home to Germany's central bank, the Bundesbank and Europe's most important stock exchange, which has been trading since 1585.
For tourists Frankfurt does offer some sights, some intriguing restaurants in the Nordend, a variety of artistic and cultural events, and excellent shopping opportunities. Sightseeing opportunities are mostly confined to the historical core of the city, known as the Romerberg, where Charlemagne erected his fort in medieval times. Most of the original buildings were destroyed during World War II, but some have been reconstructed, including the home of Goethe, Frankfurt's famous son who became Germany's greatest writer. For shopping it is hard to beat the Zeil, Germany's equivalent to New York's Fifth Avenue.
With its excellent rail connections and Autobahn system, Frankfurt is the natural hub for travellers wishing to explore the surrounding towns and countryside. It is also the venue for numerous trade fairs, exhibitions and congresses, drawing about 12-million visitors a year to these events. The largest and best known is the annual International Book Fair, which is attended by thousands of publishers.