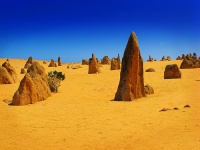 Perth Nightlife
With a plethora of trendy bars, banging clubs, luxurious lounges and chilled out pubs, there''s enough nightlife to keep any party animal''s cravings satisfied while on holiday in Perth.
Most of the main nightclubs are situated round the Northbridge, Subiaco and Fremantle areas and are more popular with an older, more sophisticated crowd. Sip on cocktails at stylish venues like Base on Lake Street, while the Moon and Sixpence British Pub on Murray Street is a popular hangout providing local and international beers on tap.
Club Bay View is a popular hangout for 20-somethings on Thursday nights. It doesn''t usually get going until around 11pm, so it''s worth grabbing some pre-drinks to warm up before hitting the club. After pre-drinks, head to the multi-level dance club the Metropolis Fremantle where house and classic pop music keeps the party going until the wee hours.
There is a huge indie rock scene in Perth and plenty of live music venues cater to the live gigs and shows that are permanently on offer. The Universal Bar and Mojo''s Bar are the places to go to enjoy the best of Perth''s local talent.