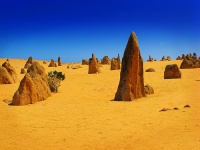 Perth Shopping
Shopping in Perth may not rival that of Sydney''s but it still has plenty to enrapture any retail addict with a wide range of retail stores, boutiques, specialty shops and local markets.
Start off at Perth''s pedestrianised High Street or St John''s Shopping Centre where most local chain stores and a few other independent stores can be found, while the Murray and Hay street malls offer a large range of specialty stores.
The best markets in Perth are located on King Edward Street, where the Continental Market will tantalise your senses with the smells of tasty dishes cooking away, fruit and vegetables, cheese, wine and even the distinctive smell of the leather goods. The craft market is the place to find anything and everything from soaps and glassware to chocolates and wines while the Art on the River Market on Tay Street is where local artists display their works.
Best buys in Perth include boomerangs and local sheepskin products including warm and comfortable ''Ugg Boots'', sheepskin jackets and slippers. If you feel like spending a bit more, there''s plenty of local jewellery produced from gold nuggets, Argyle diamonds, Australian opals and Broome pearls.
Duty and tax free shopping is available throughout Perth where travellers can buy cameras, watches, clothing, sunglasses and fragrances but visitors will have to have a valid plane ticket to a destination outside of Australia when visiting the local Duty Free stores. Tourists can also make use of the Tourist Refund Scheme to purchase goods tax free before their departure.