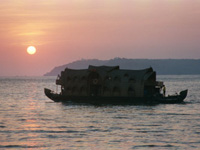 Goa Shopping
There''s great shopping to be done in Goa, with the most popular shopping spots being in Panaji and Anjuna. The quintessential Goan souvenirs are azulejos - Portuguese-style tiles and ceramics that have been beautifully hand-painted (available at Velha Goa Galleria in Panaji).
The Anjuna Wednesday market has everything from trendy rave gear to comfy hammocks; while semi-precious stones, paintings and local crafts are available from the Ingoe and Mackie night bazaars. The Mapusa Friday Market is good for freshly-baked Goan breads, homemade pork sausages and an assortment of pickles.
In Calangute, the Casa Goa boutique offers local designer wear, artwork and silk drapes, and tribal art is available from the nearby Leela Art Palace. Visit Sangolda for rattan loungers and Rajasthani chests, and there are stunning lamp shades available at Soto Décor.