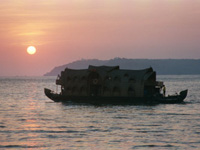 Goa Overview
This small state, halfway down India's west coast, was a Portuguese colony until 1961. This goes some way to explaining the alternative atmosphere here. Cut off from British India by a wall of mountains and vast alluvial plains, for many years, Goa relied on trade with a declining Portuguese Empire. However, what was lost in terms of British trade, was more than made up for in terms of Portuguese attitude - to this day, Goa retains a distinctly laid-back and relaxed feel.
Goa was discovered by travellers in the late 1960s, who were relieved to have found somewhere away from the mainstream, and where holidaying meant simply hanging out, doing some recreational drugs and partying on the beach (particularly during full moon). The state quickly grew a reputation for its hedonism and liberal attitude - not to mention its hot sun, that sets in splendour every evening over the Arabian Sea. In recent years, though it still hosts epic trance music festivals (such as Sunburn), the authorities of Goa have tried to discourage hippies and budget backpackers from swamping the area, angling rather for clientele with fatter wallets - with the nett result that Goa is slowly losing its reputation as India's 'party central'.
Now with a quick rail link to Mumbai and charter flights from the UK, thousands of tourists flock here each winter to relax and enjoy the famous Goan cuisine - which largely consists of fish and seafood, prepared in exotic Indian spices. Many hotels and resorts have popped up over the last few years to cater for this ever-popular destination, but with more than 25 miles (40km) of beautiful sandy beaches, there is still plenty of tranquillity to be found.