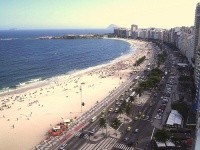 Rio De Janeiro Kids Attractions
Cariocas (locals) in Rio are remarkably kid-friendly, with children welcome almost anywhere. Kids on holiday in Rio de Janeiro will love spending time in the sun and surf of the beaches, building sand castles and devouring mounds of ice-cream. Leblon Beach has Baixo Baby, a play area with a vast selection of kids toys. The streets lining the waterfront host entertaining jugglers, magicians, stilt-walkers and fire-eaters, and there are toy cars to rent, so there''s always something for children to do in Rio.
There are many places for kids to enjoy the natural wonders of Rio, including the massive Tijuca Forest, which contains Corcovado Mountain with the famous Christ the Redeemer statue, Cascatinha Waterfall, and the giant granite picnic table called the ''Mesa do Imperador''. The forest is immense and best attempted with a guide. Smaller children will tire long before all the sights are seen.
The Parque do Catete, a small, manicured park in the Palácio do Catete, offers a shady refuge from the heat, with ponds, stroller-friendly walkways, music and theatre performances, and even a kind of toy loan service that charges by the hour.
The Rio City Zoo offers a close view of local wildlife, with over 2,000 species to see, most of them native to Brazil. It has an open walk-through aviary, reptile house and primate displays. It''s open Tuesday to Sunday and charges a small admission fee.
Rio also has a number of child-friendly museums, including the Museu do Indio (Indian Museum), where children can use stamps and body paint to decorate themselves as native warriors. The National Museum has mummies, zoological displays, historical artefacts, and a 5 tonne meteorite. The Museu do Universo (Museum of the Universe) has models and experiments for kids to discover how the physics and astronomy. Many museums offer free entry for kids under seven.