Aug. 31st, 2011
Family Friendly Sonoma County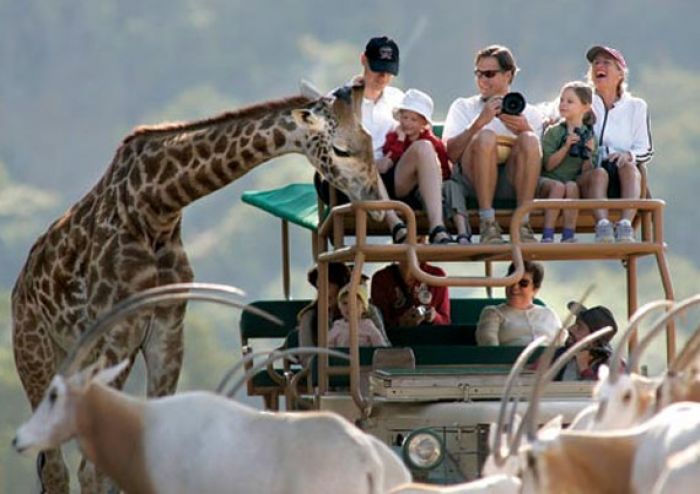 Wine touring isn't just for grownups anymore. At least it's not in
Sonoma County
, where familystyle is always "in." So pack a picnic and bring everyone along. Rent a bike to see the sights, stroll around the quaint towns on foot, or head to the countryside for horseback riding, fishing, kayaking, or a hot air balloon ride.
Many of the wineries are family-owned and they understand what it takes to make your tasting room visit enjoyable for everyone who piles out of your SUV. And they'll introduce you to a new family pastime: touring and tasting in beautiful, bountiful Sonoma County.

FUN FAMILY THINGS TO DO


With more than 1,768 square miles of land and water, Sonoma County offers plenty of opportunities to get close to nature. Be sure to visit a farm or two. You can learn more about the county's variety of farms in eight different regions by simply downloading a Sonoma County Farm Trails Map & Guide (farmtrails.org). Benziger Family Winery has an engaging garden with a small bird zoo and a playground. Quivira Vineyards & Winery has an organic garden with chickens, goats, and pigs.

Beyond farm animals, you can even visit a fascinating 400-acre wildlife park, Safari West Wildlife Preserve, to see exotic wildlife—from addax to zebras—while riding in an authentic safari vehicle. Bumper boats and miniature race cars are the vehicles of choice at Scandia Family Fun Center just west of Kenwood. And Train Town in Sonoma boasts the most well-developed miniature scale railroad in the country. Plus, you can ride it through 10 acres highlighted by a tiny town!

AMAZING MUSEUMS


Sonoma County offers a great assortment of fun museums, including the Charles M. Schulz Museum with great permanent displays, programs, presentations, and a 100-seat movie theatre. Cline Cellars is the site of the California Mission Museum, showcasing handcrafted models of all 21 California missions made for the 1939 World's Fair.




The newly renovated Francis Ford Coppola Winery deserves the good part of an entire day, with two restaurants, swimming pools, a movie gallery, a performing arts pavilion, and a park area with game tables and bocce ball courts.

TOUTED TOURS


There are plenty of fun tours at wineries throughout Sonoma County, designed to entertain the entire family. Bella Vineyards has an energizing 1? hour tour in the winery's Pinzgauer, a vintage Swiss Army vehicle, to the top of its Lily Hill vineyard for a 360 degree view of Dry Creek Valley. Benziger Family Winery boasts a Biodynamic Vineyard Tram Tour for a close-up look at the vineyards, fermentation facility, crush pad, and barrel caves. And, if you plan in advance, Roche Winery & Vineyard will take you on a 90-minute vineyard tour on horseback.

When you need to stretch your legs, several wineries around the county offer great selfguided vineyard walks geared for the whole family. In Santa Rosa, stop at Balletto Vineyards, Matanzas Creek Winery, or Paradise Ridge Winery. In Dry Creek Valley, visit Mauritson Family Winery. Just ask for a map in the tasting room and follow the signs. In Sonoma, Bartholomew Park Winery offers a longer trek with three miles of marked hiking trails lined with indigenous California vegetation.

PALATES AND PALLETS


Sometimes, the simple pleasures are all a happy family needs. Picture yourself thoughtfully sampling a distinctive Sonoma offering at a winery's tasting bar while the children play quietly nearby. This fantasy is a reality at Arrowood Vineyards and Winery (there's a toy chest in the tasting room), Landmark Vineyards (the gift shop has John Deere toys), and Larson Family Winery (there are drawing tables out back).

Not only is family touring and tasting possible in Sonoma County, it is warmly encouraged. It's a wonderful way to spend quality time with the ones you love most—savoring the bounty and beauty of this very special part of the world.



PICNIC SPOTS

GEYSERVILLE
Clos Du Bois
Geyser Peak Winery

HEALDSBURG
Hop Kiln Winery
Kokomo Winery

SANTA ROSA
St. Francis Winery & Vineyards

KENWOOD
Chateau St. Jean
Viansa Winery & Marketplace

WINE CAVE TOURS

GEYSERVILLE
Robert Young Estate Winery

DRY CREEK
Bella Vineyards & Caves

SEBASTOPOL
Lynmar Estate

SONOMA
Gloria Ferrer Caves & Vineyards
Schug Carneros Estate Winery

PLACES TO STAY

BODEGA BAY
Bodega Bay Lodge—beachcombing for sand dollars
Inn at the Tides—indoor/outdoor pool

SANTA ROSA
Flamingo Resort Hotel—bike rentals & adventure packages

SONOMA
Inn at Sonoma—fresh baked cookies & bike rentals

DOG FRIENDLY, TOO!

GEYSERVILLE
Sbragia Family Vineyards

HEALDSBURG
Dutcher Crossing Winery
Foppiano Vineyards

SANTA ROSA
DeLoach Vineyards

SONOMA
Jacuzzi Family Vineyards
Gundlach Bundschu
.

San Francisco Map

.
.

Luxury Hotels in San Francisco

.