By Touring & Tasting May. 19th, 2011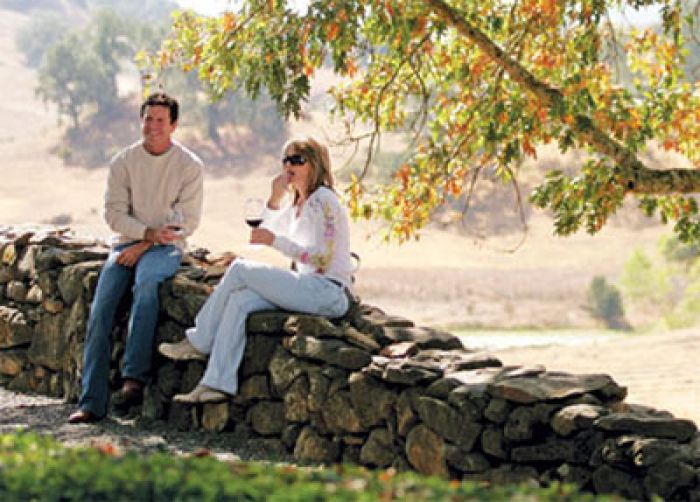 Peaceful
Sonoma County
is a romantic place to unwind. Drive along its beautiful two-lane country roads and discover a rich mosaic of possibilities. For starters, there are vineyards, wineries, parks, hiking trails, galleries and restaurants, along with simple pleasures like rushing rivers, spectacular sunsets and stunning beaches.
You're sure to find plenty of things to do here that will make the two of you even sweeter on each other. Here are 10 of our favorites.

Take a Bicycle Tour from Healdsburg
There's more to see when you cycle, so head for Healdsburg! Rent a bike in the square and take the 27-mile Eastside/Westside loop (a route that runs down one side of the Russian River Valley and up the other). Stop at a boutique winery or two along the way. Rodney Strong Vineyards offers self-guided tours. Or sign up for a Sip and Cycle Tour along the country lanes of Dry Creek Valley. You'll visit three to five wineries and enjoy a delightful picnic lunch along the way. Visit getawayadventures.com/tours/Healdsburg-bicycle-wine-tour or winecountrybikes.com to learn more.


Enjoy a Spa Afternoon at Bodega Bay Lodge
This distinctive spa is a serene coastal sanctuary offering sublime treatments inspired by the sea and vineyards, including warm shell massages and Cabernet grape seed scrubs. Non-hotel guests are welcome to enjoy all of the facilities, so round out your visit with a fitness class and a swim in the heated swimming pool. Go to bodegabaylodge.com for more info.

Do the Safari West's Wild Jungle Love Valentine's Day Tour
Locals love this annual event. It begins with a wine and chocolate reception followed by a safari in an open-air vehicle among some of the world's most exotic creatures. Your safari guide will share all kinds of intimate details of wildlife courtship and mating habits. Then you can go a little wild yourselves on the dance floor. Safariwest.com will provide all the additional information you'll need.


Discover Francis Ford Coppola's Wine Wonderland
Drive north to Geyserville where Francis Ford Coppola Winery has built a pleasure park complete with a performing arts pavilion, movie pavilion, swimming pool with full-service bar, bocce ball courts, and a gourmet restaurant. Francis has long dreamt of creating a place where people of all ages can enjoy the best things in life. Visit franciscoppolawinery.com for more details.

Indulge in Rodney Strong's Annual Wine and Chocolate Fantasy
Each February, on a weekend before Valentine's Day, you can satisfy your chocolate craving while cuddling with your sweetheart in Rodney Strong's massive barrel room. Stroll from station to station featuring magnificent artisan chocolates, chocolate fountains, and odd delights like chocolate popcorn, all paired with Rodney Strong wines. A jazz band, impromptu dancing, and plenty of kisses are guaranteed. Go to rodneystrong.com to see more.


Try a Chocolate Tasting Room
You've gone wine tasting together; now try chocolate tasting! Sample a variety of truffle flavors and solid chocolates made with different percentages of cacao and learn even more about each other's palates. There are two Wine Country Chocolates tasting rooms in Sonoma wine country — one in Glen Ellen and one in Sonoma. Custom truffles using your favorite wine and a Truffle Club enhance the experience. See
winecountrychocolates.com to learn more.

Experience a Sonoma Vineyard Walk Vacation
Here's a great way to tour wine country, stay fit, and learn more about wine together. You'll travel with your own personal guide through private vineyard lands and get a behind-the-scenes view of winemaking in Sonoma wine country. You just choose your dates, one of the tour company's three host hotels, and three vineyards you'd like to visit. The walks can be arranged to satisfy your fitness level and wine IQ, so they suit all sweethearts. Check out sonomavineyardwalks.com for additional information.


Set Sail in a Balloon
Float serenely on the gentle air currents that layer the sky over Sonoma wine country and take in the beauty of it all. You'll have to get up early, because flying conditions are best just after dawn. Don't worry if one of you tends to have motion sickness, because there is no physical sensation of movement. Opt for a tour that includes brunch; sailing in the sky will surely stir your appetite. Balloontours.com can fill you in on the specifics.

Retreat to MacArthur Place
One very romantic retreat in the heart of it all is MacArthur Place, located just a few blocks south of Sonoma Plaza. Originally a 19th century estate, the inn is set on seven acres of serene gardens with benches for couples who want to stop and smell the flowers. Stop into the Library in the evening for some wine and cheese before heading to dinner. If you don't want to go far, head for the historic barn — it's now Saddles, a popular local steakhouse. Go to macarthurplace.com to see more.


Sign up for Sonoma County Grape Camp
Spend three blissful days together learning more about wine with this hands-on culinary adventure. You'll spend time in the vineyards picking grapes, in the winery blending your own wine, and on the banks of the Russian River watching the sunset. Grape Camp gives you both an insider's perspective on what it takes to make wine. You'll learn from renowned Sonoma winemakers who work beside you. And, after a day's work, you can retire to a luxurious inn to enjoy some alone time. Visit sonomagrapecamp.com to see more.
Touring & Tasting
Established in 1995, Touring & Tasting offers an array of compelling marketing opportunities through its biannual, nationally distributed magazine wine club services weekly e-newsletter print newsletter and Website, TouringAndTasting.com. Touring & Tasting's Wine Club delivers an incomparable assortment of premium, hand-selected wines to a broad spectrum of motivated wine consumers. We offe...(Read More)