By Touring & Tasting Jul. 27th, 2011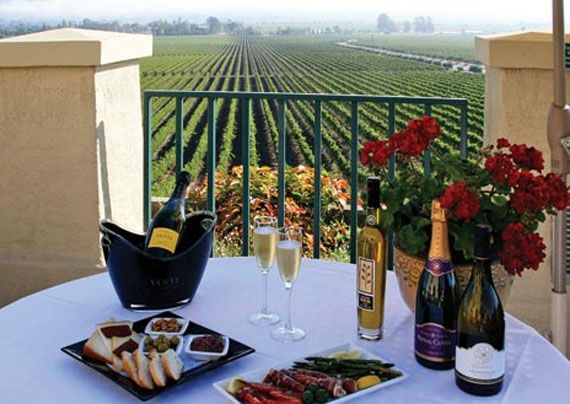 It is more than fitting that Gloria Ferrer Caves & Vineyards lies at the gateway to
Sonoma wine country
. While the wines are pure California, the culture is a charismatic blend of vibrant Spanish tradition and casual Sonoma County elegance, making it an ideal first — as well as last — stop in the wine tourer's itinerary.
It has been 25 years since Gloria Ferrer became the first sparkling wine house in the Carneros region —a winery that is now renowned for the creation of exquisite estate Pinot Noir and Chardonnay wines as well. It's a team effort. Executive Winemaker Bob Iantosca and Vice President of Production Mike Crumly have been working together in Gloria Ferrer's two estate vineyards from the beginning, drawing out the subtleties of the Carneros
terroir.

Their collective vineyard memory is the foundation upon which winemaking at Gloria Ferrer is based. Winemaker Steve Urberg works seamlessly with them both, resulting in a stunning portfolio of sparkling and estate varietal wines.

Visitors are delighted with the breathtaking views of the Carneros winegrowing appellation from the winery's Vista Terrace, which they can savor while they sip Gloria Ferrer wines and sample local and Spanish delicacies. They often comment on the beauty of the winery building, a harmonious marriage of Catalan and California mission design, inspired by the Ferrer family's eleventh century farmhouse in Sant Sadurní d'Anoia, Spain.


The architectural treasure can be further appreciated with a tour, offered three times a day. The tours explain méthode champenoise, and offer tourgoers a special discount on the wines they purchase that day. Weekly wine education seminars are also offered on topics like the versatility of sparkling wines, and pairing sparkling wines with a variety of foods.



Gloria Ferrer hosts many festive, imaginative events throughout the year, including the annual Catalan Festival of Food, Wine, and Music, July 23 and 24, 2011 — a grander-than-grand 25th anniversary celebration.

WHAT TO BUY:

'02 Royal Cuvée Fruit, hint of cream, biscuit, rich lemon, apple, caramel, marzipan $32

'06 Blanc de Blancs Crisp, ripe apple, pear, lemon meringue, vanilla $28

'07 Carneros Pinot Noir Raspberry, plum aromas, pure black cherry, ripe berry $22


CONTACT: Gloria Ferrer Caves & Vineyards
23555 Carneros Hwy
Sonoma, CA 95476
707.996.7256; 707.933.1917
Tasting Room Open Daily 10 a.m.–5 p.m.
GloriaFerrer.com

SPECIAL NOTES: Scenic terrace, public tours available daily, weddings and receptions, educational seminars, wine club discounts and events.
Touring & Tasting
Established in 1995, Touring & Tasting offers an array of compelling marketing opportunities through its biannual, nationally distributed magazine wine club services weekly e-newsletter print newsletter and Website, TouringAndTasting.com. Touring & Tasting's Wine Club delivers an incomparable assortment of premium, hand-selected wines to a broad spectrum of motivated wine consumers. We offe...(Read More)