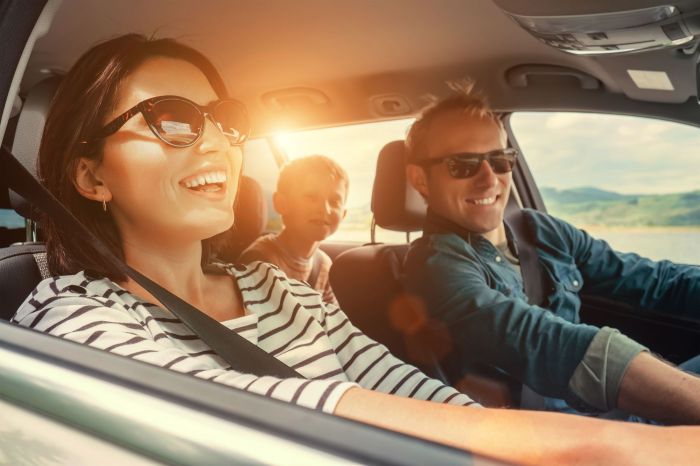 Illinois' extensive freeways and beautiful scenery incentivize families to spend a lot of time on the road. For such trips, family automobiles are in high demand since they're safe, reliable, and spacious. In this blog post, we will examine Illinois' 10 most popular family automobiles based on price, safety, comfort, and fuel efficiency. So, whether you're taking a road trip or just getting about town, these cars are worth considering:
1.Toyota Camry: Families in Illinois have traditionally favored the Toyota Camry. The spacious car provides a smooth and comfortable ride and is renowned for its dependability and fuel efficiency. It is a popular option for families because it has cutting-edge safety features and an outstanding reputation for longevity.
2.Ford Explorer: Ford Explorer is another car loved for versatility and space. Large families and busy people will especially like the car's three-row seating, cargo space, and towing capabilities. The SUV has a number of sophisticated safety features since it places a high focus on safety. These consist of front collision warning with automatic emergency braking, adaptive cruise control, blind-spot monitoring, and lane-keeping assistance.
The Ford Explorer won't let you down if you require a car that can tow your boat, trailer, or other recreational equipment. When correctly equipped, it can pull up to 5,600 pounds, enabling you to expand the scope of your travels.
3.Honda Accord: Another popular pick for families exploring Chicago or another beautiful Illinois city is the Honda Accord. The Accord is a sensible option for both everyday commutes and long-distance travels because of its beautiful exterior, cozy interior, and decent fuel economy. Additionally, it has innovative security features to provide you confidence when driving.
4.Subaru Outback: The Subaru Outback fuses the practicality of a family wagon with the adaptability of a crossover SUV. It is perfect for Illinois' varied terrain because to its large load area, all-wheel drive capability, and high ground clearance. The Outback also has a reputation for dependability and a number of safety features.
5.Hyundai Santa Fe: The Santa Fe is safe and fun to drive because to its large cabin, comfy seats, and updated safety features. It has an HTRAC all-wheel-drive system for improved traction and stability. This system modifies the distribution of torque between the front and back wheels to enhance performance under diverse driving circumstances and guarantees stable handling.
6.Honda CR-V: The CR-V is a great vehicle for both city driving and outdoor excursions. It has roomy cabin, comfy seating, and flexible cargo capacity. It also has many advanced features, such as smartphone connection with Apple CarPlay and Android Auto, a user-friendly infotainment system with a touchscreen display, and wireless charging.
7.Toyota Highlander: The Highlander was created with families in mind. To make the ride enjoyable and comfortable for the passengers, it includes optional options including a panoramic moonroof, multiple USB connections, and a rear-seat entertainment system. It has an efficient hybrid powertrain that also lessens its environmental impact. Thus, it's a fantastic choice for individuals who want to drive in a more environmentally responsible manner.
8.Nissan Rogue: Nissan Rogue is a popular compact SUV among car lovers due to its low price and high fuel efficiency. With different features like heated front seats and a power-adjustable driver's seat, the Rogue provides versatile seating for up to five people. There is also plenty of room for your items in the cargo because the back seats can be folded down to create a level load floor.
9.Chevrolet Tahoe: The Tahoe is a full-size SUV and ideal for families who need size and versatility. It is available with a wide range of powerful engines. So, you can select the amount of performance that best meets your requirements. The car can tow large loads and traverse rough terrain seamlessly because of its powerful engines, which also deliver strong acceleration.
10.Kia Sorento: The Sorento is notable for its third-row seating options, which allow it to carry up to seven passengers. It offers driver-assistance technologies, including lane-keeping assistance, front collision avoidance assist, blind-spot collision and cross-traffic collision prevention assist, etc.
The car has a smart key-sensing tailgate that opens automatically when you are detected close to the back of the car. It also has a tastefully designed interior with complimentary furnishings. Then there are also optional features- heated and ventilated seats, a panoramic sunroof, and a premium audio system, etc.
So, there you have it- some of the most popular family cars that people of Illinois just love to drive. Remember- no matter which option you pick, pay attention to other things like routine checks, maintenance, and a decent insurance plan. If you take care of your car, it will take care of you. As for the insurance, there are plenty of options online. For instance,consider auto insurance by Lemonade—they offer top of the line coverage to help protect you, your car, and your wallet.
Whether you're a car expert or someone who would occasionally need to take out the car for driving around with family, it takes time to pick the perfect car. So, do your research and compare the options thoroughly. You don't buy cars every day, after all. Good luck!