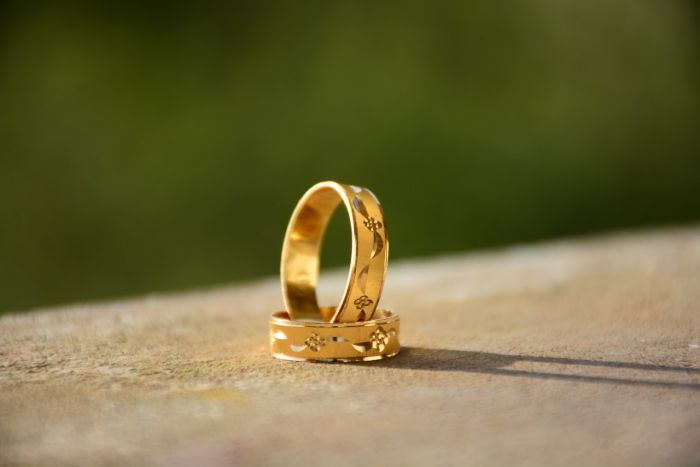 Pexels
Rings - these delicate bands of metals inlaid with precious gemstones and intricate carvings have been a source of pride and a symbol of love for thousands of years.
Wearing a well-crafted ring can not only boost your confidence as you go about your day but also elevate your look. It's a total game-changer when it comes to accessorizing plain outfits to add more interest.
So if you're looking for some new additions to your collection or hunting for the perfect ring to gift your partner, then read on because we'll be sharing 10 unique ring finds that will look stunning on anyone!
1. Eternity Rings
Eternity rings are bands of precious metals that are embedded with gemstones or diamonds in a continuous line - like the never-ending loop of eternity. This unique gemstone ring is often used to mark a special occasion such as a marriage, the birth of a child, or an anniversary.
They can be as simple as solid metal bands with stones like sapphires and white diamonds in perfect cuts or complex trellis structures with inlaid stones that resemble a mini garland when worn on your fingers.
2. Posie Rings
Posie rings are slim bands of gold with an engraved inscription on the inner side. The term comes from the French word for poems, "poésie".As you can probably guess, they were used to communicate one's love to the recipient.
Personalized posie rings make for some of the most heartfelt gifts. So if you want to surprise your loved one with something significant and meaningful, we recommend a posie ring.
3. Art Deco Rings
If you love the wild spirit of the 'Jazz Age' or the 'Roaring Twenties', then you will absolutely love art deco rings that were the statement pieces of this great decade. Boasting bold geometric designs with standout jewels in vibrant colors, art deco rings are exquisite beauties that anyone can rock.
These rings go perfectly with outfits that need a little bit of extra glam. So if you're looking for something that will leave an impression, these should be your first pick!
4. Claddagh Rings
Claddagh rings are traditional Irish rings that brandish an intricate design of a crowned heart held between clasped hands - representative of love, royalty, and friendship. These are perfect as twin rings for lovers, friends, and family members alike.
But even if you're not interested in sharing them with anyone, Claddagh rings make a fine everyday accessory that is available in many types of metals and with or without gemstones to suit your needs.
5. Moonstone Rings
The moonstone is hailed as a sacred stone in many Eastern cultures and is considered a symbol of good luck, fertility, and feminine energy, and is believed to cultivate intuition. The soft opalescent glow in multiple subtle hues bears a striking resemblance to the moon on a dark night.
Moonstone rings are hence highly popular as engagement rings and are available in a variety of shapes such as opal, teardrop, and round. If you're looking for something sleek, stylish yet meaningful, then a moonstone ring is just right for you.
6. Gimmel Rings
Before couple rings came into fashion, gimmel rings were all the rage. These popular engagement rings from the Elizabethan age are a truly unique find.
A gimmel ring is made of two or three bands interlocked with a pin and comes in designs such as a heart or clasped hands to signify lovers. You can rearrange these bands to wear as a single ring or wear it separately with your loved one.
7. Puzzle Rings
If you like the concept of gimmel rings, then we have something even more intriguing for you. Puzzle rings are made of multiple interconnected bands that can be put together like - you guessed it - a puzzle.
Even though they might be a bit of a hassle to put together, puzzle rings are highly versatile pieces of jewelry for everyday and special occasion wear. They also make for great conversation starters!
8. Signet Rings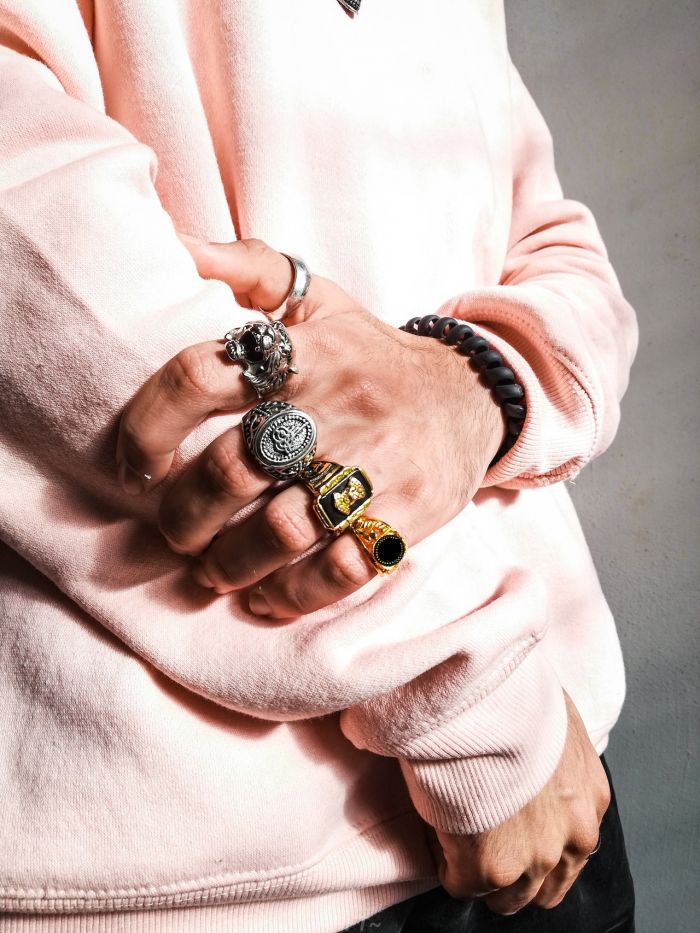 Pexels
Traditionally, signet rings were used as fancy portable wax seals for signing important documents. But their modern counterparts have become eye-catching pieces of jewelry for both men and women.
Because of how easily customizable they are, the contemporary signet rings can be engraved with a design of your choosing, whether it's the initials of your partner or a lineart of your pet! The perfect ring to let out your artistic side and get creative with your accessories!
9. Nugget Rings
If you're someone who favors rough textures over perfectly polished and symmetrical ones, then nugget rings are sure to interest you. These rings are purposely crafted to look like raw nuggets of gold and can be found inlaid with diamonds or gemstones as well for some added bling.
Nugget rings were initially intended for men alone but now they're available in slightly more feminine makes as well if that's your preferred choice. These chunky pieces brimming with power are a must-have accessory for styling your outfits.
10. Nesting Rings
If you love mixing, matching, and stacking your rings to create interesting looks, then you absolutely need nesting rings in your jewelry box.
Nesting rings have curved designs that can fit against other rings. But they're also versatile enough to be worn on their own and still look bedazzling. They come in many designs, both simple and bold, so they're perfect for anyone to wear.
Flaunt Your New Finds
And there you have it! Pick your favorites from these ten unique rings and either gift them to your loved ones to express your love through these timeless pieces, or show off their uniqueness by wearing them with your favorite outfits.