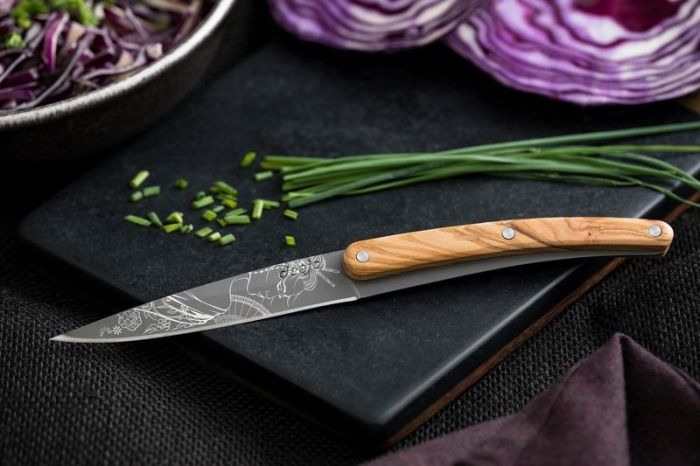 Deejo Knives
You know of that dapper gentleman, the one who prefers the finer things in life. Whether that is owning the coolest recent gizmo or gadget, wearing the latest fashion trend or considers himself a Renaissance man, finding the right gift for him is difficult. Luckily we have scoured the web to find gift ideas that most suit this particular type of man and have prepared a unique list that any true gentleman would enjoy.
For the utility lover…Deejo Pocket Knives
Deejo creates knives unique to each buyer. Those that are curious by nature can be treated to a personalized and engraved pocketknife. Create your own Deejo first by choosing the finish, handle and weight and then personalize the tattoo on the blade and as well as engraving on the handle. The lightweight, efficient and strong knife is easy to carry and becomes a personal object to wear like a second skin.
For the shoe lover…Esquivel House made-to-order collection
Using time-honored traditions paying tribute to the art of handcrafting, Esquivel House offers handmade luxury shoes individually crafted to client's specifications. Whether visiting Esquivel House in Downtown Los Angeles or being sent swatches and shoe samples to confirm sizing, you can select the style, color and leather to ensure a true bespoke pair.
For the classic game enthusiast, Monopoly Luxury Edition by WS Game Company ($299.00), provides a unique and elegant spin to the staple games people have grown up playing. As the only premium board game manufacturer with an authorized Hasbro license, the company has produced one-of-a-kind collector's Hasbro game editions f or over 20 years. This particular show-stopping piece is made from wood, features a luxurious gold foil stamping and a recessed faux leather rolling area. Every game detail sees an elegant upgrade from its die-cast tokens to burled veneer panels and decorative metal plaques.
For the conscious watch wearer…The Solar Black ($280.00)
As the first b-corp watch company in the world Solio has combined the power of solar and sustainability to offer truly stunning timepieces. Topped with a distinct black dial, this watch provides a clean and upscale minimalist style. The solar cell allows the watch to recharge by itself and offers a six-month power reserve. The watch comes in three sizes and an interchangeable strap of either eco-vegan leather or mesh metal in four colors.