Photo by Social Coverings
During the beginning of the pandemic, there was little choice in stylish face masks to protect oneself from Covid-19 particles. Besides the standard light blue medical grade disposable masks, there weren't a lot of masks displaying color or a pattern to reflect your personality and style.
All those single-use blue medical masks littered streets, parks, beaches and piled up at landfills. According to LastObject there are 1.6 billion single-use, non-biodegradable, face masks being sent to landfill every month in the UK. It's estimated 50% of people are using single-use masks daily in the UK. That's equivalent to 26.7 million masks a day.
"To put this into context, we are currently using enough face masks to equal the same weight as 100 cars per day or cover the whole of London in under 2 days," said the founders of LastObject.
Small changes in habit can make a huge difference by wearing a soft, cloth re-usable mask that you can wash, hang to dry and wear again.
Social Coverings makes a double layer with an overlapping opening for easy straw access to sip your favorite iced coffee, smoothie or beverage while staying safe. College grad Jesse Weinstein (SDSU) quickly invented unique plant-based fabric face coverings that are gentle on the skin and the custom design won't fog glasses.
A Social Coverings starter pack includes one face cover, a reusable hypoallergenic black steel metal logo straw,a straw brush, and an attachable printed cotton strap to keep your face cover conveniently around your neck. (Starter pack is $30).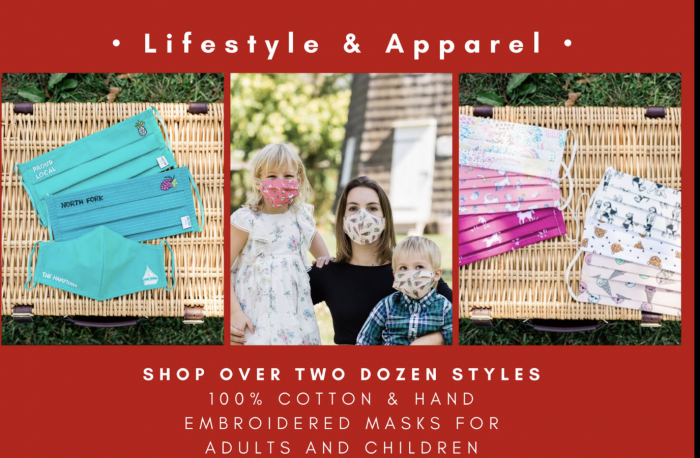 Photo from East End Taste
East End Taste founder Vanessa Gordon offers stylish and colorful 100% cotton masks for adults and children. This New York Based entrepreneur and writer offers facial coverings in her apparel and accessories East End Taste Lifestyle brand. Her masks are machine washable and include her signature Embroidery Collection - 'The Hamptons', 'Proud Local' and 'Love is Endless' and 'WellNESS'. Inquire about her 'Mommy & Me' matching masks.
She donated the sales from her masks to KiDS NEED MoRE in December 2020. This nonprofit charitable organization is dedicated to enhancing the lives of children and families coping with cancer and serious illness. They build a community of support and hope through peer mentoring, friendly visits, camp experiences, retreats and daily events. (Masks start at $14+).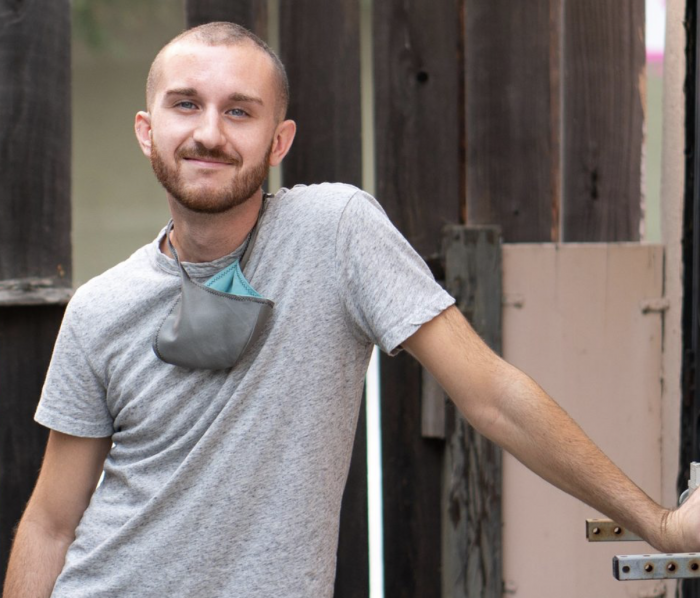 Photo by Out + About Supply
The new Los Angeles-based Out + About Supply makes a clever 'one-strap wonder' that uniquely fits users' face with one adjustable strap. Place this washable and eco-friendly mask around your neck throughout the day and pull up for coverage. Adjust the single strap behind your head, and pull up around ears for a snug and comfortable fit.
This mask can stay with you all day, almost like wearing a necklace, so you never worry about finding a mask quickly or placing your mask on a contaminated surface anymore. The mask is made from tightly-woven cotton fabric offering the greatest protection second only to N95 masks.
Founded by Kathryn Hampton, owner of local interior design firm K2S Studio, and Dickey DeBiase, Out + About Supply, they applied their experience and resources in new ways to help during these unprecedented times.
They also donated a portion of sales toward building recreational space in underserved communities through The Los Angeles Neighborhood Land Trust. (Masks cost $18+).

Clover
Stone Clover Lane makes fun facial masks in a variety of colors and fabrics including velvet. What makes these different is they add some beads to the tie straps for additional style and pizzazz. These standard masks are made from 100% cotton making them breathable and washable. Adjustable straps make the mask a perfect fit for you and removable faux pearl beads customize your own look. (Two masks are $28).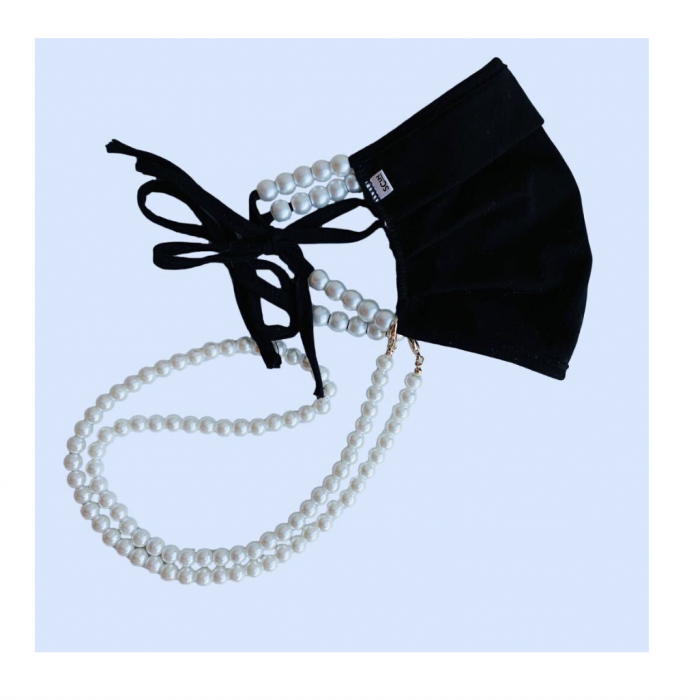 Photo by Stone Clover Lane
Exclusive to Stone Clover Lane is a 28' Pearl Mask Chain. This stylish and elegant looking chain helps to keep your mask on you throughout the day and in the evening when dining out. This one of a kind accessory sold out quickly, however there is a waiting list for consumers to be the first to know when more are available.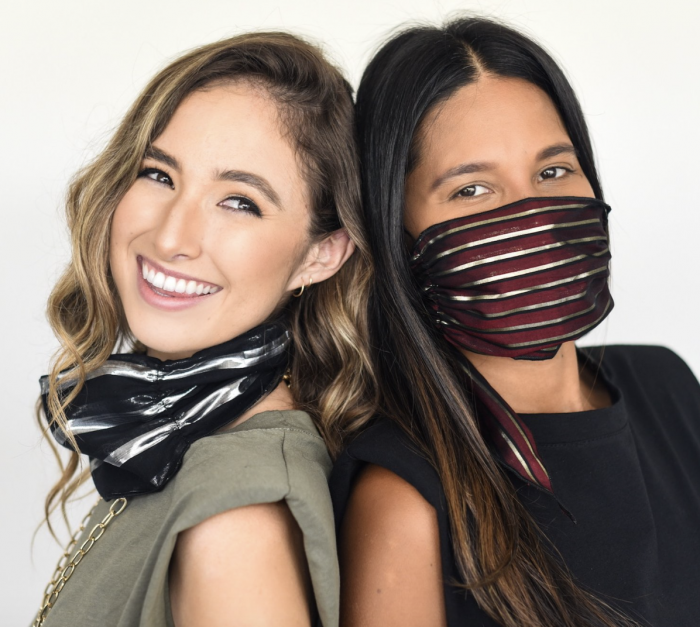 Photo by Mali + Lili
Mali + Lili lightweight cotton, four-layer 'Mask Scarf' helps you stay healthy and looking chic. The M+L Mask Scarf includes a pocket to insert a filter if desired for additional protection. The thin elastic earloops provide comfort and security.
When not covering your face, one can wear the Mask Scarf effortlessly around your neck keeping your neck warm.
Made in Los Angeles with natural lightweight cotton, Mali + Lili also make a three-layer Contour Mask Scarf that provides full coverage and a nose wire for accurate fit, and a pocket for a filter if desired. When not wearing The Contour Mask Scarf to cover the face, wear it around your neck for a cool, modern 2021 look.