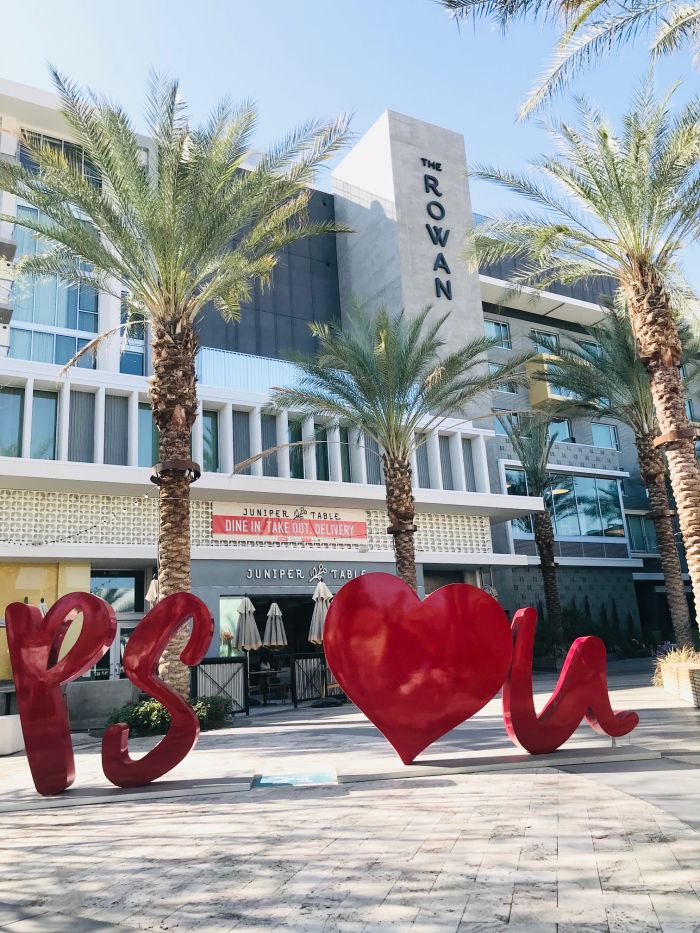 Jill Weinlein
The spacious Kimpton Rowan Palm Springs offers 153 guestrooms and suites under the exquisite San Jacinto Mountains near a dramatic desert oasis.
Located in the center of Palm Springs, the elegant modern design hotel is one of the newest properties built in the center of Palm Springs.
The interior decor includes a dramatic stairway, wood flooring, cool cream and blue colors in eye-catching patterns and textures. Framed topographical maps of the region evoke the beauty and history of the desert. The interior walls of the two elevators off the lobby inspire a vacation vibe.
During the months of October through April the temperature is ideal for biking, walking, hiking, swimming, shopping and dining.
Here are 5 reasons to stay at Rowan Palm Springs: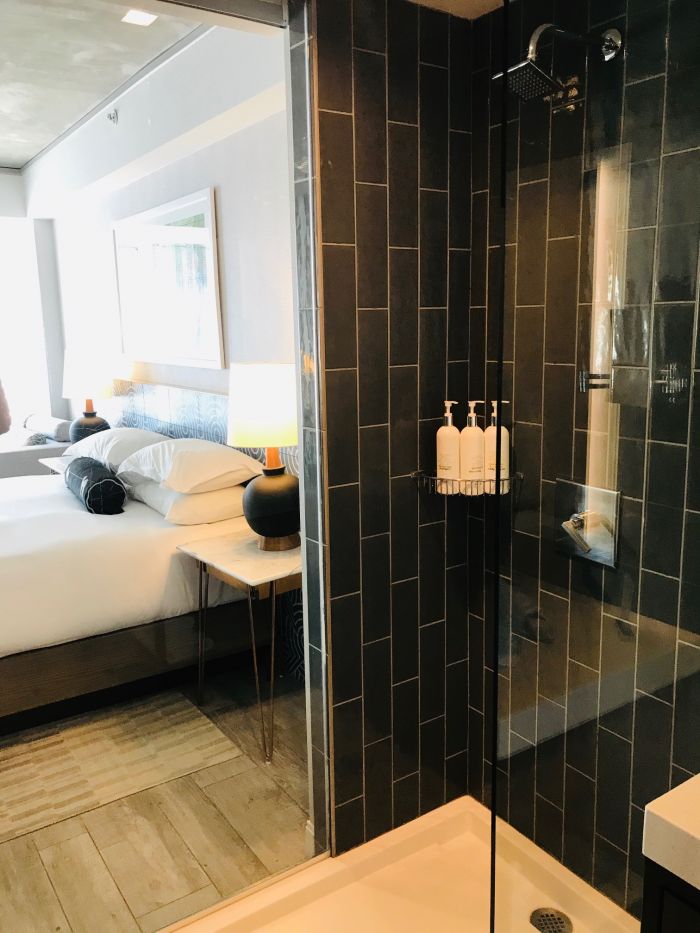 Jill Weinlein
The King and Queen guestrooms offer floor to ceiling windows with views of either downtown Palm Springs or the San Jacinto Mountain range and Palm Springs Art Museum.
Amenities in each room include a mini refrigerator, in-room safe, oversize tiled shower and luxury bath amenities. The King Spa guestroom offers a deep soaking tub.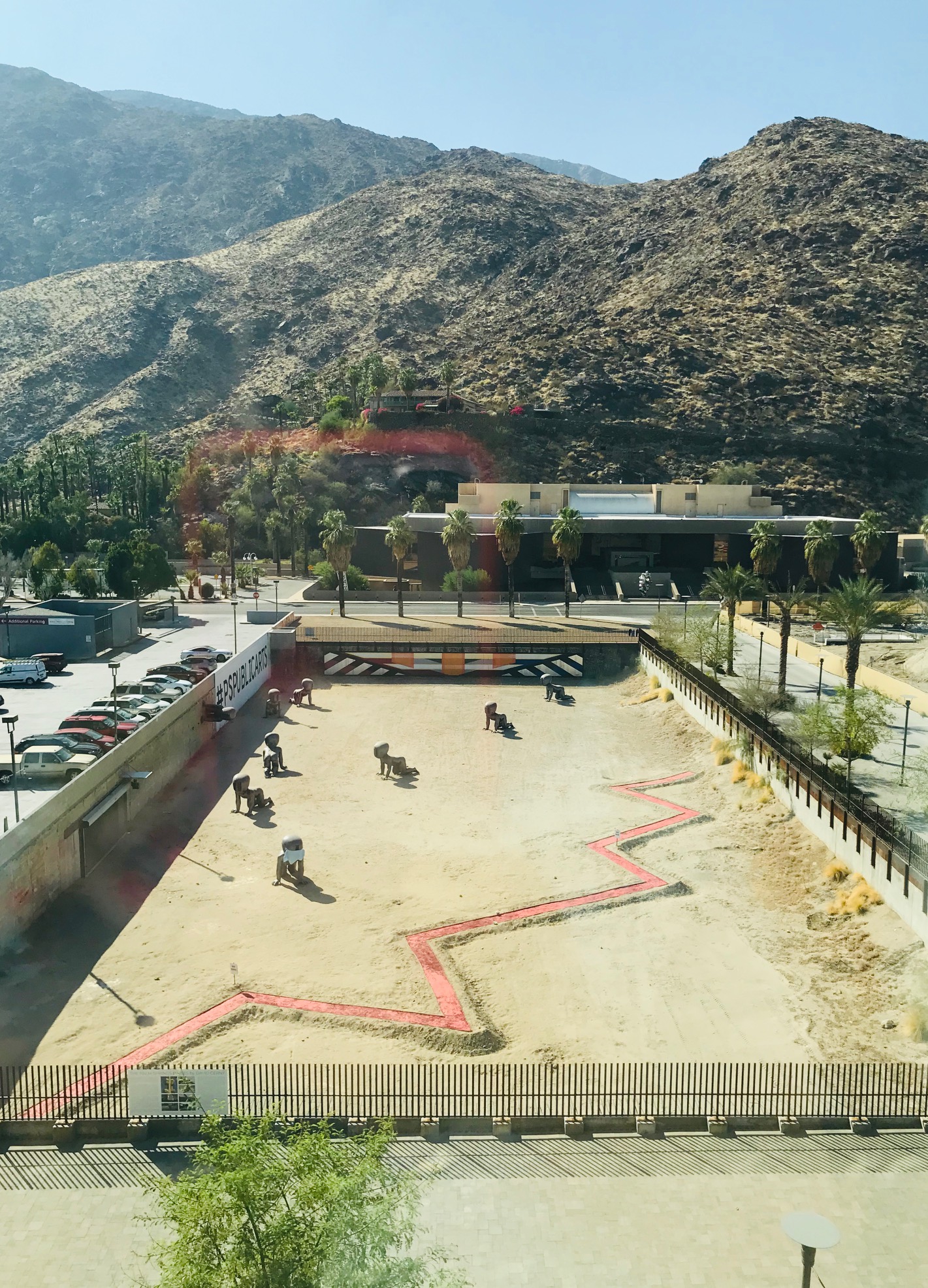 Jill Weinlein
Room 533 looks out to an enormous 'Palm Springs Babies' exhibit by Czech Republic artist David Cerny. It looks like a dug-out sandpit with 8-foot babies in their birthday suit.
Palm Spring is known for it's eye-catching art and architecture. The Fault Line Meditation, is in the same pit with the 'babies,' and is introspective in the shape of California's fiercest landmark, the San Andreas Fault. This installation glows in red at night, and the best view for this exhibit is from the guestrooms facing the mountains and the rooftop of the hotel.
Jill Weinlein
Spend time up at the rooftop pool to cool down while swimming laps, or lounge to soak up the sunshine and enjoy the expansive desert views.
The onsite High Bar offers a curated light snacks, brunch and hearty fare during the day, along with creative beverage options. It's the place to get an acai bowl, garden veggies and hummus, burgers, lettuce wraps, skewers, nachos, quesadillas and tacos.
Cocktails are made with names that include a vodka First Class to PS, tequila Free Upgrade and a gin Stand By. The bar offers draft wine and beer by the glass and adult spiked ice cream cocktails.
Guests can reserve a private cabana from 10 a.m. to 5 p.m. Each cabana offers six bottles of water and one bottle of bubbly, two lounge chairs and a lounge area with a couch. Rentals are up to $300 a day and $150 food and beverage minimum.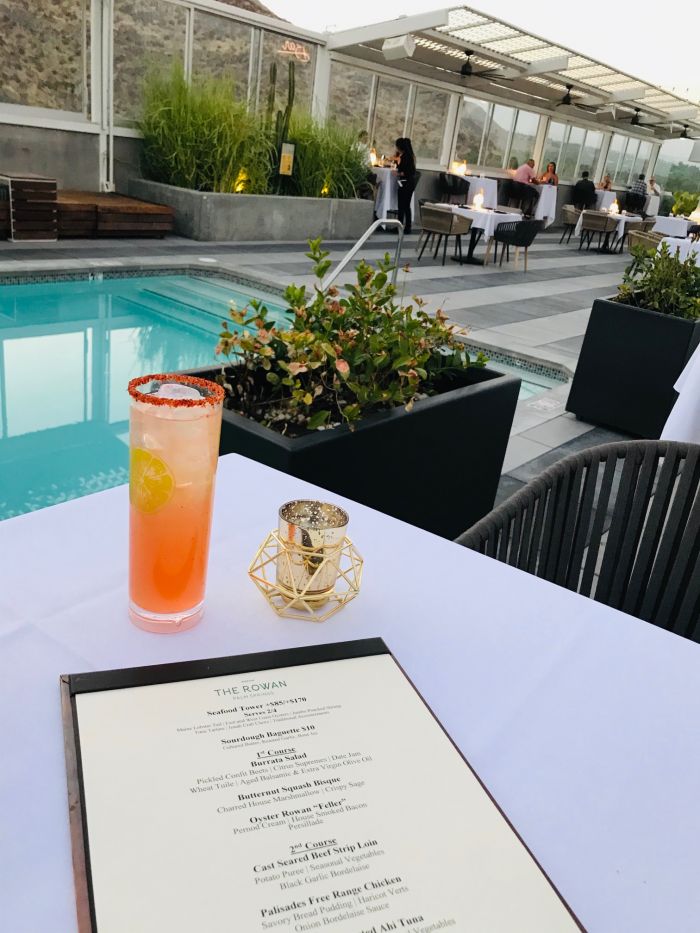 Jill Weinlein
Every Wednesday the rooftop pool closes at 4 p.m., for the staff to prepare for Kimpton Rowan Palm Springs and 4 Saints 'Dinner Under The Stars.' It's a three-course rooftop dinner from 6 to 10 p.m. Locals as well as guests dine al fresco at the only rooftop dining venue in Palm Springs. In November the special dinner will be served during the hotel's three-year anniversary and on Thanksving on Nov. 26.
Executive Chef Dan Grunbeck's three-course prix-fixe menu changes weekly featuring a choice of three starters, three different entrees and dessert.
One week the chef offered a seafood tower for two or four, sourdough baguette with cultured butter and roasted garlic. First course options included a burrata salad, butternut squahs bisque or oyster Rowan 'feller.' Second course included a cast seared beef strip loin, free range chicken or Vadouvan encrusted ahi tuna. Enhancements include a lobster tail, black truffle butter and smoked Moody blue cheese.
Each course can be paired with a house cocktail, wines by the glass or bottle from California.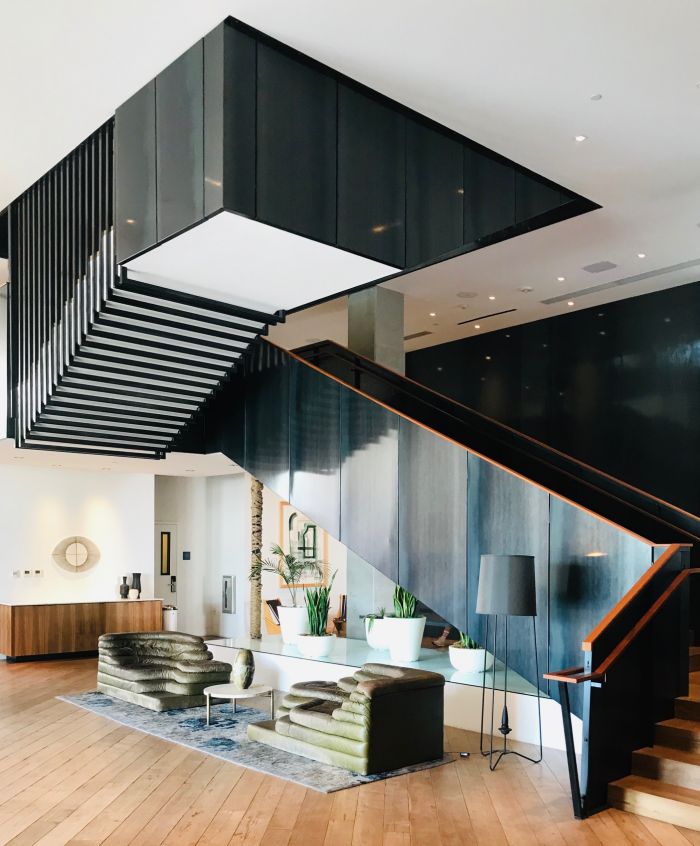 Jill Weinlein
Visit the ground floor lobby area for Covid-safety items. There are hand sanitizer stations, disposable masks and gloves, and protective clear barriers at the reception counter. The staff is well trained and happy to assist to make sure guests visit is safe, comfortable and memorable. They have a list of items to loan including cell phone chargers, coffee maker, humidifier, salon quality hairdryer, stain remover wipes, toothbrush and toothpaste and tweezers.
The hotel is pet friendly, and guests can bring their furry friend for free. Well behaved dogs can ride in the elevator, walk through the lobby area and have a drink outside from a giant water bowl.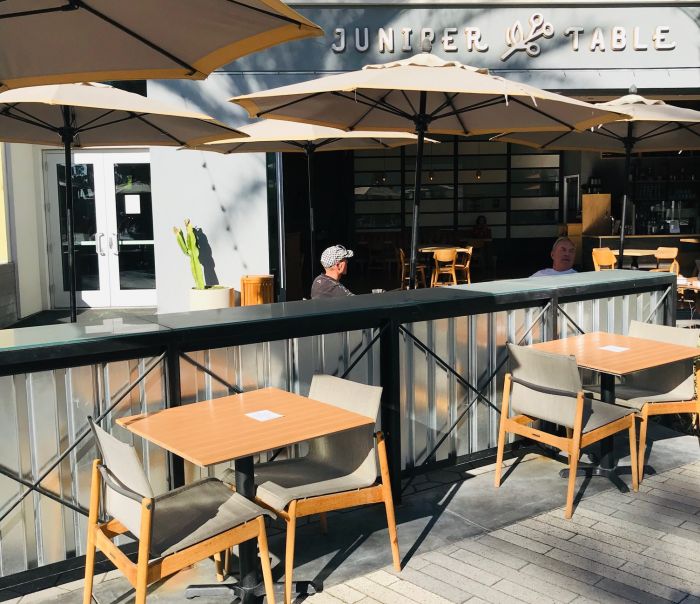 Jill Weinlein
Every evening from 5 to 6 p.m., guests at the Rowan Palm Springs receive a complimentary glass of wine or draft beer during the Kimpton Hotels and Restaurants Social Hour at Juniper Table. Cocktails are also available for purchase.
In the morning starting at 8 a.m., guest will receive a complimentary cup of coffee by presenting their voucher at Juniper Table. The open counter offers a full barista menu, fresh juice, and light breakfast options for purchase. Sit outside on the airy and sunny patio to start and plan your day.
The midday menu shifts to Mediterranean-inspired shareable snacks, salads, and sandwiches made with local, seasonal, and organic ingredients. The café and surrounding patio is a big draw for locals and visitors alike.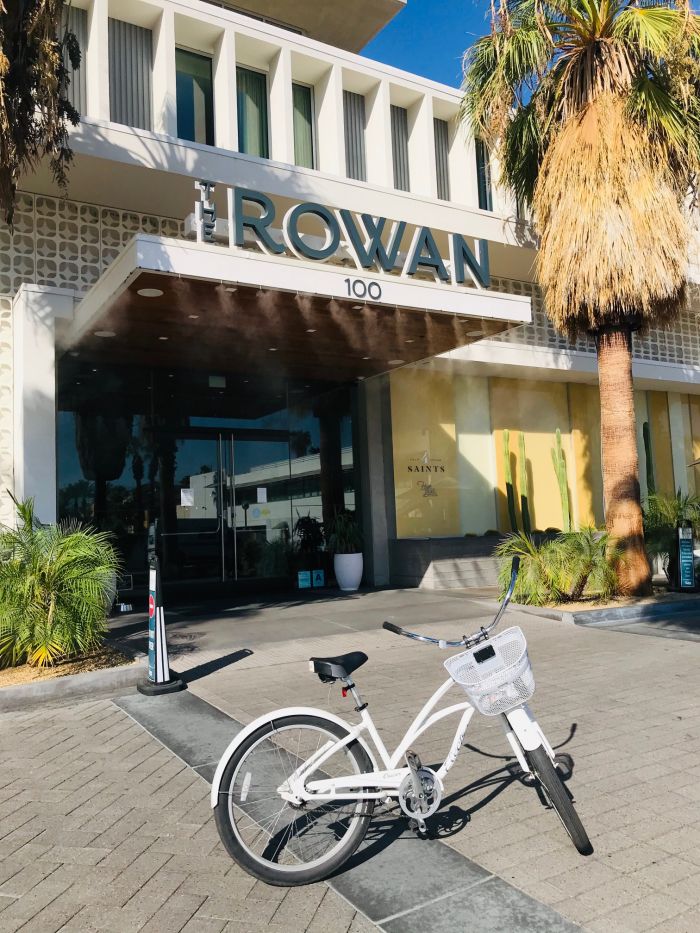 Jill Weinlein
Take one of the complimentary bikes for a spin on designated bike paths throughout the Palm Springs area. One of the most popular routes is to see iconic modernism architecture and celebrity homes in the Las Palmas Loop. The staff will provide helmets and a lock to secure the bicycle to visit the stylish, chic and retro shops or stop for a drink and bite to eat at one of the nearby restaurant outdoor dining patios.
The Kimpton Rowan Palm Springs is an ideal getaway to unwind, relax and get a new change of scenery.