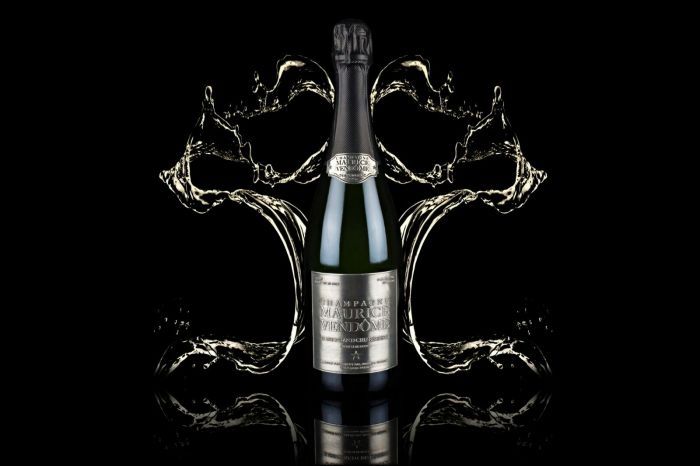 Photo Credit: Prodiguer Brands
There's no better way to usher in the holiday spirit than with a tasty cocktail or two. And with 2-year worldwide sales volume of spirits exceeding 21.29 million liters, it seems the marketplace is thirstier than ever. This is good news for would-be gift givers seeking to tender items that'll never go out of style. Whether as a gift for the holidays, thanks to a host or hostess, or as a reward for yourself "just because," wine and spirits are always in season. Here are five particularly grand giftables that are great for pairing.
Champagne Maurice Vendôme
Champagne Maurice Vendôme is a luxury wine grower housed within the beautiful landscapes of the Champagne region. With ancestral ties dating back to the French Revolution, their champagne is full of history and heritage as this vineyard's rich soils provide the perfect setting for luxury winemaking. Maurice Vendome Champagne uses 100% rare Grand Cru grapes in a limited annual production that offers luxurious quality and exclusivity. The caliber and excellence of this rare Grand Cru Reserve Blanc de Blancs champagne is really extraordinary. For one, rather than combining different grapes as other champagnes do, Maurice Vendôme exclusively uses 100% Chardonnay grapes that are handpicked from the finest vineyards in Champagne country to create an exceptional luxury cuvee. With over a hundred years of winemaking expertise, Maurice Vendome champagne is a true timeless luxury that'll elevate your holiday entertaining, gifting and those New Year celebrations ahead!
Wine of the Month Club
Founded in 1972, this original Wine of the Month Club takes the guesswork out of fancy labels and expensive price tags in choosing a great wine and has become one of America's most trusted sources for finding unique and compelling varietals. For membership, just join the club of choice online at WineOfTheMonthClub.com (options include Classic, California, Limited Series, Vintners Series and Cellar Series) and each month two great wines are shipped right to your doorstep. This includes varietals from wine regions in Germany, France, Italy, Argentina, Australia, California, Washington and others around the globe. The club was conceived by company founder Paul Kalemkiarian who had dedicated himself to finding the best values for his customers at Palos Verdes Wines and Spirits (a premier wine shop in Southern California in the 1970's). As he identified the best two values each month, customers of the shop requested that he have them delivered. His son, Paul Kalemkiarian Jr. began delivering the selections to the locals who were interested. As popularity grew, Wine of the Month Club began shipping the wine directly through UPS, and the idea of wine-by-mail was born. Today it remains a tried-and-true source.
Photo Credit: Prodiguer Brands
SpiritsSelect.com
SpiritsSelect.com is a convenient online source for unique spirits that are great for those cocktail soirées! Here you'll find a myriad of tasty and entirely gift-worthy options like the El Consuelo Tequila that's 100% USDA organic, kosher and made from natural ingredients without additives. Just like tequila should be. Another gift that keeps on giving is Nightshade's "Margarita of the Month Club." Each delivery has classic lime and 1 of 5 ready-to-drink flavors. Just pour over ice and enjoy! Peony Vodka is another fabulous option made from 10 botanicals, including peony flowers, and comes with a cute holiday candle. Finally, the super-premium Allaire Collection Privée Vodka, Rum & Tequila spirits trio makes an extra special gift. With this source you're sure to find a giftable option that'll thrill the home mixologist!
Premium Mixology Case from The Spice Lab
This unexpected gift offered by The Spice Lab, the exclusive U.S. importer of Special Touch Botanicals for premium cocktail gift sets, is perfect for the home mixologist. This elegant suitcase-fashioned gift box includes an array of hard-to-find botanicals that'll amp up any elixir and allow you to create unique recipes all your own. The sweet and savory gift set includes twelve botanicals: Juniper Berries, Cardamom, Mace, Star Anise, Kumquat Peel, Hibiscus Flower, Malva Flower, Persian Roses, Cassia Cinnamon, Allspice, Giant Coffee Beans and Cocoa Seeds. It also comes complete with a full set of professional bar tools, with a citrus zester, jigger, infuser and twisted spoon for professional cocktail making among them. The handsome package is rounded out with a deck of twenty botanical cards proffering drink recipes and recommendations.
Stolen Fruit Cocktail Mixers
If you need a marvelous mixer, check out offerings from Stolen Fruit. This company brings the fresh pressed juice of green grapes, called verjus, (often use in elevated culinary pursuits) to the glass with their new line of grape-based mixers. Adding the nuance and complexity of wine grapes to a range of cocktails and mocktails, Stolen Fruit lets you create food-friendly drinks, with or without alcohol, with ease. Flavors include Hibiscus Grenache, Jasmine Juniper Voignier, Blood Orange Muscat and more. These extremely versatile mixers make scrumptious concoctions with as few as two ingredients. Created by Healdsburg-based Chef Peter Brown and longtime Dry Creek grape growers Doug and Susan Provisor, this brand partners with some of the top wineries in Northern California for the grape juice and skins to create an easy-to-use base for your mixology pleasure.