Wilderton
Every year since 2012, there has been an annual public health campaign encouraging the public to practice abstaining from drinking alcohol for at least one month. January is a good time to start, since many of us have been feasting and drinking since Thanksgiving. Eliminating alcohol for one month not only helps in reducing one's waistline but promotes wellness, a better night's sleep and can help save money.
Instead of another club soda and lime, how about one of these innovative beverages sans alcohol to kick off the new year:
Wilderton distills flavorful zero-proof spirits crafted from raw botanicals that include pine smoked tea, bitter orange, lemongrass, rose, and cardamom. Created in Portland, Oregon by founders Brad Whiting and Seth O'Malley, they use a spinning cone column vacuum distillation process. Gentle heat refines and intensifies the raw botanicals without alcohol ever being introduced or removed.
On their website are recipes to enhance their two different spirits: Earthen and Lustre into festive beverages. A splash of Earthen lingers on your tongue with its warm and exotic hint of smokiness and spices. Add two ounces in a glass with 1.5 ounces of fresh beet juice, a splash of lemon juice, 0.5 ounces of ginger-honey syrup, and garnish with a flower for an appealing Earthy Beet. Their second spirit Lustre is tangy, bright and offers a delicate long-lasting finish. One tastes citrus, floral and herbaceous with this botanical mixture. Lustre is used to make a Citrus Flower Sour, inspired by the Pisco Sour.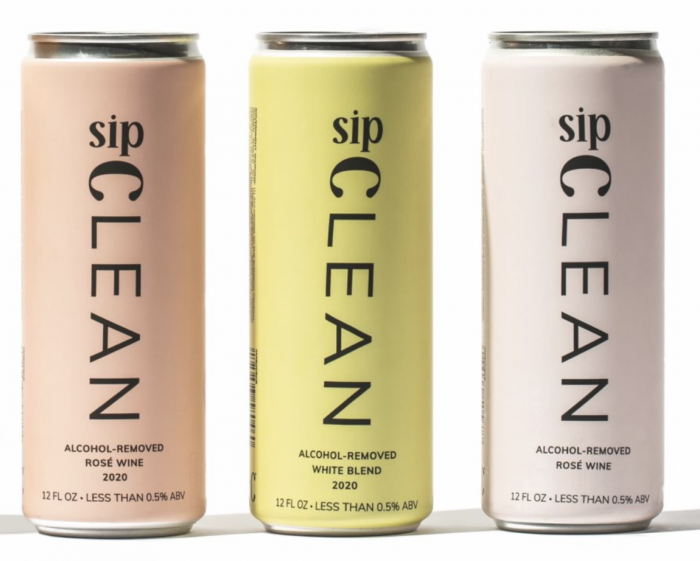 Sip Clean
For wine drinkers, the way to survive Dry January is with SipC Rose' and their White Blend wine. These canned wines have the alcohol removed using a spinning cone technology pioneered in Australia. This innovative technique allows winemakers to separate and preserve the essential flavors and scents of the wine during the de-alcoholization process. The finished product has less calories, less sugar, and no alcohol. Each can offers only 35 calories and 3 grams of sugar.
SipC offers words of encouragement to fans on their website - 'You don't need to be a perfectionist here. Don't think of it as slipping up if you have a glass of wine two weeks in. No need to throw in the towel! Just get back on it the next day. Remember that this is an exercise to help you become more mindful about drinking, not about being perfect.'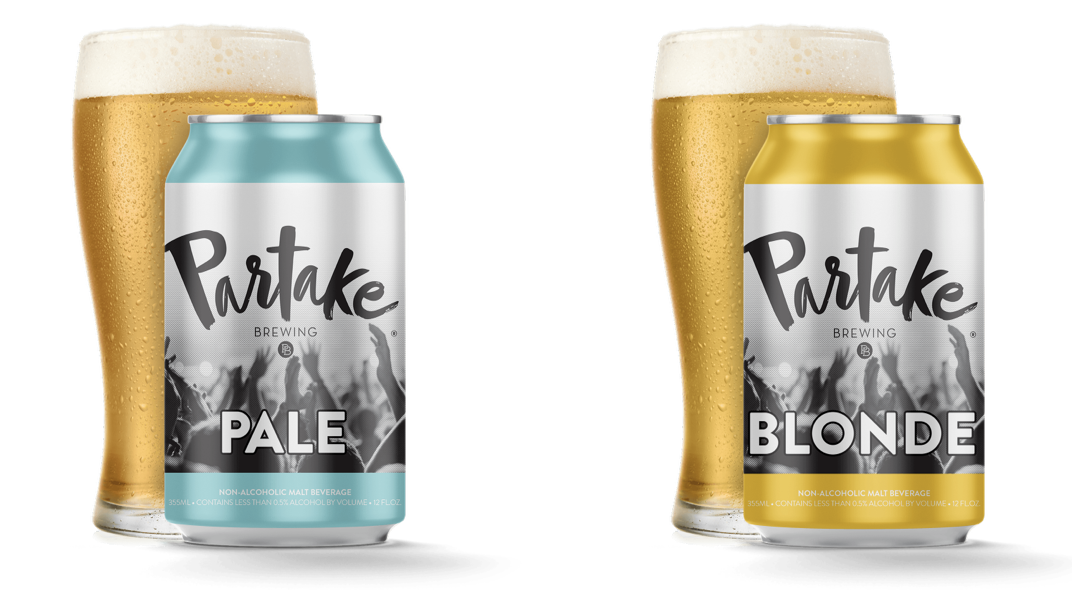 Partake Brewing
Partake Brewery provides inclusivity in a social setting for those who choose not to drink alcohol. Pop open a can of Partake Gose, Pale, IPA, Blonde, Red, Dark and the Radler.
The Blonde offers a golden clear ale topped with a foamy white cap. Its floral, earthy hops and hint of pomegranate fruit balance the soft bitterness. Radler is another non-alcohol beer alternative for the new year. It's part cold-pressed grapefruit, orange and lemon juice with barley, hops and yeast. This zesty and bubbly beverage is only 35 calories and 6 carbs per can.
The Pale is another craft beer winner offering a caramel malt sweetness with just 10 calories and 0 carbs a can. A 12 pack is $29.99.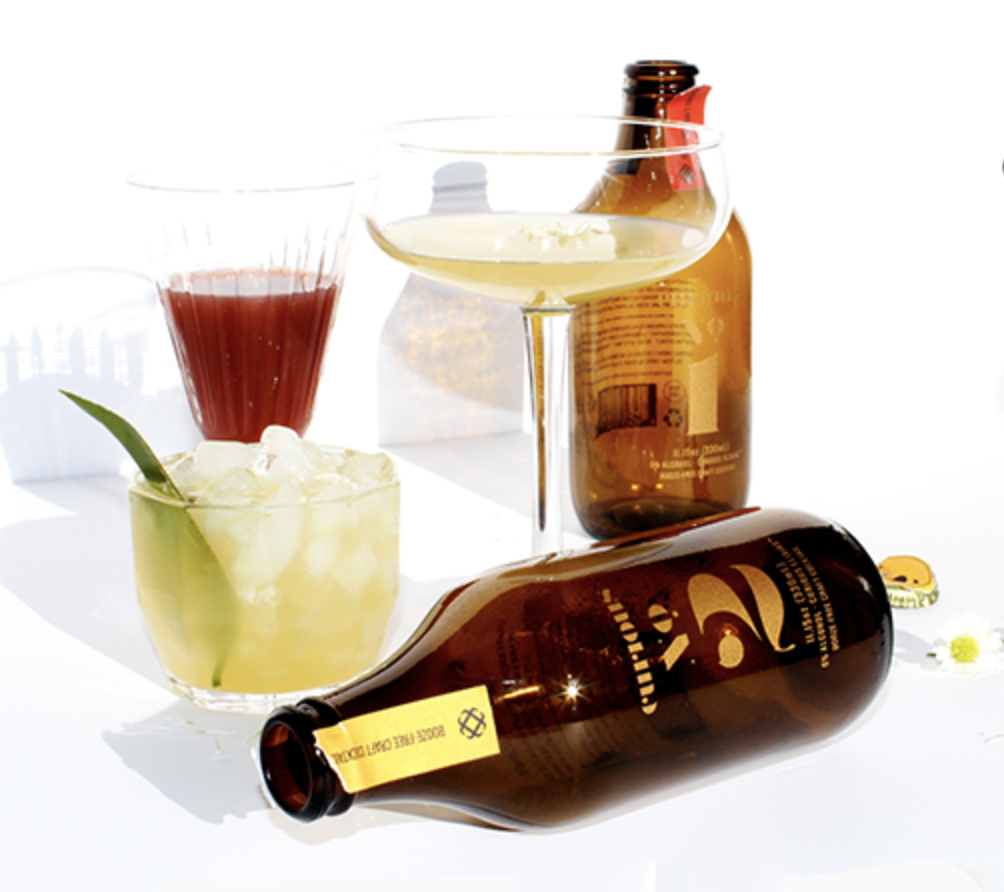 Curious Elixir
The 100% booze-free Curious Elixir craft cocktails are made with carbonated filtered water, organic ingredients and no refined sugar. Infused with natural adaptogens to help imbibers unwind, these bottles are cleverly numbered, starting with No. 1 to No. 6. Each elixir is inspired by a classic cocktail, starting with bottle No. 1, reminiscent of the Negroni. This pomegranate and citrus tasting beverage has only 85 calories. With natural rhodiola added, this adaptogen helps the body adapt to stress better when consumed.
No. 2 tastes like a spicy, citrusy, pineapple margarita and is only 44 calories. There is a little damiana to offer a calming effect with each sip.
No. 3 is a booze-free blend with cucumber, lemon, flowers, herbs and ashwagandha to de-stress and offer a relaxed feeling.
No. 4 is similar to an Italian blood orange spritz and infused with tulsi and turmeric to help one unwind.
No. 5 tastes like smoked chocolate and cherry Old Fashioned that is infused with ginger and elderberry for immunity benefits. There is also shatavari to restore balance.
No. 6 is similar to a tropical pina colada with notes of coconut, pineapple, citrus, oat milk, chicory root, lemon balm and nutmeg to help one unwind. Aloe and neroli adds a boost of beauty benefits.
Curious elixirs are a new way to enjoy alcohol-free cocktail infused with healthy adaptogens to help one attain a calm and relaxed state of mind.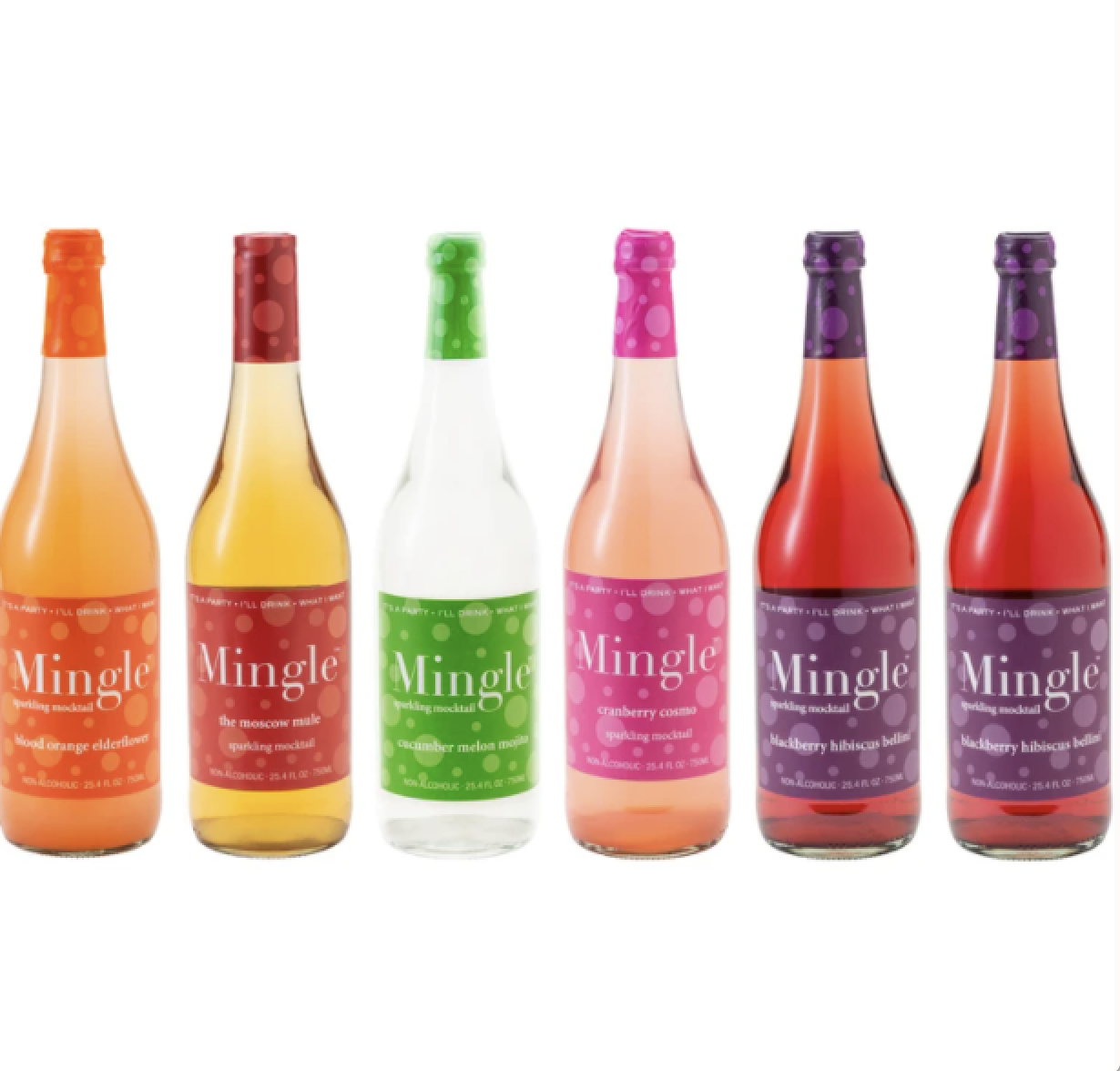 Mingle
Mingle Mocktails was founded in Philadelphia by Laura Taylor, when she was going on a girlfriend getaway and knew there would a lot of cocktails consumed. Creating her own delicious booze-less concoction for the trip, she poured it into a festive glass and mingled with her girlfriends. With only 20 calories per 4 oz. serving, she also consumed fewer calories than her friends and maintained her alcohol-free lifestyle, while still feeling part of the party.
The effervescent, low-calorie, alcohol-free mocktails, are cleanly crafted with fruit juices and botanicals and no artificial ingredients. Mingle Mocktails are a more refreshing alternative to plain seltzer or soda water. The exciting flavors will perk up anyone taking medications, pregnant, being a responsible designated driver, and in recovery.
Taylor has created cans and bottles in fun flavors including - Cucumber Melon Mojito, Blood Orange Elderflower (the newest flavor) Blackberry Hibiscus Bellini, Cranberry Cosmo and Moscow Mule. Priced at $9.99 - 12.99 on Amazon, online and at over 3000 retailers nationwide.
Enjoy 30% off a 16-can variety pack during this month to sip your favorite cocktail flavors without any booze. Use code NEWYOU2022 at checkout.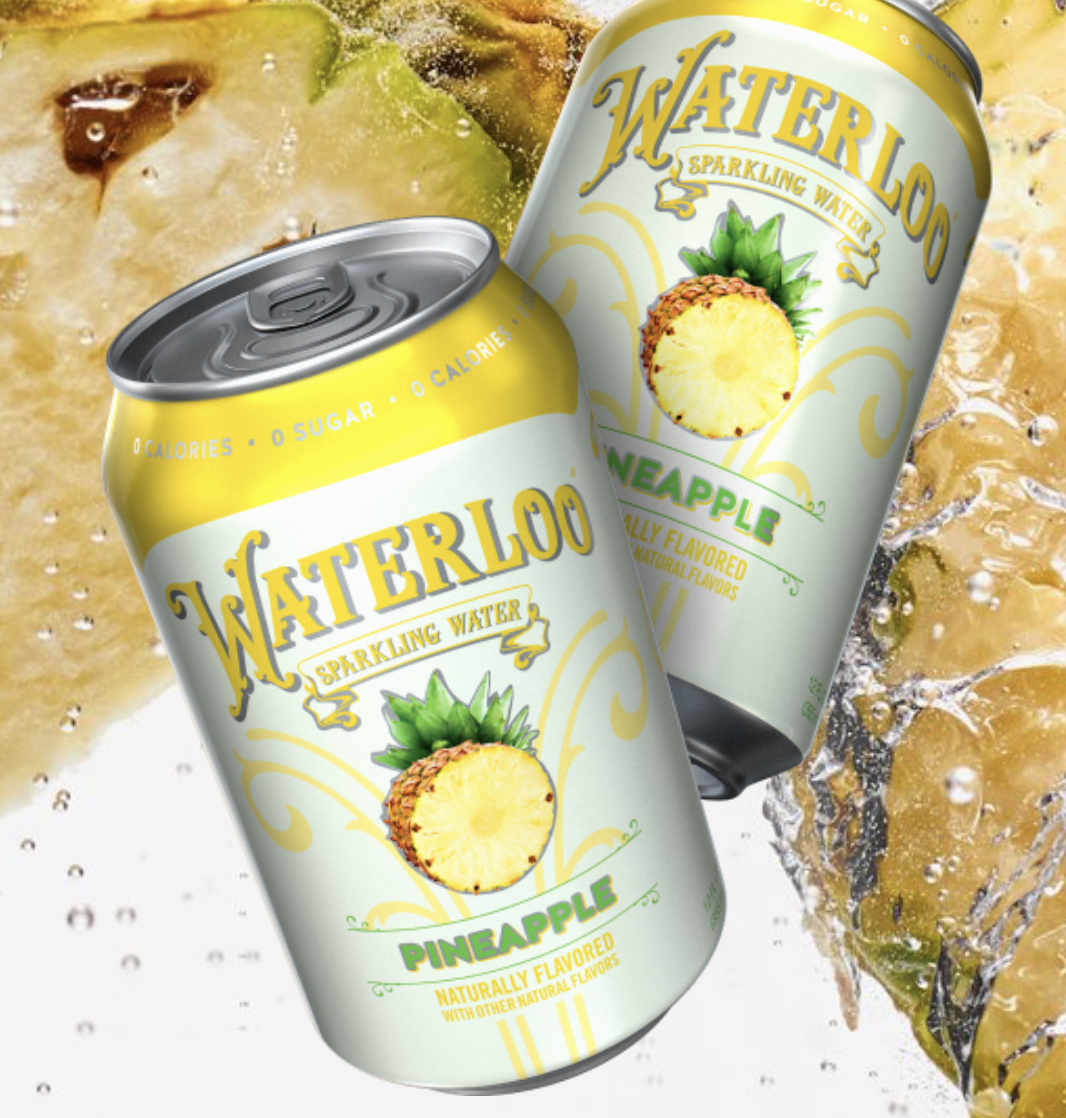 Waterloo Sparkling Water
Waterloo Sparkling Water helps make 31 days booze-free easier with a variety of recipes for delicious mocktails. With 15 different flavors to choose from, whether you pour Black Cherry, Pineapple or Lemon-Lime, Waterloo's purified sparkling signature creations are all natural, refreshing and will help you refrain from alcohol.
Waterloo's lineup of mocktails include a Black Cherry Southside made with Waterloo Black Cherry Sparkling Water. Add the following:
· ¾ oz Fresh Lime Juice
· 4 Mint leaves
· Fresh Black Cherries
Instructions: In a shaker add lime juice, mint leaves and ice. Shake well to dilute citrus and wake up the mint. Then strain into a martini glass and top with Waterloo Black cherry. Garnish with a mint leaf and black cherry.
The Waterloo Pineapple Sparkling Water is an ideal base for a Pina Mojito. Add the following ingredients:
¾ oz Fresh Lime Juice
4 mint leaves
wedge fresh pineapple
fresh mint sprig
Instructions: In a highball glass muddle fresh mint and lime juice. Add ice to glass and top with Waterloo Pineapple. Give it a good stir and finish with a pineapple wedge and mint sprig for garnish.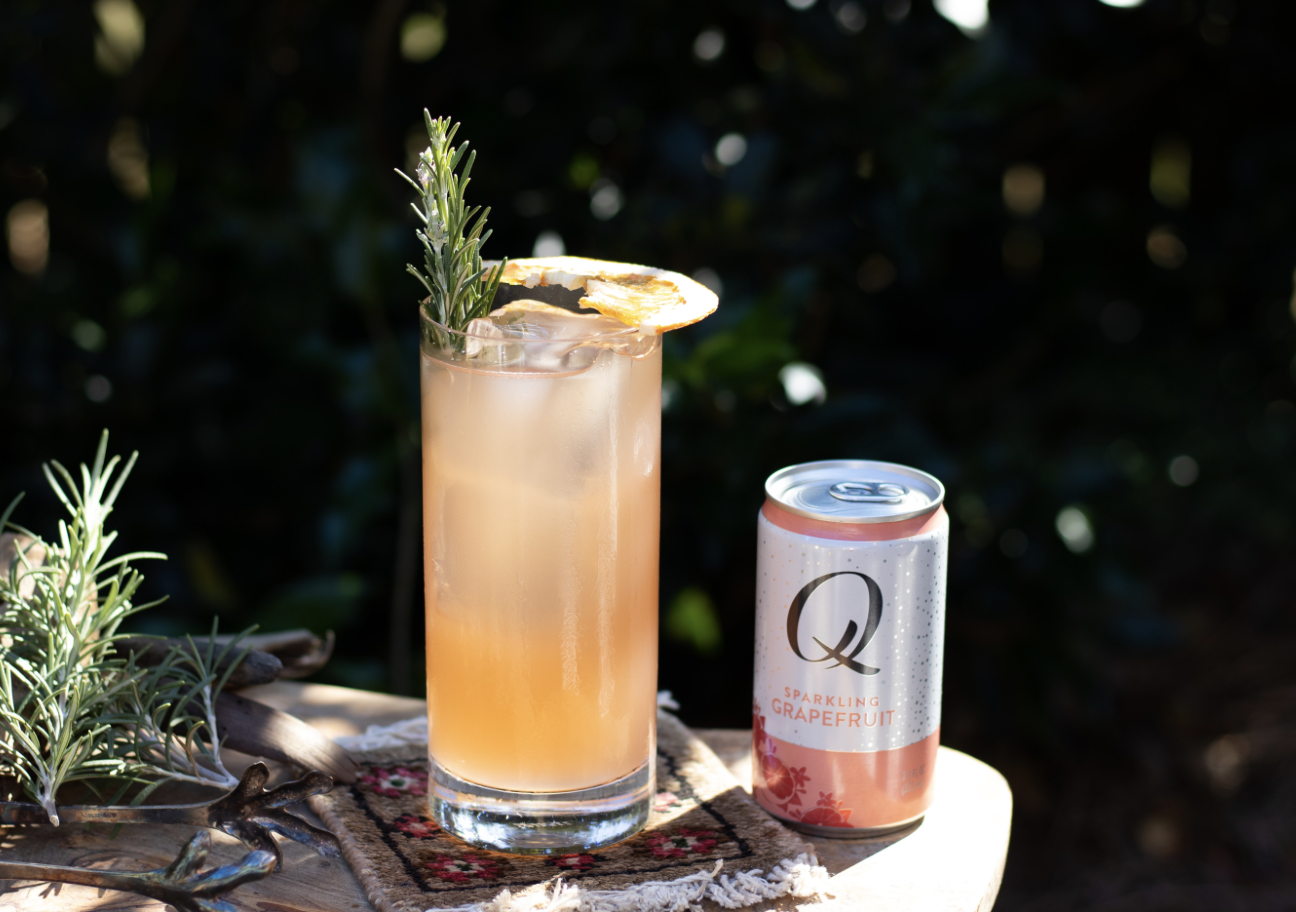 Carolyn Sims
Brooklyn based Jordan Silbert set out to create better tasting tonic water and mixers to enjoy with spirits. In order to make the best tonic water, he had to make it spectacular. With his mixers, he sources his agave from Mexico, lemons from Italy and quinine from Peru. During Dry January, Q Mixers offers recipes to make some of the best Mocktails starting with a Rose Paloma.
Ingredients include:
2 oz. fresh grapefruit juice
3 dashes of rose water
1/2 oz. of simple syrup
5 oz. from a can of Q Sparkling Grapefruit.
Directions
Shake first 3 ingredients with ice and strain into a tall glass with ice. Top with 5 oz Q Sparkling Grapefruit and garnish with a grapefruit slice and fresh rosemary sprig.
Another festive cocktail sans alcohol is the Pearagon Lemonade:
Ingredients include:
2 oz. pear nectar/juice
1 oz fresh lemon juice
¾ oz simple syrup
Leaves from 2 sprigs of fresh tarragon
6oz Q Spectacular Tonic Water
Directions: Shake first 4 ingredients with ice and strain into a tall glass with ice. Top with 6 oz Q Spectacular Tonic Water and garnish with a pear slice and more fresh tarragon.
Q Mixers are available online and include four different Tonic Waters; a variety of Ginger Beers; Juice; Club Soda; Ginger Ale; and Kola.
I predict more alcohol-free beverages will debut in 2022, offering additional choices for those who choose to decrease their alcohol consumption, yet continue to enjoy the taste of beer, wine and a cocktail.