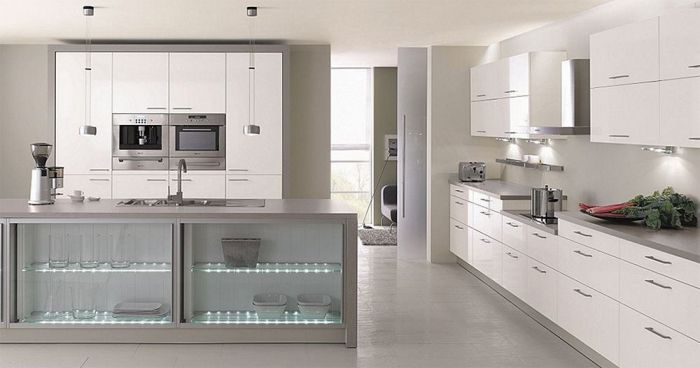 Photos Credit: Halcyon Interiors
Germany is famous for its engineering quality, design and heritage – and that goes for kitchens too. A large number of precision built kitchen systems are manufactured in Germany, many by century-old enterprises who still adhere to the same techniques and craftsmanship as they did back in the days of their founders.
German kitchen design is at its best when it comes to contemporary style. If you're after a sleek, handle-less kitchen in high gloss or flat matt, there's a wealth of choice across all price points. Another important feature of German kitchens is their focus on ergonomic design. Made with comfort and ease of use in mind, these kitchens offer clever storage solutions and adjustable heights for any user.
With so much flexibility and adaptability on offer, and with the sheer choice in cabinet sizes and fittings suitable for all surroundings, there's a perfect German kitchen out there for everyone. A variety of premium German kitchen brands are now easily available from UK based kitchen designers and suppliers who can add their own design expertise to create and install stunning results for homes large and small.
ALNO
From small beginnings in 1927 in Pfullendorf in southern Germany, ALNO has achieved international recognition for its kitchens. It became a public limited company in 1995 and is now one of Europe's market leading kitchen suppliers.
With over 750 employees, ALNO kitchens are targeted at contemporary family living, and are exquisitely crafted to the highest quality.
Nolt
The second largest kitchen manufacturer in Germany, Nolte have been producing affordable luxury kitchens for more than 50 years. Sleek, modern, with many exciting ranges and countless options to choose from, Nolte Kitchens represent highly engineered German quality at its best.
As a company who takes its environmental responsibilities seriously, Nolte was the first kitchen manufacturer accredited by the PEFC and FSC Forestry Commissions for using sustainable wood resources.
Poggenpohl
Founded in 1892, Poggenpohl is the oldest kitchen company in the world and certainly one of the best known brands. Every kitchen is built to order, designed by expert craftsmen who tailor every detail to the client's brief, design preference and lifestyle requirements.
Every cabinet, drawer and worktop is custom built at the Herford factory in Germany, creating a truly bespoke solution. Poggenpohl are pioneers in many of our modern, transformative innovations including high gloss white kitchens, wooden kitchens and island kitchens.
Bulthaup
Family owned since its foundation in 1949, Bulthaup is a premier name in German kitchen systems. Its unashamedly contemporary designs are inspired by the Bauhaus movement, bringing together art and technology, form an function.
Bulthaup's brilliantly engineered functionality makes it the perfect choice for hardworking kitchens, while its undeniable style exudes timeless elegance, confidence and true craftsmanship for the high-end market.
Häcker
Häcker specialise in producing an unrivalled choice of fitted kitchens to the highest specifications. From clean and spacious modern kitchens, to the wood, glass and steel finishes of contemporary designs, or the sophisticated designs of a traditional kitchen, Häcker will achieve the highest quality fit and finish in a range of styles and colours.
A premier name in German kitchen manufacturing, Häcker creates the best in quality, functionality, durability and design.
Schüller
One of Germany's largest and still privately owned kitchen companies, Schüller started as a humble carpenter's workshop in the 1960s. Now employing over 1000 people, they are now among the top 5 kitchen manufacturers in the world and one of the most recognisable German kitchen brands.
Schüller creates competitively priced ranges that deliver a fresh approach without compromising on the high quality and reliability that customers have come to expect.
Pronorm
One of Germany's leading kitchen brand with a pedigree of supplying quality contemporary kitchens, Pronorm combines precision manufacturing with design ergonomics.
At Pronorm, every kitchen is individual and perfectly matches the customer's needs, from cabinet sizes and worktop heights to storage options, adjustable shelving and intelligent appliances. The latest innovation features pocket doors allowing for ovens, hobs and sinks to be hidden from view when not in use.
SieMatic
Founded in 1929 by August Siekman, SieMatic have consistently been at the forefront of kitchen furniture design and manufacturing, setting standards for quality and perfection.
SieMatic provides solutions for contemporary kitchen spaces that are to be enjoyed and shared. From the latest designs and colours to innovative storage solutions, SieMatic creates the perfect kitchen for your home.
Nobilia
From some of the most modern and efficient kitchen furniture manufacturing plants in Europe, Nobilia's 2500 employees build intelligently designed kitchens with style. Above all, Nobilia kitchens offer quality.
Custom designed and manufactured with the utmost precision, every kitchen is unique, created to suit individual lifestyles and tastes, while offering exceptional value for money.