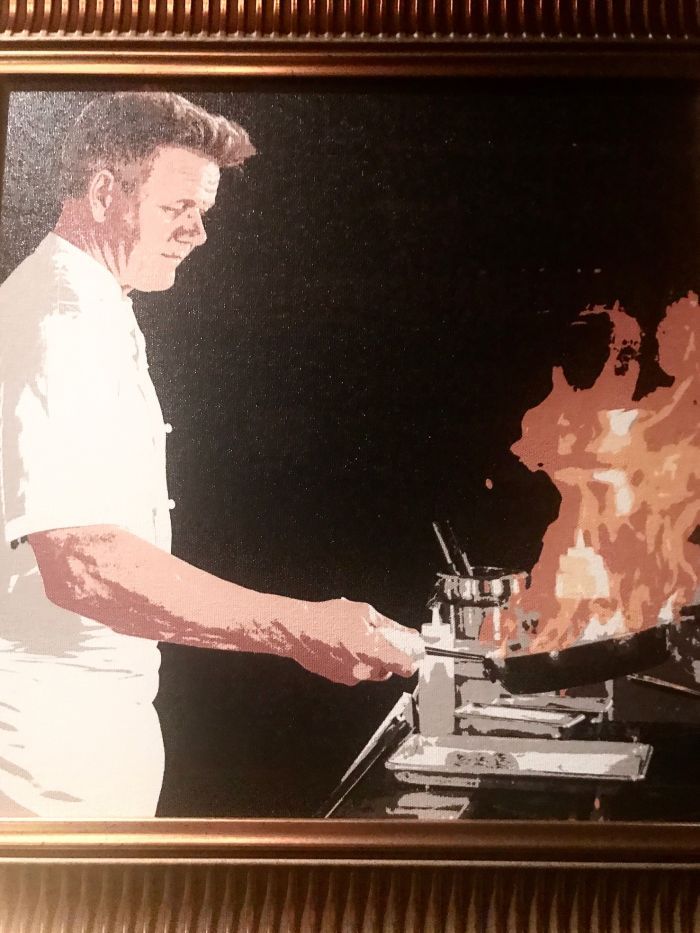 Jill Weinlein
Las Vegas caters to millions of tourists a year, offering some of the most incredible culinary opportunities by the world's top celebrity chefs. From casual to fine dining, Las Vegas is a foodie paradise. Here are some of the city's favorites to visit:
Gordon Ramsay Steak is a fine dining steakhouse inside Paris Las Vegas Hotel and Casino. It's Ramsay's first restaurant in Las Vegas, originally open in 2012. Walk through a red neon 'chunnel' entrance into the bar and fiery red and black two level dining room interior. Artwork on the walls feature the internationally renowned chef. Cuts of prime beef that are aged to perfection are presented to each table on a rolling cart. Servers explain each cut for guests to learn about before selecting.
What to order: The menu offers caviar, decadent roasted beef Wellington, a variety of seafood and steak entrees. Table iPads display an array of wines and cocktails. The botanical antioxidant cocktail with an iced shellfish platter, triple-seared Japanese A5 Kobe and Ramsay's legendary sticky toffee pudding for dessert.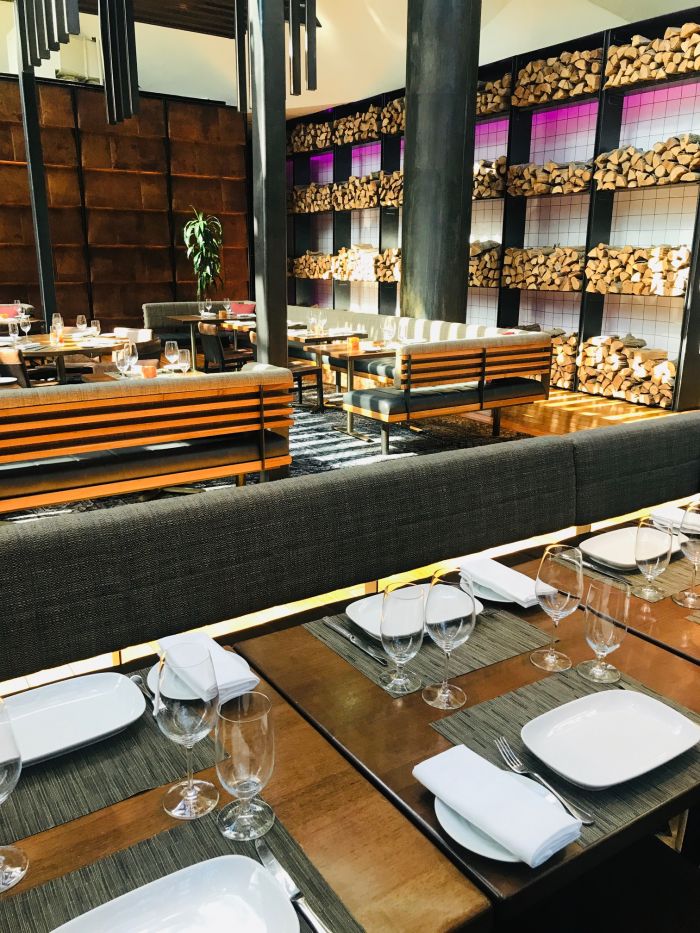 Jill Weinlein
Another ultra cool celebrity chef restaurant is Tom Colicchio's Heritage Steak at The Mirage. His team of chefs work the charcoal grills and wood-burning ovens open for viewing in the dining room. The aromas from the kitchen and immersive table side experience, entertains all the the senses.
What to order: Lump crab cakes, lobster salad and Australian Wagyu Flat Iron with a chimichurri glaze.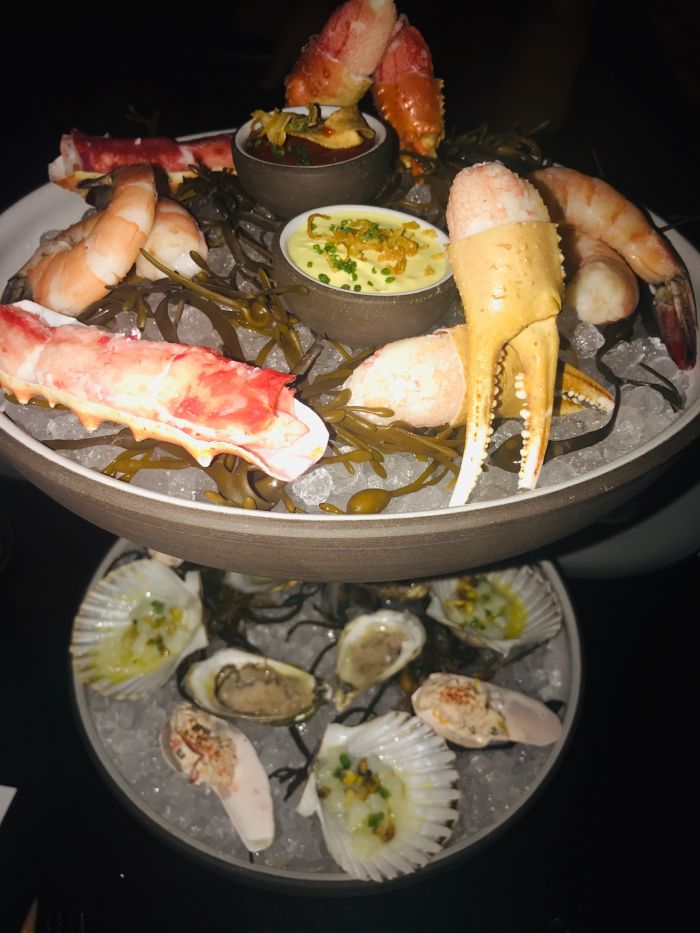 Jill Weinlein
Storytelling is the heart of the curated NoMad Restaurant in Las Vegas. The dining room walls are lined with over 20,000 books from David Rockefeller's collection in the soaring two-story room. Every American classic meal is exciting with a touch of theatricality by James Beard winning chef Daniel Humm and Will Guidara's team.
What to order: Fruits de Mer tower filled with oyster and mignonette, sea urchin and caviar, lobster and tarragon, hamachi and horseradish, king crab and fennel scallop and pistachio. The NoMad roast chicken and the American Wagyu prime rib. Stay to hear Brian Newman in the reimagined Las Vegas lounge perform an ode to "Old Las Vegas."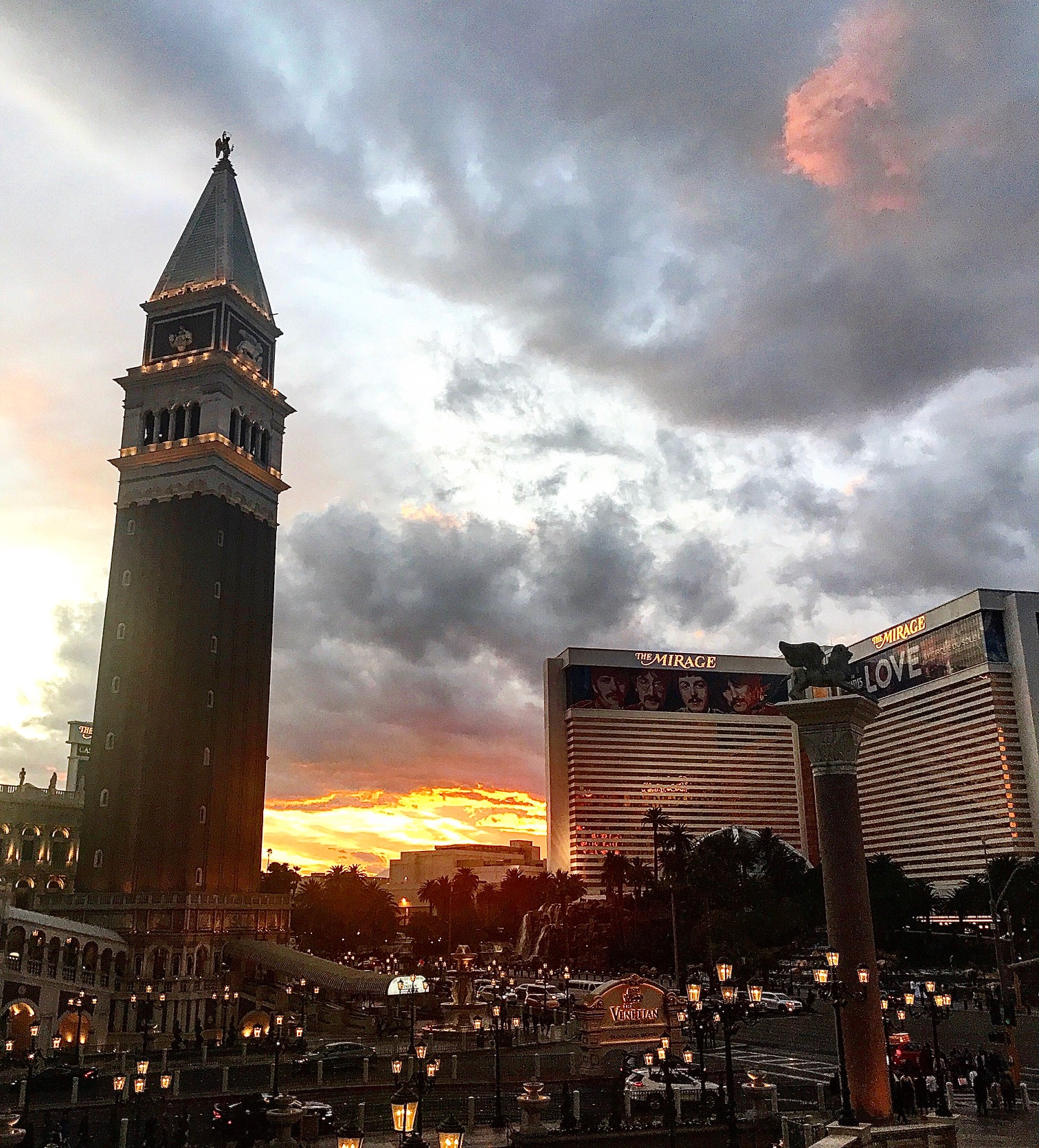 Jill Weinlein
Celebrity Chef David Chang opened Majordomo Meat & Fish inside The Venetian in December 2019. Guests can enjoy signature items including Chang's smoked whole plate short ribs, famed macaroni & chickpea with black truffles.
What to order: The trio of Bing 'fluffy flatbread' topped with spicy lamb, chickpea dip and honey butter.
Chang just opened Moon Palace also at The Venetian and locals and guests are excited to try the Tastys - a griddled patty served with grilled onions, American cheese on King's Hawaiian rolls.
What to order: Hot Chips seasoned with salt or honey butter that are both crunchy and chewy in texture. Dip the chips is a Luna Sauce. For dessert the Half Dip is made up of two pillowy pancakes filled with marshmallow fluff and half-dipped in chocolate.
Jill Weinlein
Eat. Drink. Shop at Eataly Las Vegas at Park MGM. This foodie wonderland is comprised of more than a dozen authentic Italian eateries and hundreds of high-quality Italian products. Visitors have the opportunity to eat, drink, shop and learn about one of the greatest cuisines in the world under a single roof.
What to order: Knights Up! Every Las Vegas Knights game day, Eataly offers a two-course prix fixe for $28 at La Pizza e La Pasta. Enjoy a fresh salad or housemade mozzarella for a starter followed by your choice of authentic Neapolitan-style pizza or fresh pasta. This special is available all day. Enjoy with a "Knight Shandy cocktail made with Ketel One Botanical Grapefruit & Rose Vodka, Antica Carpano Vermouth, bitters, lemon juice, and topped with Dogfish Head "Seaquench" Ale. Normally priced at $16, this cocktail is only $13 on home game nights and available at all three bars inside Eataly Las Vegas.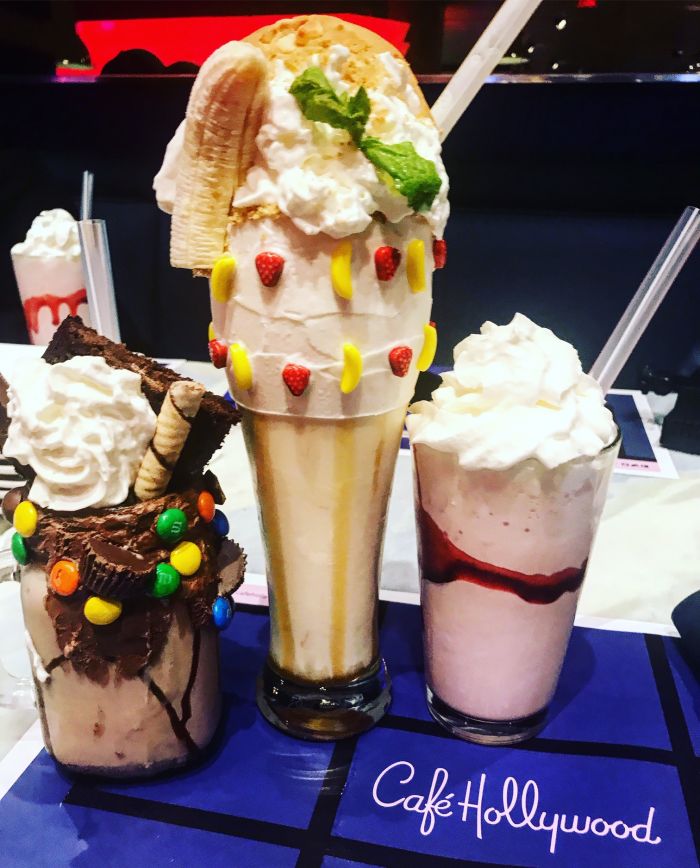 Jill Weinlein
Cafe Hollywood inside Planet Hollywood offers one of the most fun casual dining experiences. The iconic extravagant candy-coated 'Supernova Shakes' include a chocolate shake is enhanced with brownies and chocolate candies. Other flavors include vanilla, banana or a creative strawberry concoction.
What to order: Poke Nachos, Hollywood Bowl salad, Grilled Mac and Cheese sandwich and a juicy The Hollywood half pound USDA Choice beef burger topped with roasted pork belly, a fried egg & garlic aioli.