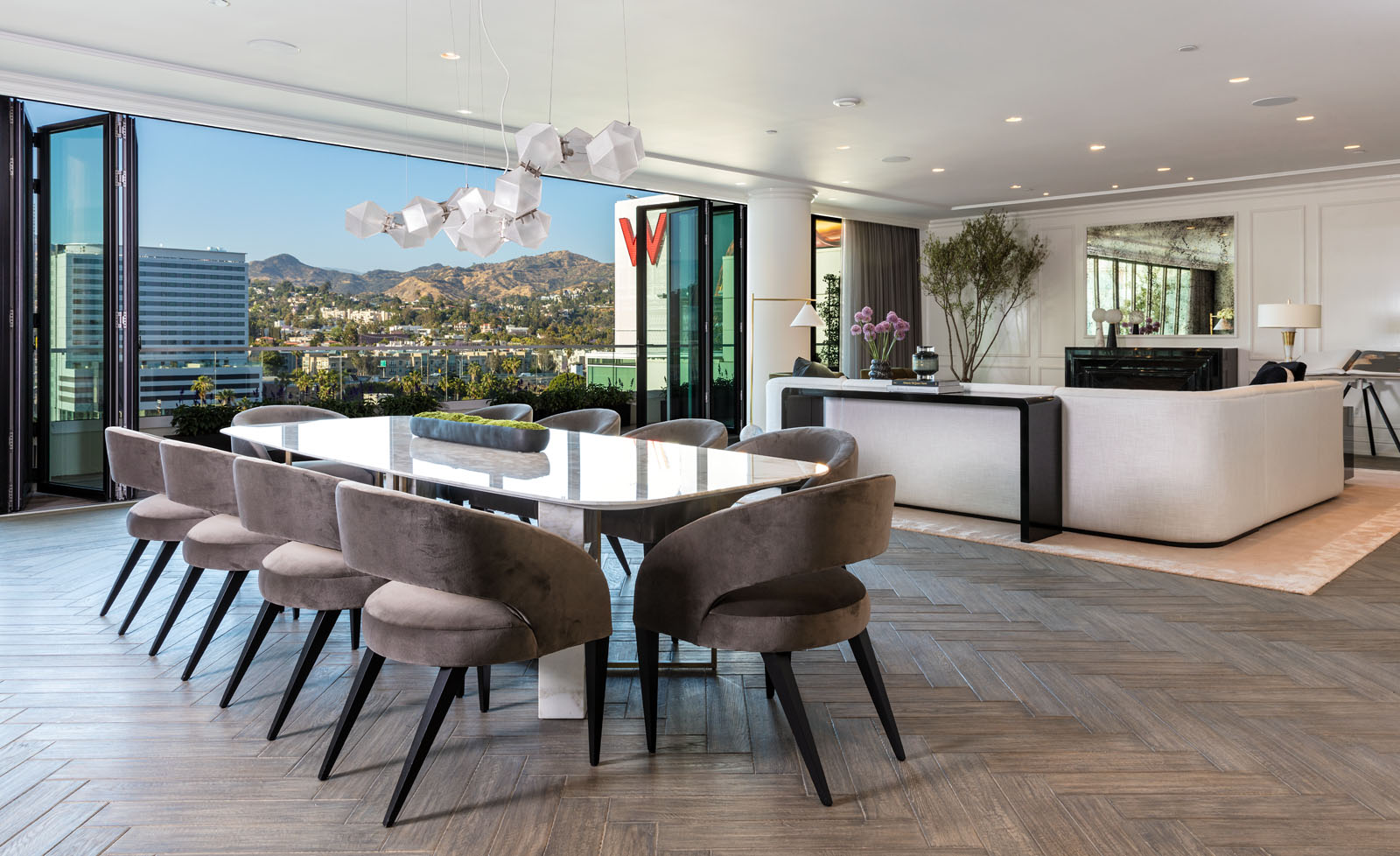 Photos Credit: The Bower, Above the Penthouses

Above the Penthouses, an exclusive collection of five thoughtfully curated, ultra-luxury residential offerings on the top floor of The Residences at W Hollywood and adjacent to the W Hollywood Hotel, are now available for purchase. Located in the heart of the re-invigorated and reestablished Hollywood, which has experienced more than $6 billion of development and investment in recent years, Above the Penthouses introduce large open-concept floorplans along with an array of luxury amenities and scenic Hollywood views – unlike anything the city has seen before. The bespoke residences vary from 2,395 to 5,078 square feet and range from $3.5 to $9.5 million. Each feature exquisite design aesthetics and ethos crafted by luxury interior design firm SFA Design, integrated state-of-the-art home technology, and a personalized name to fit their distinctive characteristics.
"Above the Penthouses will prove to be the most unique real estate offering in all of Los Angeles and is at the forefront of the luxury lifestyle renaissance in Hollywood," said Ron Barnes, Principle, Vine Street Advisors and Owner representative. "We leveraged a classic location while breathing new life into a space fit only for the modern, high-end Hollywood homeowner."
The Griffith, a fully furnished three-bedroom, five-bathroom home offers multiple entertainment spaces across more than 5,000 square feet including a custom built-in wine storage, retreat room/library and private media room. The residence features custom design aesthetics including rough-hewn wood finishes and polished marble throughout the open indoor spaces along with more than 1,200-square feet of private outdoor terraces. In addition to its spacious living quarters, The Griffith is home to Hollywood's sexiest shower. Nearly 100 square feet, this glass-encased steam shower represents over 800 hours of design, build and finish, offering the owner gorgeous views of the sweeping Hollywood Hills and the Griffith Observatory – the home's primary inspiration.
The Bower's Parisian influence showcases a mix of era-specific and avant-garde refinement at its finest. This three-bedroom, four-bathroom, 4,500-square-foot home features a private master retreat with wet bar, show room style walk-in closet, and a private terrace. The Bower evokes an old-world aesthetic with a modern twist and hint of European flavor. Floor to ceiling Nana Walls span the entire length of the entertaining area, folding open to a second outdoor balcony. With a distinctive layout and charming design, The Bower exposes traditional elements such as ornate wall moldings, Roman Doric columns, custom nero marquina stone fireplace mantle, forged black iron glaze work and rustic herringbone parquet flooring.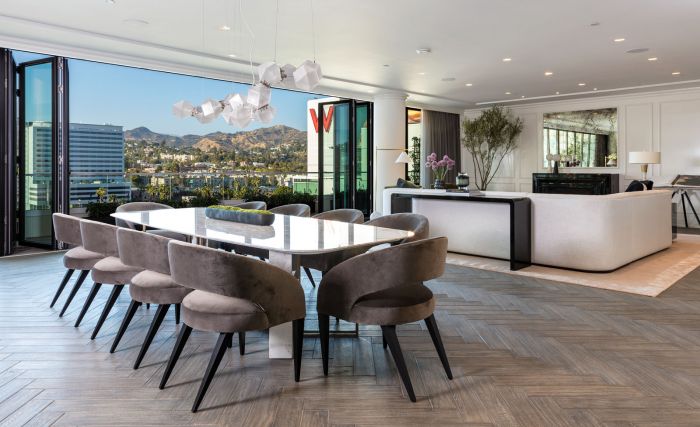 Inspired by the Brooklyn-esque nature of Hollywood's historic buildings, The Vista is a three-bedroom, four-bathroom penthouse that pairs sleek, urban-contemporary design with luxury finishes and materials, reflecting industrial luxe aesthetics throughout the 4,708 square foot home. Wood walnut louvers are used to define the entry space while striking vistas of Downtown L.A. to the Pacific Ocean and Hollywood Hills immediately command attention from the additional 827 square feet of south and west facing patios. A drop down projector and screen transform the living and kitchen areas into a private home theater at the touch of a button while an intimate banquette that can fit up to 10 caps off the kitchen that overlooks the historic Taft and Broadway buildings.
Additionally, Axiom and Altair exude casual refinement characterized by modern California design within 2,395 square feet and 2,256 square feet respectively. With an additional 901 square feet of outdoor space in the Axiom and 701 square feet of outdoor space in Altair, these homes utilize natural light to accentuate their streamlined interior spaces. The open loft style of the kitchens, dining, and living areas contrast with opposing bedrooms to provide multiple scenarios for comfortable living and ultimate privacy.
"The design concept for Above the Penthouses speaks to the caliber of living the spaces offer," said Kara Smith, president and partner of SFA Design. "Through a combination of abstract and traditional design elements, textures, modern materials and finishes, we were able to create memorable yet functional spaces that exceed the imagination and directly reflect the beauty that is Above the Penthouses' Hollywood surroundings."
Barnes recruited Ben Bacal of Rodeo Realty to partner in Sales and Marketing efforts. "Ben has the vision for unique properties and the individual characters we've crafted at Above the Penthouses," said Barnes. "He gets the New Hollywood and what it represents for Los Angeles – he was the natural fit for our team."
"These status-quo shattering, custom-homes are a direct representation of the new energy, spirit and growth within Hollywood," said Ben Bacal of Rodeo Realty. "Those who reside at Above the Penthouses will have a boldly exclusive experience only the few and the adventurous will share."
Residents and their guests will have all of the comforts of resort style living with exclusive access to a private residence entrance, roof-top pool deck, a 24-hour fitness center, screening and living room spaces and many more outdoor entertainment spaces as well. Above the Penthouses will also offer residents 24-hour doorman and concierge services, valet, in-home dining, and their all-inclusive "Whatever, Whenever service" that specializes in making any owner's needs or wishes a reality with a simple call to residence services. No request is too big or too small. Charging privileges and resident discounts are offered by the W Hotel and its retail outlets including Bliss®Spa, Delphine restaurant, The Living Room bar, and Station<