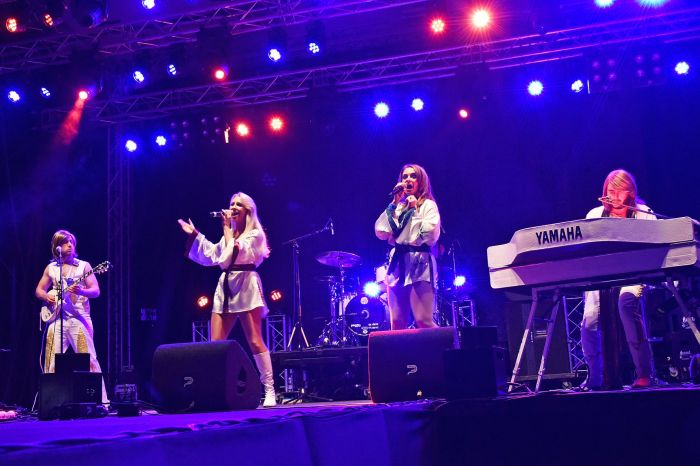 I was brought up on an aural diet of classical music and ABBA. My mother – a professionally trained opera singer – was not keen on pop music, but had a soft spot for ABBA. When I was a child, ABBA had fallen somewhat out of fashion, but I adored their music nevertheless. I still remember being gently mocked by my cool carpool pal, who loved Blur and Madonna, and would sigh resignedly when ABBA Gold was pushed into the CD player for the umpteenth time during the morning run to school. I remained a dedicated fan; not quite a Toni Colette in Muriel's Wedding level of devotion, but a true ABBA lover, nonetheless. The band's resurgence in popularity coincided with the opening of Mamma Mia! - the jukebox musical written by British playwright Catherine Johnson, based on ABBA's songs and composed by the two male band members – Benny Anderson and Björn Ulvaeus. The release of the film version of the musical in 2008 only cemented the band's regained popularity. At last it was hip to be an ABBA fan again.
I wanted to introduce my own children to the joys of ABBA, and to my delight, the perfect opportunity presented itself in the guise of 'ABBA for Kids'. This brand-new show, designed with children and families in mind, is the perfect way for parents to introduce their kids to live pop music, with the added rich accompaniment of a symphony orchestra. The show features a collaboration between ABBA Revival and the Mozart Symphony Orchestra – at first glance perhaps not the most intuitive of stage mates, but, as it turns out, a winning combination. ABBA Revival has been voted the UK's No. 1 ABBA tribute band, pronounced 'the best doppelgängers on the circuit' by Classic Pop magazine, and has twice been nominated for best production in the NTMA. The Mozart Symphony Orchestra, meanwhile, is a contemporary ensemble that is undoubtedly one of the best orchestras to emerge from London's vibrant classical music scene in recent years.
The show – performed to a packed out Cadogan Hall, full of excitable kids and their parents, is a triumph. The show starts with an instrumental rendition of Dancing Queen; it's a clever way to open, with a classic, instantly recognisable and catchy ABBA hit to draw in the audience, and to encourage focus on the orchestra. The Mozart Symphony Orchestra, under the baton of Philip Mackenzie, led by Michael Gurevich, is a show stopping ensemble, and the audience loves it. A party mood prevails by the time the members of ABBA Revival come on stage, opening with the classic crowd pleaser 'Waterloo'. Agnetha and Anni-Frid encourage everyone to get up on their feet, but the audience barely needs any persuasion; everyone is boogeying away already. 'Gimme Gimme Gimme,' and 'Honey Honey' follow, then an orchestral interlude of 'Money Money Money' then a costume change and 'The Winner Takes it All'. After a short interval, there are some more ABBA favourites: 'Voulez Vouz', 'Take a Chance on Me', 'Thank You For The Music', and a finale that includes a singalong 'Dancing Queen' and 'Mamma Mia' encore.
The show is billed as best for 7+ year olds, but I took my three- and five-year-olds, who were both bopping around and having a brilliant time. The blend of pop and classical music was a brilliant introduction for young ears, and it was the first time either of my daughters had had an opportunity to see a full orchestra - timpani, double bass and all - in action, which was a real treat.
I've been to many children's productions, some of which are better in production quality that others, but this was without doubt the best kids' show that I've seen - not just because I'm a biased ABBA fan, but because it was so obvious how much enjoyment all the young - and older - members of the audience were deriving from the performance. This was the first collaboration between ABBA Revival and the Mozart Symphony Orchestra, but I very much hope it won't be the last: my daughters are already asking to go again.
ABBA for Kids at London's Cadogan Hall