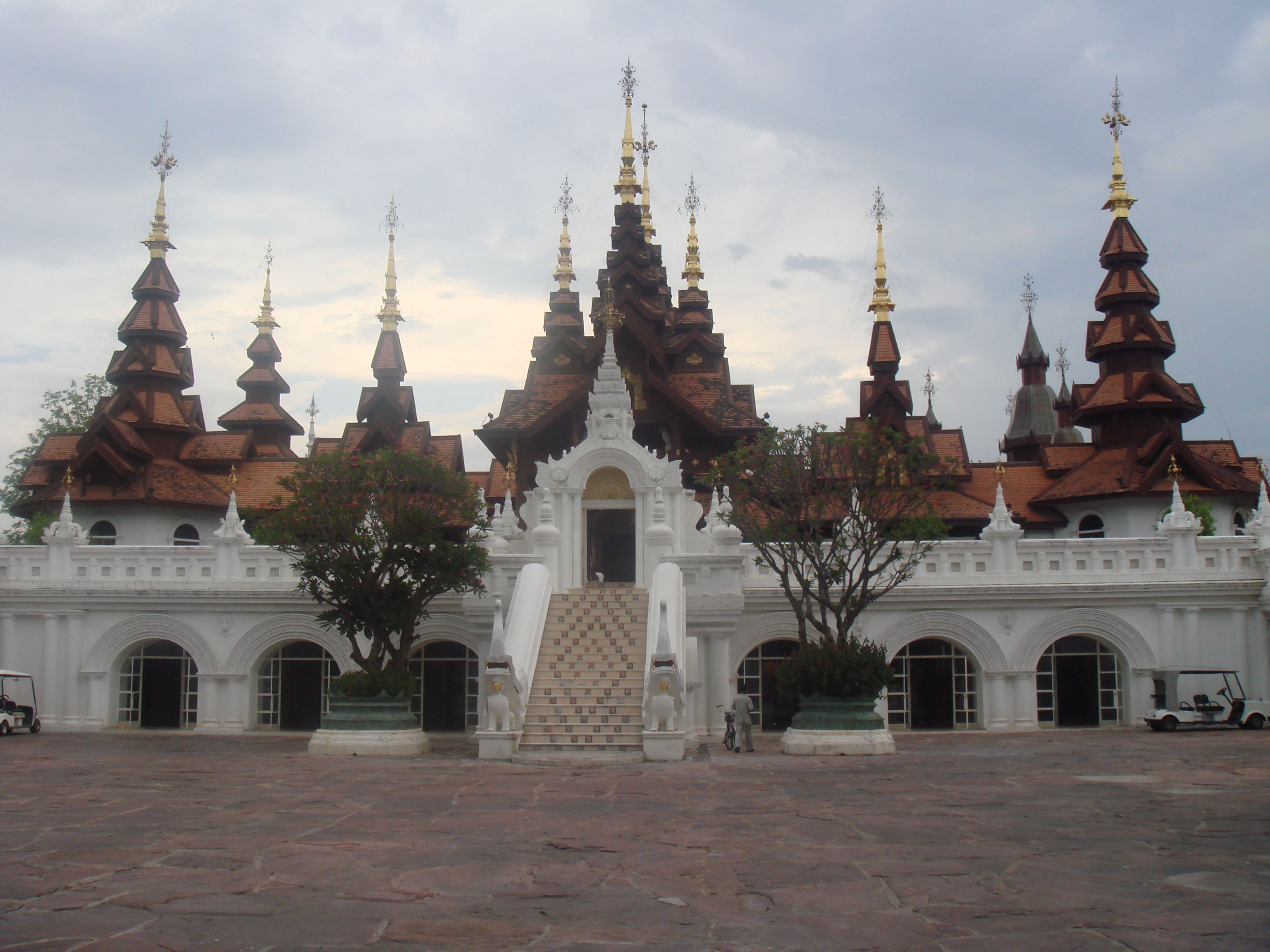 Photos Credit: Malcolm Teasdale
If 60 acres of beautiful landscaped tropical grounds with palace-like structures in a rich cultural and tranquil environment sounds inviting, then the Dhara Dhevi Resort in Chiang Mai, Northern Thailand is perfect for those who seek the best in luxury accommodation without having that familiar "hotel feel".
As the most significant city in northern Thailand, Chiang Mai it is situated 400 miles north of Bangkok, far enough away to escape the hustle and bustle, congestion and madness of the capital. Sitting on the Ping River amongst some of the highest mountains in the country, its historical importance on an ancient trade route, and a major center for handcrafted goods and woodcarving, is fast becoming a tourist attraction.
The detached 2-story private villas are just sublime and are nestled amongst surrounding paddy fields, The only sounds you will hear are from the local bird population and occasional chit chat from the farmers. It exudes peacefulness, and believe me, you will be chilled out the moment you walk into your room.
The restaurants, spa and pool area, plus the unparalleled service from the "always helpful and smiling" staff, will put you in a mindset that there is absolutely no reason to leave the resort during your stay.
It's well know that Asian Spa treatments are among the World's best, but a visit to the Dheva Spa and Wellness Center is like no other, decked out with ornate sculptures and symbolic Buddhist motifs in a building that resembles a historic Burmese palace. The complex aroma of herbs, flowers and incense will put you in the right state of mind for your spa treatment. You can be forgiven for feeling like a member of the Royal Family when you are treated like royalty by the expert therapists. The 2½ hour Indulgence Package will make you feel like a new person with a fresh outlook on life.
If you are in the mood to take relaxation to another level, you can go to a meditation session in one of the temples, where a qualified staff member will show you how to take charge of your mind for an hour and enter another realm.
The resort employs the best chefs available and they will be happy to share their expertise with you at the daytime cooking class. Learn the right way to make a traditional red curry, with fresh locally grown herbs and spices, and have it served to you later at your villa or at one of the restaurants if you want to admire your own handiwork.
If that sounds like too much hard work, then just enjoy dining in style at one of the many restaurants.
You'll be blown away with the variety of food available at the Akaligo Restaurant's breakfast buffet, which caters for guests from the World over. I never realized there were so many different types of bread or ways to cook an egg. After indulging, it's highly unlikely you'll need anything else to eat until the evening.
For an early evening cocktail, you can go to the Horn Bar, likely one of the coolest places you'll ever enjoy a drink. Its interior features masks all over the walls depicting mythological characters from Myanmar, creating a mystical ambience. A colorful martini or s Singha beer will go down very well while you admire the surroundings.
For fine dining, Le Grand Lanna offers the best in authentic Thai cuisine. Start with some Chiang Mai lychees filled with minced prawns and peanut sauce, and follow it with a steamed whole sea bass with fresh lemongrass and spicy lime sauce. Then after a glass or two of Thai Monsoon Valley wine, you'll be ready for some first class entertainment in the way of traditional Thai dancing.
When the evening comes to a close, you can be chauffeured to your villa in a golf cart or walk along illuminated footpaths over paddy fields and enjoy the peace and quiet of the night.
If this just sounds like too much relaxation for you, then there are energetic options available. You are welcome to help the friendly farmers in the rice fields or even take a lesson or two of Muay Thai Boxing. After 30 minutes of the latter, you'll want to cool off in the adjacent infinity pool at the secluded Loy Kham Bar and enjoy the stunning views of the surrounding lush green paddy fields.
For one night at least, you must have dinner served to you in your private gazebo at your villa. I did exactly that on my last night's stay. It was a night of fine at-home dining underneath the stars. The candles lighted the tables, the moon illuminated the paddy fields and the night shift variety of birds came to life. Perfect.
It was a delightful, peaceful way to end the vacation in beautiful surroundings, and more importantly, in a place where feelings of stress, worry and the happenings in the World outside were banished for a few days.
The only problem you will have will be leaving, but at least you will have the memories of an unforgettable vacation.