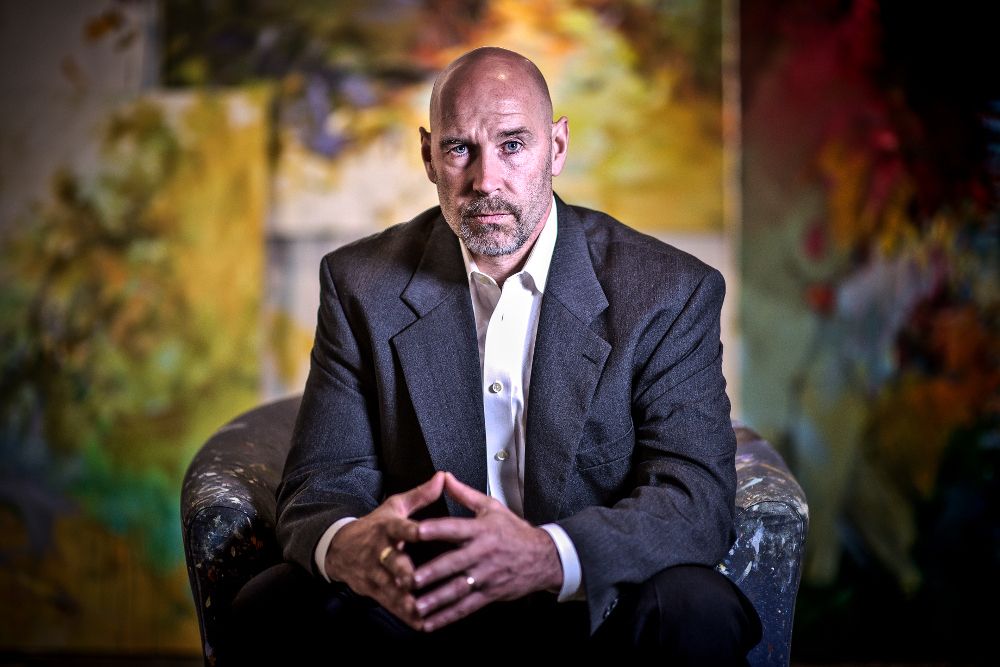 Photos Credit: Blu Smith
After spending years on the business side of art as a sign painter and commercial graphic designer, artist, Blu Smith, took the leap and transitioned into abstract art. In a short amount of time, Blu's career as a fine artist blossomed. With multiple exhibitions in galleries all over the world and high demand for commissions, Blu has a large and growing audience. Using his bold imagination, an inspiring natural setting, and a mixture of media, Blu creates stunning abstract collections that are vibrant, entrancing and ultimately personal. His mysterious creativity stems from years of artistic experience, including those which were spent keeping his expressionist perspective out of the public eye. Working with movement and light as techniques, Blu produces works that either seem to depict another planet, or that dive into the subconscious of our muddled states of mind. Inspiring and creatively relevant, Blu Smith tells JustLuxe about his journey through the art world and what he's planning to do next.
When did you know that you wanted to be an artist?
I was always compelled to create art from a young age. I spent most of my youth drawing and sketching like many kids, until I fully recognized my skill and potential. As a young man I went to art school, developed my skills in drawing and painting without much of a clear vision. My thought was that I would find an art-related career and start from there. I worked as a sign painter and a commercial graphic designer for a few years, which definitely helped to develop my skills for precision, accuracy and design. It wasn't until I went through a dark and challenging period in my late 20's that the importance of finding an outlet to express emotions and states of mind became paramount. I completely changed my style and process from representational to abstract. It provided a creatively freeing and deeply personal, therapeutic release for me. For a young man who had a hard time communicating, this "non-literal" medium was a perfect fit. My voice as an artist was found, and it was during this period I knew I wanted to be an artist.
What and who inspires you?
I have always had a fascination with light. It is certainly one of the hallmarks of my work. I use it as a technique in my paintings to bridge the gap between abstraction and nature. Working in a windowless studio with no natural light, I take mental snapshots of the morning light as it fills the sky and transfer it to my canvas. The light is a main component to transforming works and giving life to each piece.
What is your usual process like and what mediums do you use?
My paintings are usually mixed media. Acrylics, latex house paint with the use of charcoal, gloss and sometimes, heavy body molding paste. I often begin with large sweeping gestures and layering of textures, then begin to pull out 3D shapes. This is usually followed with incisive drawing and line work with charcoal pencils to pull out and define these dimensions. The final step is to bring the painting to life by illuminating the background with light.
How did the series 'The Wild' and 'Light Filled Spaces' come about?
I could recognize that my work was beginning to shift from an internal place to an external sensory. Living on Vancouver Island on the West Coast of Canada, it was only after moving to a rather secluded and large piece of property did this imagery begin to emerge. I was affected deeply by the lushness of the landscape and the quality of the light. I find it fascinating that light, just as water and electricity has the ability to find a path of least resistance. This fascination was translated into my work and I was able to take a very fresh and contemporary view on a somewhat traditional subject matter. With abstract painting, I can break rules and use unconventional color pairings mixed with vigorous, dripping brush strokes to express my vision. What I'm left with is this raw, unrefined version of nature that is resolved with the softening of light.
What do you often find the subject matter of your paintings to be?
My paintings are building blocks; each painting is another brick in the overall body of work. The subjects change, but I always see my body of work as living, breathing and ever evolving, over time. The origins of the subject matter are internally driven and have developed to what it is today. In the last year and a half I have been experimenting with a combination of my abstract techniques with the landscapes of heavily forested areas of Vancouver Island.
Tell me about some of your past exhibitions
I have exhibited throughout Canada for years from Vancouver to Toronto. Over the last few years, I have been entering the US market with a Gallery in Miami and participated in several US based Affordable Art Fairs in New York and Red Dot Art Fair in Miami during Basel Week.
Do you have any shows coming up?
After coming off of two Art Fairs in New York, one in Toronto and two solo exhibitions in the last year, I have a few months off until November where I will have a solo show in my home town at the Avenue Gallery in Victoria B.C. Canada.
Find out more about Blu and see his work at http://blusmithgallery.com/.