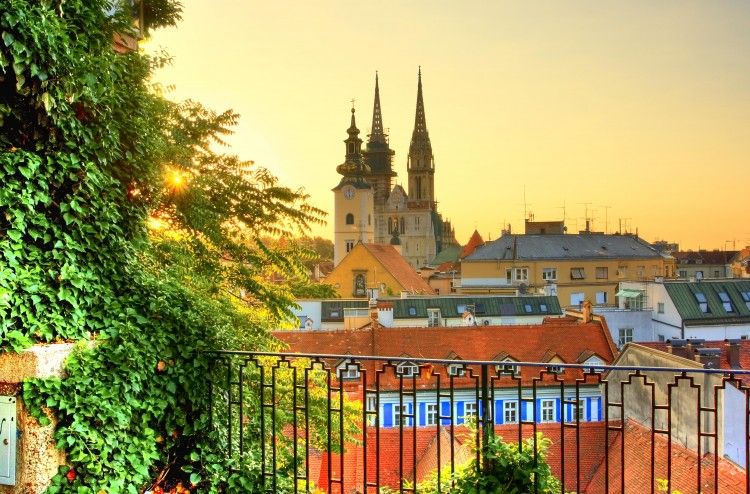 Adriatic Luxury Journeys
This year, forget Paris. For a romantic retreat with a touch of adventure, Adriatic Luxury Journeys, the leading global travel provider for small-group and private guided tours to the Adriatic Coast, offers exclusive experiences that haven't appeared on many Facebook pages. Between private clifftop dinners at sunset, sailing excursions to hidden beaches, wine and oyster tastings directly with the purveyors, and cooking classes at private estates, Adriatic Luxury Journeys' romantic Honeymoon Journeys (ideal for any romantic occasion) feature experiences not often available to the public.
Through the intimate knowledge and personal relationships of founder Maria Kuchan, a Croatia native, Adriatic Luxury Journeys seamlessly weaves the romantic atmosphere of cities like Hvar, Split, Dubrovnik, Rovinj and Venice with their rich history, culture and architecture. Couples tour famous cathedrals, stroll across ancient Roman ruins, discover treasures in boutique art galleries and visit artisanal farmers and local fishermen. For couples who have a unique experience in mind, Adriatic Luxury Journeys can completely personalize every journey to taste, even combining Croatia with destinations like Greece or Turkey for an adventure across the Mediterranean.
Every tour features luxurious hotels carefully selected for their five-star service and romantic views, with many accompanied by complimentary upgrades or surprise gifts. Guided tours are led by licensed English-speaking locals, and a private chauffeur ensures that couples won't have to think about finding each city, island or small village. Accommodations, transfers, activities, guides and many meals are included, making every getaway seamless. Although on-the-ground support is available throughout both in Croatia and the United States, tours are designed with privacy and discretion in mind, offering service when desired and plenty of alone-time. Standard Honeymoon Journeys range from seven to fifteen days and start at $1,995 in the low season.
Below are Maria Kuchan's featured recommendations for romantic travel in 2015:
With its pristine beaches, cascading waterfalls, medieval architecture and intriguing gourmet specialties, it's no wonder that couples are falling in love with Croatia. The 15-day "Croatian Love Story" tour highlights the country's most romantic hidden gems, often including experiences only available through the intimate knowledge of a local guide. You'll wander through the ancient cellars of Diocletian's Palace, explore the Green and Blue caves of Hvar and sample sommelier-selected wines at the finest Croatian restaurants. You'll even take a boat ride to a private lagoon where a sunset dinner awaits. Before you leave, you'll spend two nights at a luxury hotel in Dubrovnik with views of the Adriatic Sea.
Even travelers who have seen the ancient architecture and natural wonders of Hvar, Split and Dubrovnik will find themselves mesmorized by this "behind the scenes" experience on the Dalmatian Coast. You'll picnic amidst the waterfalls of Plitvice Lakes National Park, kayak through the beaches of Zaton Bay, speedboat through the cliffs and hidden bays of the Paklinski Islands and dine in a private olive grove atop St. Nicola, Hvar's highest peak. This 10-day journey will give newlyweds a lifetime of memories and rekindle old romances with new adventures.
An experience designed especially for those who delight in sampling authentic gourmet specialties, "Dreamy Venice & Croatia" explores the rich culture and history of Italy and Croatia in an atmosphere of romance. You might tour Doge's Palace in Venice with a "secret itinerary," wander the narrow streets of Rovinj, taste the famous truffles of the Istrian Peninsula, and enjoy fresh-caught trout or roast lamb with a glass of locally brewed beer. You'll have plenty of opportunity to work up an appetite as you hike through Plitvice Lakes National Park, zip line across the Cetina River or snorkel through the secluded beaches of Šolta and Brač.
Ideal for couples who seek privacy and seclusion, "Passion of the Adriatic" is filled with hidden beaches, private boat rides and exclusive dining experiences, including a private cooking class. Adding adventure to romance, you'll sail to the island of Vis and later swim beneath the famous waterfall Sradinski Buk at Krka National Park. For a taste of authentic Croatian culture, you'll meet artisanal chocolate and cheese producers, sample wine and oysters with local residents, and hunt for black-and-white truffles in the Motovun foest. You'll bask in luxury throughout your entire 10-day escape with five-star hotels, private chauffeurs, local guides and even a complimentary bottle of champagne.
Adriatic Luxury Journeys
Dalmatia - Croatia
Adriatic Luxury Journeys
Dubrovnik - Croatia
Adriatic Luxury Journeys
Rovinj - Croatia