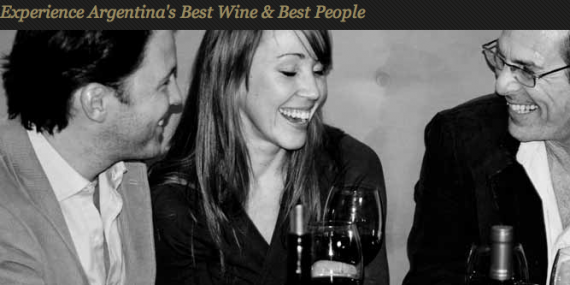 Anuva site
Living in Buenos Aires has taught me to look up so as not to miss the juxtaposition of young and old architecture that lives above the street eye-level. Standing at the corner of Malabia and Niceto Vega my gaze shifts to a vertical 45 degrees. Nice awnings dappled in mid-afternoon sunlight, a bit of green. My thoughts momentarily flick back to Anne's penthouse apartment in Point Piper.
The traffic light changes and I cross the street and push the buzzer for Malabia 1308. Shortly, I find myself on the other side of the space I've just admired.
Anuva, an amalgamated name from "an" in English and "grape" in Spanish (which, interestingly enough, also means "knowledge" in Hindi and "new beginnings" in Russian) began as an apartment wine business in 2007. The enterprise moved into larger digs to accommodate the expansion, and then recently went seriously upmarket in Palermo Soho: high ceilings, straight back chairs, tables decorated with bowls of floating flowers, uncluttered walls. But it is the loo with an orchid and rolled cotton hand-towels that evokes my murmur of approval.
"Hey," chuckles Dan, in an amicable Portland accent, "If you are going to do it, then you have to do it right." And he and his partner (and Argentine wife), Lourdes, have done exactly that.
Dan and I talk about this, that and the next thing for 45 minutes. Then he excuses himself to go up the spiral staircase to his office on the third floor. The wine tasting I've been invited to is about to begin.
Seated at the table are Nelson, Jason and John, three Americans who have known each other since primary school. I introduce myself as being from central Canada. Sarah arrives to talk us through the tasting. Her first question is if we have ever done tastings before.
Jason interjects, "Well, maybe, but I really want to hear everything you have to say." The rest of us nod in accordance, as Sarah explains that the first step in wine tasting is to appeal to all five senses. Momentarily puzzled, I'm not sure how she is going to incorporate "sound" and "touch" unless we listen to a dollop of wine hitting the glass table and then lick it up with our fingers. But I digress.
The first wine is Hom Espumante Sparkling White (19.99USD a bottle). It makes my nose twitch slightly, but I have that reaction to anything sparkling. It goes well with the pear, walnut and blue cheese entre perched on the place in front of us.
The second white wine is a fruity, slightly grapefruit – and I forget the other adjectives as I didn't write them down at the time – Carinae Torronters (17.99USD a bottle). Jason declares it is the best white he has ever tasted. Having lived in New Zealand for six years, I reserve judgement. It is paired with sorbet to open the taste buds. Jason asks if the sorbet is made on the premises by Anuva's private chef. Sarah confesses that it is ordered in from Persicco (http://www.persicco.com/).
Then we shift to the reds, starting with a Mairena Bonada (19.99USD a bottle). Sarah shows us the label and tells the story about the winery owner's daughter. She was born when Argentina enforced a law that children had to have state-sanctioned Spanish, Catholic-type names – and Mairena wasn't on the list – so she was called Lucia. The label, however, has become her legacy. It is a hearty wine that goes well with cheese, salami or anything else that is greasy and robust. This turns out to be John's favourite. We all hold up our glasses for seconds.
Moving on, we sample the San Girmignano Malbec Rouble ((28.99USD a bottle). Never having tried a Malbec I didn't like, I bond with it immediately. The accompanying empanadas – with slices of beef rather than mince – appear. Nelson comments that the two are an ideal match.
The fifth and final wine is a Caluna (which means heather flower in Latin) blend (29.99USD). This combination – 48 percent malbec, 42 percent cabernet sauvignon and 10 percent merlot – may be Heather Willen's legacy to the Argentine wine industry, as she has recently returned to America.
A tasting at Anuva is an ideal way to wile away a few hours if you are here on holiday or take a break if you are in town on business. Or, if you are a porteño, it is an ideal way to learn about the latest boutique offerings.
Additional Information:
Anuva
info@anuvawines.com
Don't be afraid to book on your own. The tasting allows for from 4 to 50, so unless it is an exclusive event, rock up by yourself and meet other people.
Dan's Recommendations:
Budget: San Gimignano Chardonnay, Malbec and Cabernet
Medium: Mairena Sauvignon Blanc, Mairena Bonarda, Carinae Cab-Malbec blend
Expensive: Carinae Torrontes (90 points Robert Parker - 2nd highest rated Torrontes in Argentina), Mairena Reserve Blend (30% Bonarda, 70% Malbec), Carinae Prestige (91 Points Parker)
Anuva ships to the United State. People from other countries, however, will have to enjoy as much of the boutique wine as they can while they are here.
Click on the "Argentine culture" section of the website and troll through the history, language and culture sections. An informative read, and you can swot up on your Argentine lunfardo (slang).
Get a copy of the Anuva restaurant guide by neighbourhood – complete with $$$ ratings – as it is helpful.