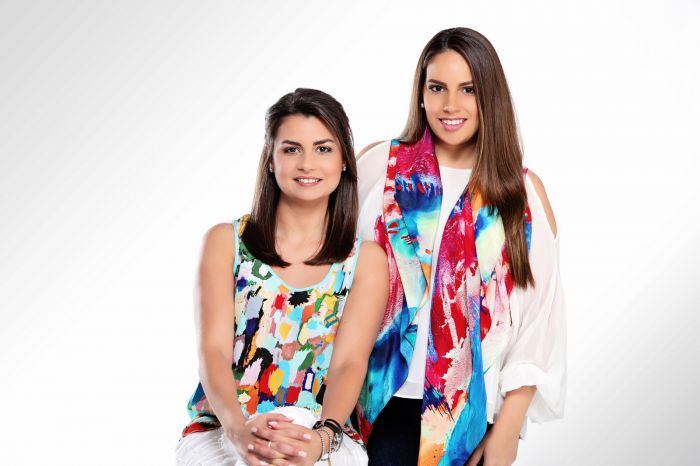 Photos Credit: artTECA
Claudia & Flavia Giardinella from artTECA are not your usual fashion designers. With a background in art and fashion, they decided there was no point in choosing just one, when they could combine both to create impressive and wearable works of art. We took a moment to find out the secrets behind their amazing luxury collection that feels like they took the art works from a museum of modern art and put them on silk to create the most inspiring wardrobe collection a woman could have.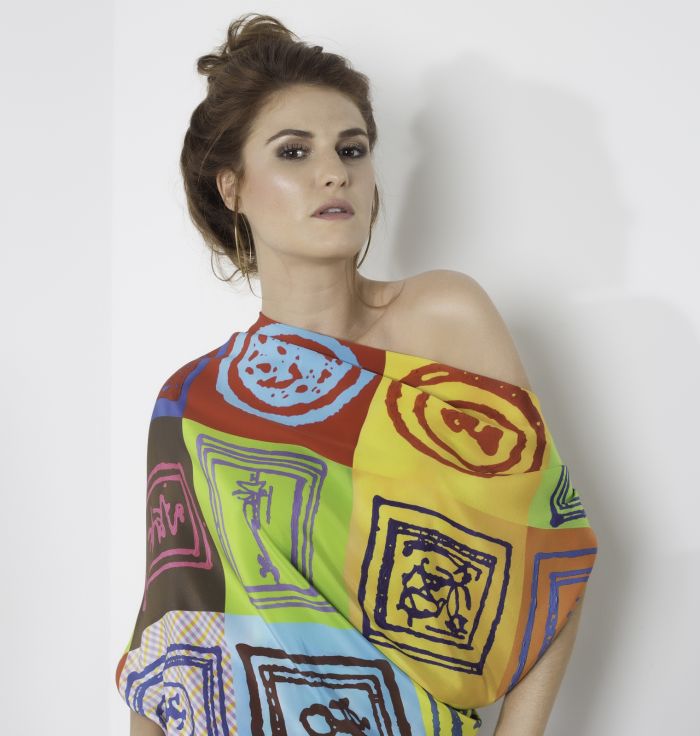 LL: What made you decide to create a brand that merges contemporary art with fashion?
C & F: artTECA was created out of our two passions: fashion & art. This is why we decided to create a brand of unique art-inspired designs to fill your closet with color, creativity, quality and style!
When it come to fashion we are both prints lovers, so the idea was very organic for us… there was no other way to create the most unique prints than working with artists and using their unique art to design our fabrics!
Our name artTECA is a combination of two words: art and "teca" which in Ancient Latin meansgallery. Our vision is for your closet to look like a gallery of wearable art that inspire, personally resonate with you, and offer you a sense of confidence and empowerment.
LL: What is your background in art? What about fashion?
C & F: We have had a longstanding relationship with both fashion and art, so it was an obvious choice for us to combine both in order to create a fashion brand that would embrace today's modern woman and her unique style. We are sisters and we have always been involved in the art world. We grew up in a family that collected art, so it is very rooted in our culture. Flavia has also worked in art galleries, museums, and other art-related businesses. For us, fusing fashion and art was a natural thing to do!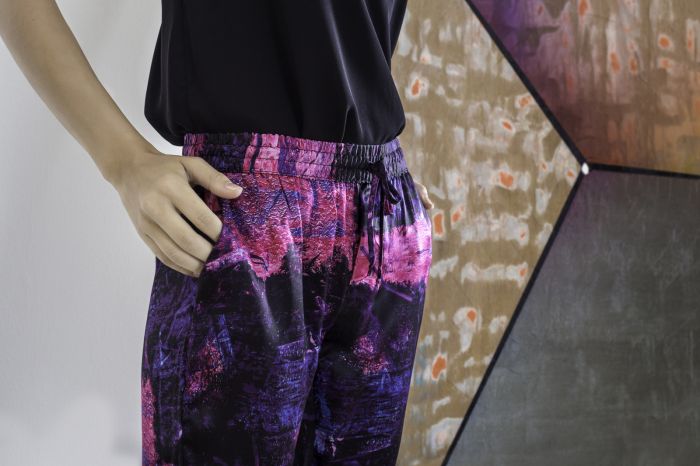 © artTECA
LL: How do you choose the artists you collaborate with?
C & F: In artTECA we curate the artists and the artwork very carefully. We are very much up to date with the art scene. We attend art fairs, galleries and museums; and we follow art magazines and publications and visit artist's studios in search for the artists we want to work with. We work in collaboration with artists from all over the world: the United States, Latin America and Europe. It is a very diverse group and so it's their artwork. We established a certain criteria to select the artists we work with. We look for established and emerging artists who have serious and promising careers. So far we have collaborated with 13 artists, and at the moment we are working with new artists for future collections.
LL: Tell us about the materials you use for your fashion pieces.
C & F: For our current collection 100% premium silk was the fabric of choice. We spent a lot time looking for the best quality in silks for each style, as well as the best printing methods. All our silks are digitally printed.
At the moment we are working to introduce new designs with other textiles, always maintaining the highest quality on all materials and the craftsmanship.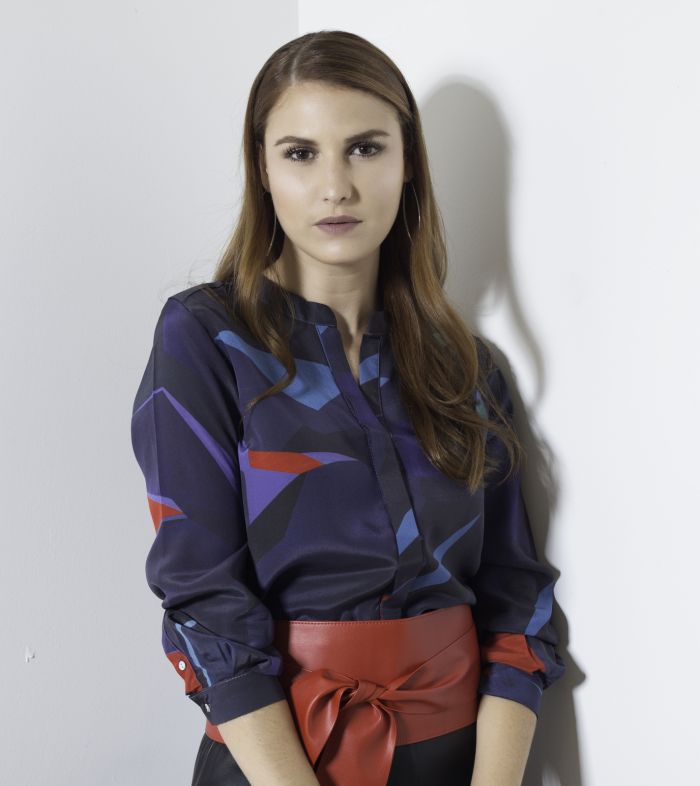 LL: There is a lot of diversity in fashion right now. Do you see taking this to a more mass-market level or would you prefer to keep it in limited edition?
C & F: Being a brand of limited editions is a fundamental part of what artTECA is all about. Just like the artwork that inspired it, each artTECA design is a limited edition piece of wearable art. The artTECA woman is unique, independent, and dynamic so she deserves something special that makes her stand out.
Also, high quality is very important to us, so keeping a small-scale production allows us to guarantee the best.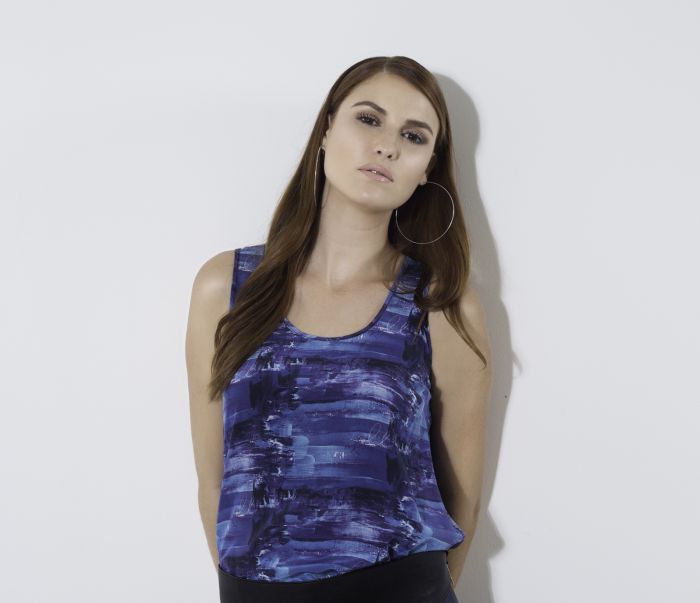 LL: One of your goals is to support art education. Tell us about how you're doing that with your fashion line.
C & F: Due to Claudia's background working with non-profits, we knew since the very beginning that we wanted to build a company that would make an impact in our community. An important aspect of our brand is to promote contemporary art, so as part of our mission artTECA is committed to assisting in art education programs throughout our community to expand the opportunity for art development. In order to achieve this, we partnered with non-for-profit organization Bakehouse Art Complex, Miami's incubator for artistic creativity in South Florida, to support the organization's art education program for low-income students, by donating a percentage of sales annually.
LL: What's next for artTECA? Where do you see the brand going?
C & F: We want our customers to collect our pieces, as if they were collecting art. In this case: wearable art. This is why each artTECA piece comes with a Collector's Limited Edition Certificate. We also want to collaborate with more artists and even with other fashion designers and brands.