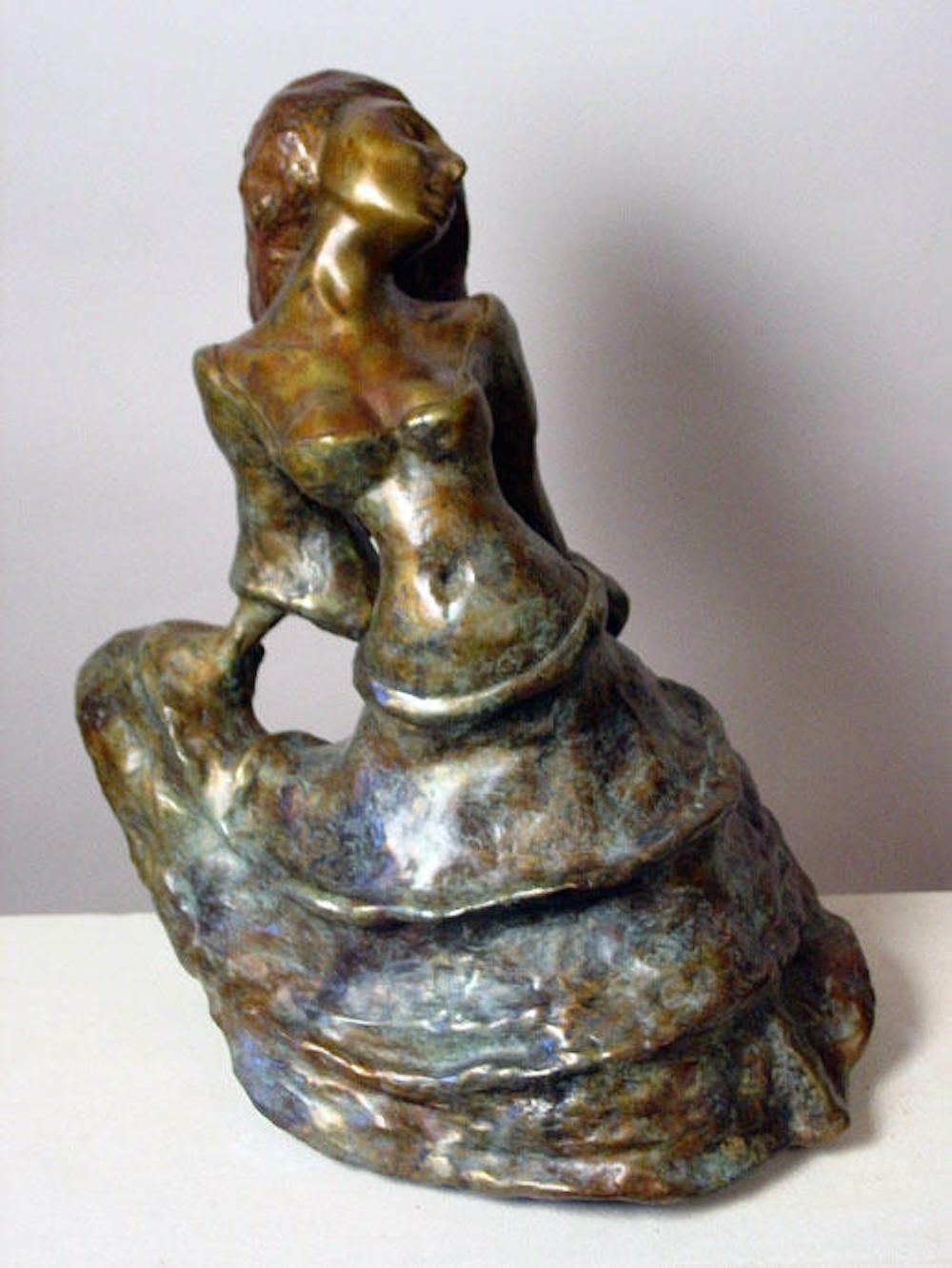 Photos Credit: Ella Kogan
Art and music were an integral part of Ella Kogan's real-life world ever since she was a child. Her father was a distinguished Russian painter, a follower of Ilya Repin's school of realist art, while her son, a budding abstract painter, infuses creativity and originality into the family's expanding business. Ella sees her art as a form of communication, and she frequently refers to how her sculptures "speak" to different people in different voices. In every one of her works she strives to capture eternal elements of the human condition. Her sculptures seem to exist in an intermediate state between generalized personal vision and the portrayal of realistic, living, breathing beings. Ella Kogan's sculptural pieces are never still, rigid or stagnant. On the contrary, they are always changing, with the intensity of visual perception depending on the observer's position, viewpoint and mood. While she tells JustLuxe how her art expresses her, rather than vice versa, Ella never insists on any one interpretation of her work.
When did you first begin sculpting?
I started sculpting when I was in my thirties. Before that, I always thought of myself as a musician first. Music is a major vehicle for all of my creativework. I frequently need to listen to recordings of classical music when I put the final finishing touches on my sculptures.
What made you pick sculpting as your art form? What is it about sculpting that called out to you?
The way I see it, sculpting chose me. I did not consciously select sculpting as my art form. I feel the clay and I trust the clay. This trust is reciprocal;it is an important and mutual partnership. For me, malleable and moldable clay is a perfect material for implementing the "mind to finger" process.
Ella Kogan
Who do you consider your primary influences?
I cannot think of any specific artist as my primary influence. My main influence is life itself. Creativity is a significant biological force that we, as humans, can harness. We are all creative beings and have the ability to express. The questions we should ask ourselves are 'why' and 'how' we want to express our creative potential. In the making of a masterpiece, the artist first examines a multitude of facets of material reality. The way he or she is able to then reassemble them into an original work of art is a gift really. It ultimately expresses one's personality and sensitivity to the world, one's imagination, associations and experience.
Your father, Leonid Kogan, studied art at the Academy of Art in St. Petersburg. His works are on display in the Russian Museum, the largest depository of Russian fine art in St. Petersburg, and in private collections. How did he influence you as an artist?
I was lucky to grow up in a creative environment. My father recognized that I had a good ear for music, and he started teaching me to sing when I was barely six years old. Being a talented artist himself, he always pushed me to do better.Exposed to art from an early age, I was given every opportunity to participate in creating it.Let me put it this way –art is in my blood. I finished art school as a classical pianist, and also continued to polish my skills as a singer. My children have clearly inherited the family's creative streak. My son is an aspiring abstract artist and writes poetry, too. He now uses his creative mind to design an interactive computer dashboard design for the family business.
Ella Kogan
How would you describe your works?
I am fascinatedwith the true self within every human being, andthe question of "who" behind a face. I cannot materialize any of my projects unless I am able "to smell the soul behind the face." I use my emotional intelligence, knowledge and experience to create future works in my imagination. Yetthere has to be a catalyst that drives me to implement the idea gradually taking shape in my mind.From that moment on, there is a straight path leading me from a vision colored by emotion to the exercise of complete mental control. My brain tells my hands what to do, and they execute a result, breathing life into the clay. Each of my sculptures has a story to tell.
On your website you say that you sculpt to provoke and communicate, what precisely do you mean by that?
I am a storyteller. I bring a message to the viewer with each art piece. I must be able to convey and communicate the significance of every subject. Let people disagree about my works, all I want is for my art to provoke an intense and powerful emotional response. Therefore, I have to find a way to deliver the message in a form that is a fragment of reality, yet complete and eternal. Timeless, if you will.
Ella Kogan
How do your works come to you? How do you decide what your subject is going to be?
They come to me in mysterious ways, asthough funneled through a dim haze. Frequently, they are unsettling and agonizing and, rarely, they are ecstatic.Inspiration comes in waves and not on command,and it fills me with gratitude. I am overcome with a sense of urgency and necessity – it is as if I had become pregnant with them. While I am able to identify certain triggers that help me generate new ideas, I don't really 'decide' with any degree of precision what my subject is going to be.
Do you use models, photos, or do your works stem from your imagination?
I used models at the beginning of my career and only for my nudes. All of my 'faces' represent an idea that comes to me and that I must deliver and unveil to the world. These images are always real but never photographically concrete.
Are you working on a new project? Where can people see your work?
As of now, I just finished a very interesting piece, which probably defines a new phase in my life. I have several projects I am mulling over in my head but the time is not yet ripe. I am sure they will come to fruition in due time. I will be having a show in Manhattan in the near future. In the meantime, people can become acquainted with my works by visitingthe koganart.com website.