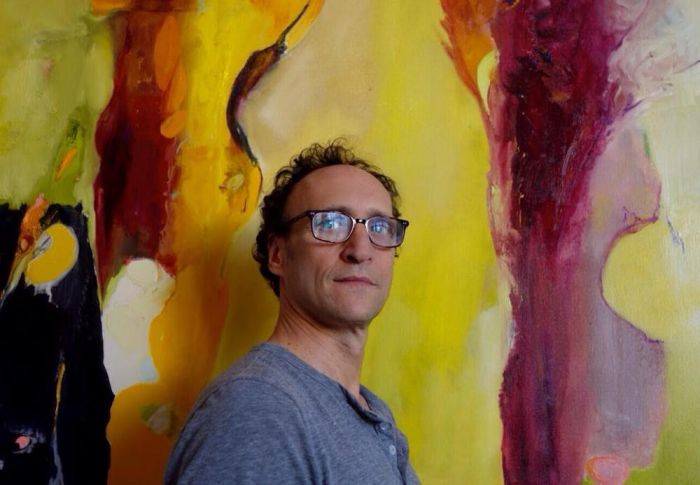 Joshua Elias
We all have our own private architecture. Built with light and vibration, we create our own cities. This is how abstract artist Joshua Elias sees the world. His ethereal landscapes tap into the deep underworlds we cannot see to tell the story of a lost civilization. In his new series, Floating City, Joshua explores the hidden layers that exist just outside our consciousness in the transitional state between wakefulness and sleep known as the hypnagogic.
Joshua's mother, a painter and sculptor, exposed her children to the arts at an early age, but it was not until after a series of tragedies in his adult life that Joshua found his calling as an artist. He enrolled at Otis College of Art and Design and within a few short years his work had caught the eye of several art collectors, including Kelsey Grammer. Now working out of the Brewery Arts Complex in Downtown L.A., Joshua took time out of his busy schedule, including working the "Art in the Arthouse" project with the L.A. based Laemmle Theaters, to discuss his art and inspiration with JustLuxe.
When did you begin your journey as an artist?
It is a spiral. Artists journey begin in odd places. As a boy one summer vacationing in Union Pier Lake Michigan I saw a rock that looked different from every other rock. It had holes (I did not know but it was porous, most likely a meteorite) It was large for a small rock and it floated on the water. I grabbed it and it was very hard, yet very light. I began to think about things and how they could be different and later how I could express that difference. Something out of the ordinary from something that seems simple and ordinary.
Do you have a basic process that you use?
Yes. It begins with composition. The dimensions and the base material I chose are key. The materials are my guide coupled with vision. I use either canvas, linen or linen on panel. I have it professionally made and once it arrives in my studio I look it. I listen to it for several days. I run my fingertips across it. I tape the sides. Then I decide on preparing the canvas or linen with glue or with gesso and then oil ground. I imaginarily sketch it with a dry paintless brush or my fingertips. Then I put two possible three colors aside or pigments. I make paint. I paint out, visually carving away the upper left hand corner. I conceptualize the painting and begin to mix paints and assign brushes to each color.
Then I begin, slowly building up paint, allowing for space.
What medium(s) do you work in?
I work exclusively with oil and make my own medium with handmade sun dried oil.
Your studio is at the Brewery. How long have you worked there? How do you feel it's influenced your work, if indeed it has?
The window I have at the Brewery has allowed my mediums of oil to dry over days. It has allowed me to cook oils. And the morning light and late afternoon light gives me a defined block of time to complete passages of my story, my painting.
Which artists have most influenced you?
William DeKooning, Helen Frankenthaler, Mark Rothko (early and late works), and Georges Braque. I am moved by the profound, whimsical qualities of Paul Klee's work.
How do you feel your art has changed throughout the years?
I have done less explaining or showing others that I can paint. My work is more committed, more on the subtle side (more tonal) and my forms are more defined.
Tell me about your 'Floating Cities' series.
It began with my Repositioning Weather paintings back in '08. I started exploring internal landscapes and atmospheres…developing into the idea of personal architecture…creating individual imagined cities. The visions start with the state of the Hypnagogic (in a state of mind while our eyes are closed and we are still awake) In that gap worlds are created… I paint my understanding of those visions.
You are working with the L.A. based Laemmle Theaters on a unique project; tell me a bit about that.
Two years ago I was approached by Greg Laemmle for consultation. He wanted to create artistic spaces within each of his theaters, doing away with all the lobby posters. With Marc Horwitz and Greg I developed Art in the Arthouse and have curated about a dozen exhibitions. The solo shows are integrated with one minute videos of the featured artists in process, which screen in the lobby electronic billboards for the duration of the shows (typically three months). I select all of the artists, curate the shows, write a show statement, name the exhibit and often host artists talks in the theater the night of the opening. Also we show the one minute artists video before the trailers within the theatres.
You also write, do you ever combine the two art forms?
I write short stories and have written an unpublished novel. The short stories often act as stimulus to create artworks and stories within my artworks. My titles have been informed through my writing acuity.
Are you currently working on a new piece?
Yes, I am working on a painting called "The Mayor of the Floating City."
Do you have any shows or exhibits coming up?
Major works are being created for a Spring exhibit at my gallery in Culver City the MIM gallery. Also in the Spring I will be in a group exhibition centered on the "Non-Objective" at Fullerton College. Several pieces are down in Laguna at the Laguna Design Center at Tomas Lavin.
On Oct 3rdand 4thI opened my studio for the Brewery Artwalk. I have found that the Artwalk is a wonderful place to test out new works and get direct public interactions. I will be exhibiting in a charity for LA HOUSING on Wednesday, Oct 21stat Room & Board in Culver City from 7-9pm.
I am preparing to be doing some work in Berlin during a December journey.
See more about Joshua and his art at http://joshuaelias.com/site.
MiM GalleryCulver City CA
'the Earth the Spirit and the Body'left,'Floating City v.2 middle'Queen of Magenta'right
Ed Valfre
EliasCaughtStudio
Matthew Ullman
Floating City1
Matthew Ullman
Floating City2