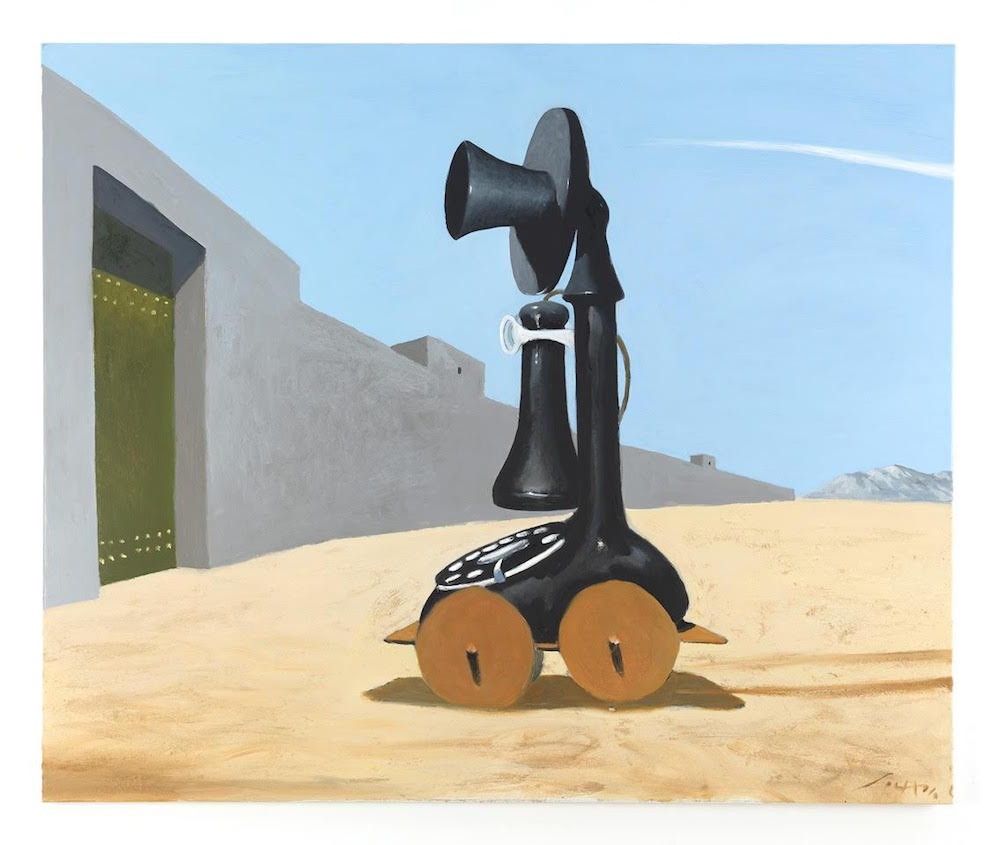 Photos Credit: Julio Larraz
Born in Havana, Cuba, Julio Larraz is the son of a newspaper editor and began drawing at a very early age. After moving to the United States in 1961, Larraz began to draw political caricatures that were published by the New York Times, the Washington Post, and Vogue Magazine, among others. In 1967, he turned his attention solely towards painting.
Painter Julio Larraz originates from Cuba, where he found some of his first influences in the art books that filled his father's library. From those influential years, he has traveled all over the world, continuing to expand his cultural knowledge. His nomadic experiences fuel his art, which stems from his creative intuition rather than formal training and have landed him in the pages of The New York Times as well as museums around the world.
In 1976 Larraz's work was chosen for Exhibition of Works by Candidates for Art Awards at the American Academy of Art and Letters/National Institute of Arts and Letters, New York. In 1985 Foire Internationale d'Art Contemporain (FIAC) was seen at the Grand Palais, Paris, France represented by Gallery Il Gabbiano, Rome Italy; and in 1992 Exposición arte cubano: Pasado y presente obra importante was exhibited at Gary Nader Fine Art, Coral Gables, Florida. Larraz won the Cintas Foundation Fellowship from the Institute of International Education, New York. In 1977 he was awarded the Acquisition Prize. Childe Hassam Fund Purchase Exhibition from the American Academy of Arts and Letters and Institute of Arts & Letters, New York.
Larraz tells JustLuxe about his art of past and present.
How did you begin as an artist?
Well if it is not stretching it too much, I started very early on doing drawings and at school I used it as a weapon. Sometimes I did caricatures of teachers I didn't like and I would paste them all over the place. I was really so, so taken with the drawing that I had a lot of difficulties in school.
Early on you moved from Cuba to the United States, you've also lived in Paris and Florence, how do you feel the change in cultures have influenced your art?
I have lived in Miami, New York, Washington, New Mexico, Paris, and in Florence where I spent five years. It is very difficult for someone who is immersed in it to know what those places a ported to my art, to my life.
I tend to think that it is a very positive one. Artists used to stay put. Rembrandt, for instance, never left the place that he lived. Today the artist is very mobile, they are everywhere; they travel.
Not just travelling, but exploring the Internet and finding extraordinary art that you had no idea existed.
Who were your main influences as an artist?
Some of the first things I saw as a child were the works of Velazquez. My father had a very large library that included many, many books on art. The works of Velasquez, as well as, the modern artists: Degas, Edward Hopper, Salvador Dali. Salvador Dali I think was a great influence in my work early on when I was a child, 14,15 years old.
Early in your career you painted political caricatures that were published by The New York Times and several other publications, how do you feel that influenced you work?
Working with The New York Times helped enormously, because it gave me a discipline of having to work steadily. It is not enough working on a painting, but concentrating on it to the point where you can take it to where you want to. This allows for the purest final product.
You have quite a vast body of work, but would you say there are any specific overall themes to your art?
I really don't have specific themes. That is what is so interesting for me. I paint whatever comes into my head. I try not to direct it, but rather to be directed by the imagination.
You are known for your precise technique, how do you feel your style of approach has changed over the years?
I would need to be a historian to tell you that. You are too close to the work, too close to the entire oeuvre to be able to discern changes that. It takes someone who sees it from afar, that can look at the process and reflect on how the development occurred.
What do you feel have been the high points so far in your career?
Oh I've had great shows at Museums abroad, in Mexico City at the Museum of Modern Art, at the Museum of Modern Art in Bogota, at the Vittoreano in Rome, and most recently in Catania.
Do you have a specific creative process, or do you find your approach is somewhat different for each work?
I'm not really aware of that. I never had a formal training in art, much less in painting. It has always been a trial and error situation. I approach it the way I see it at the moment. At times it is very difficult, I have to learn things to be able to do the painting.
What are you currently working on?
I am working on my next show in New York. Finishing up works that will be exhibited in October. I am very excited for my first show with Ameringer|McEnery|Yohe Gallery in Chelsea. They are a really great group and a great gallery, in a refreshing environment.