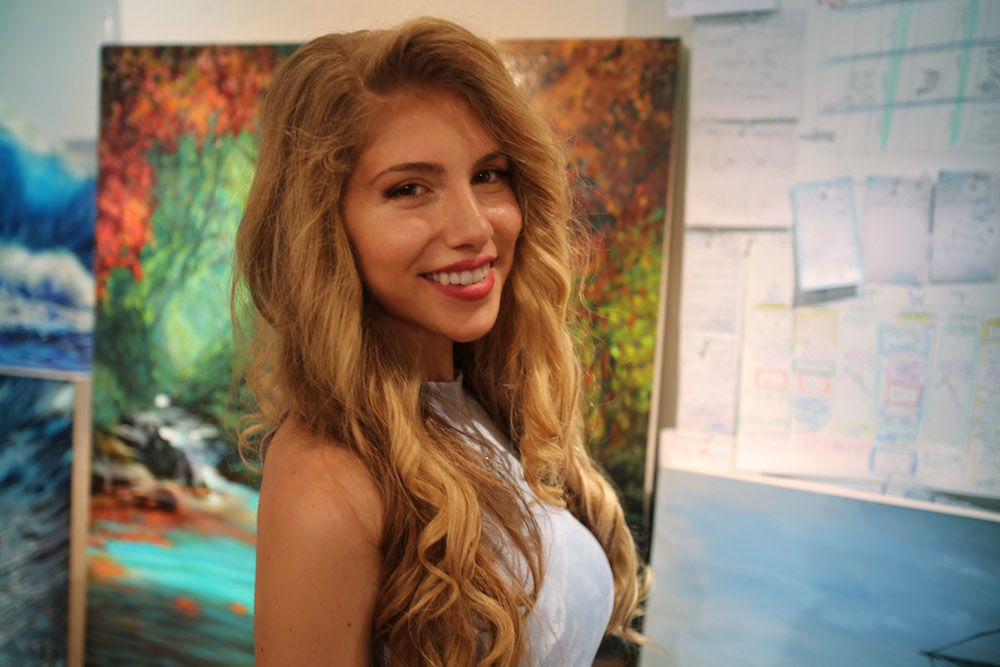 Photos Credit: Lindsay Rapp
Like a mermaid's den, Lindsay Rapp's art gallery located in the elite artist sector of Philadelphia, is filled with swirling hues of blues and greens, interspersed with luxurious flashes of abalone and pearl along with glimmers of gold and silver. Lindsay, who has been painting her entire life, recently launched her gallery, which is also her studio. Through her natural talent, passion for art and her training at the Pennsylvania Academy of Fine Arts (PAFA) and work studying art history at the University of Pennsylvania, Lindsay launched her art career. Lindsay has always loved the water growing up on the Florida beaches. She has instilled an inspiration for oceanic colors in her work and uses that inspiration to create vivid paintings for her commissioned clientele as well as her monthly shows at the Lindsay Rapp Gallery. In between preparing for her next show, Lindsay talked with JustLuxe about her fine art work and use of her wonderfully unique artwork materials.
When did you begin painting professionally?
Expressing myself through artwork has been a passion of mine ever since I can remember, it is a part of who I am. The first time I was made 'professionally' an offer for one of my paintings was when I was 11 years old at an art show. I painted a bouquet of hibiscus in a pitcher. However, I became so attached to the artwork, I could not sell it! Afterwards, I was finally convinced that if I ever wanted to follow my dreams and make a career of art, I would have to actually sell the paintings. Later that year, I sold my first piece of art. It was a commission of two young brothers walking along the beach. So I would say that was when I began to paint professionally.
How would you describe your art?
My art is "magical" realism, brushed with impressionism and occasionally abstraction. My palette is very oceanic with many hues of blues. I also occasionally incorporate precious materials, such as genuine mother of pearl, abalone shells and paua shells, to mimic the ocean's infinite refractive nature. I also like to use dichroic, metallic pigments as well as 24 karat gold and silver leafing. I harmonize these elements together with acrylic and oil paints to create visual poetry. Through my artwork, I try to create a window into a magical place a special moment of emotional elation. The subjects I paint the most are seascapes and muses, which are magical inspired portraits of women. I like to relate the beauty of the ocean to these classical ideas of feminine muses. To me, the ocean is very human I see it as feminine, expressive and sensual. I see emotional energy in the way the ocean fluctuates and flows. While painting, I envision creating a current as my paint brush moves across the surface. My feelings channel into each gestural brushstroke. This philosophy of emotionally fluid oceanic paint applications connects through all my artwork, whether I am painting seascapes, muses, wildlife or even abstracts.
How would you describe your process and has it changed much since you started painting?
I have gone through many phases throughout my painting career. As a child, I would draw what I wished was real. Painting was my imaginative outlet. As I began studying art academically, I was greatly influenced by my instructors. At that point, it was more about technical skills, learning, and accomplishing assigned goals in the artwork rather than my own inspirations. Finally, in my third year of college, it was required by the students to develop our own artwork and then we would be critiqued by the instructors. The critiques favored a more moody, darker art. So, at that time, I complied. Since graduating, however, I have found myself standing in front of my easel realizing that I am now free to let my imagination go without the restrictions brought forth from teachers, grades, or critiques. I could actually paint based on my own ideals. I think this is where I truly found myself and let my imagination blossom everything I have ever learned was mixed like a potion with who I am as a person along with the freedom to express myself however I want. The phase I am experiencing currently is my favorite phase, full of magic, beauty, blues, elated emotions, and oceanic fluidity.
Which artists have most influenced you?
I love how Malcolm Liepke paints women's faces. The power of his brush strokes inspire the faces I currently paint. I love Michael Carson's economical brush strokes in his female figures, as well as his compositions. I love how Charmaine Olivia embraces contemporary ideas of beauty and female sensuality. Her style influences the beauty and emotional quality of my muses. I love Gustav Limpt's use of precious materials. He has helped to inspire my gold leafing as well as my use of mother of pearl and abalone shells. I look at so many artists, my favorites change constantly.
What do you feel are the biggest challenges to making a living as an artist?
My current challenge is getting my name out there so my work can be viewed by more art enthusiasts who can enjoy and relate to my artwork.
Do you feel that the net and social media have impacted your art? If so, how?
Absolutely! The net and social media have impacted my artwork all for the better. It is amazing how it allows my work to be seen worldwide! It is so exciting gaining clients as far away as India, Europe and Australia as well as across this country. The feedback on social media is wonderfully helpful as well. Every bit of encouragement and acknowledgement of a viewer's emotional connection to my artwork helps me to learn and grow from painting to painting. It is so rewarding to see people worldwide relate and find enjoyment in my paintings.
You have your own gallery and retail store in Philadelphia tell me a bit about it?
After college, I was actually just looking for an art studio to have a place to create and store all my paintings. In the process of searching for an art studio, my parents suggested that I should consider a retail space with an art studio so that I could have an actual show room of my work, like a gallery! It was a scary but thrilling thought to me, as I had no background in business. I decided to jumped in head first and at least try to look for that type of space. After much searching throughout Philadelphia, I found this ideal location in Old City. I pulled together all the money I had saved from artwork sales throughout my life plus the money that was allotted toward grad school, and built up this wonderful gallery here. I have actually learned more from this experience of running this gallery than I ever have before. It can be stressful but I am truly living my dream. I spend my days painting in the back studio and then hang my finished pieces in the front gallery section for the public to view first hand. I have regular hours for the public to come through and see all my work available for purchase. It has been so fun meeting all the wonderful people who come through my gallery. This whole process is such a constructive learning experience seeing how different people react to different paintings in person. I am so inspired by all the different people I meet and chat with who walk through the gallery. Also, there is a special event each month that takes place here on 2nd Street in Old City of Philadelphia called, First Friday. It is wonderful as hundreds and hundreds of people fill the streets including artists from all over who set up their artwork, jewelry, and crafts as musicians and street performers come out for the public to experience. It is a thrilling event when all the "creatives" come out of the woodwork to display their art and celebrate it. All of the galleries keep their doors open after hours and sometimes food and beverages are served. Those events offer fabulous exposure as people travel from all over to experience the First Friday festivities here in Old City.
It's great for a young artist to have her own gallery. How did you decide to make that leap?
It definitely was a scary decision considering I knew little about running a business or a gallery. Let's face it. Being an artist, in general, is a risky career. Many times following your passions and dreams, whatever it is, can be risky. I read that the most difficult part of being an artist can be gaining exposure and getting work hung for public viewing. I wanted to spend more time painting, and less time hunting for anyone to display my work. My father, being a businessman, was the one who suggested that I find a retail space so that my work can get ongoing foot traffic and constant exposure. Once that idea entered my mind, it never left my head. The next steps I took to look at retail spaces were out of pure curiosity. I weighed both options of a private art studio versus a studio/gallery. When we came across this space that offered both a studio and a gallery, I jumped at the opportunity. I like to take the most optimistic approach when making decisions, and not think about what could be the worst outcomes. I find it is better to chase after dreams rather than run from fears. I found myself entranced by my visions of the best possible outcome of the gallery, and decided to believe in myself and make the leap. I am so glad that I did!
What are you currently working on?
Currently, I am creating a series of muses (as well as a large commission piece of a muse) using precious materials such as abalone shells and mother of pearl to offer each piece a magical, enchanting viewing experience.
Do you have any upcoming shows or exhibits?
I always have exhibits open in my gallery for the public to view. Plus, I have a show every First Friday of every month here at the Lindsay Rapp Gallery.