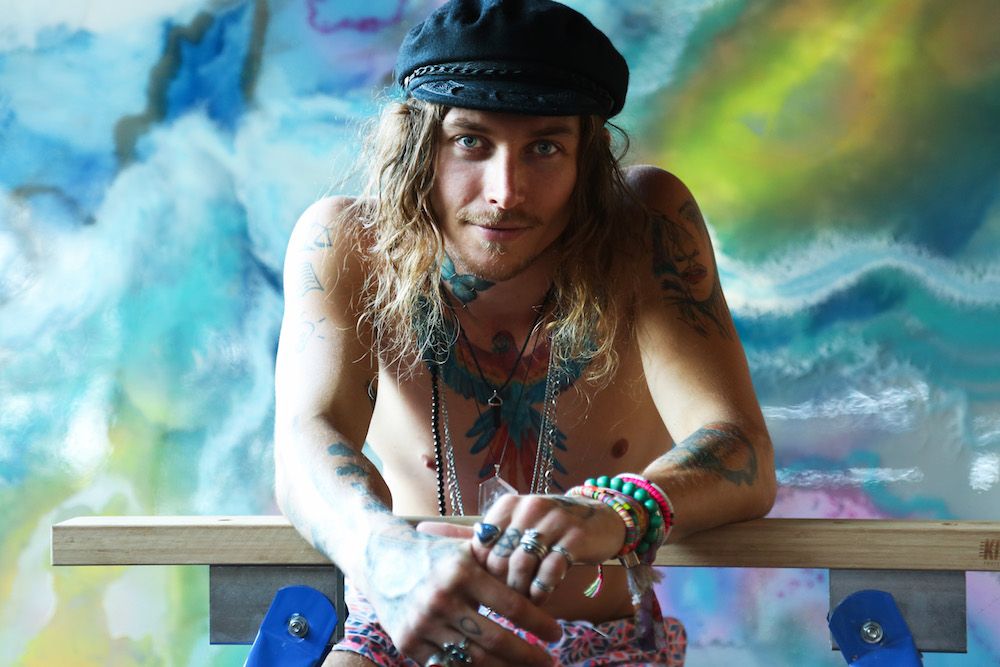 Photos Credit: Mitch Gobel
Mitch Gobel is an Australian artist whose works sell for anywhere from $10,000.00 to $13,500.00. A true 21st Century artist, he currently sells his work exclusively online via social media. He and his partner, Sally Mustang, have been pushing the digital envelope, and causing an international controversy by posting a series of provocative images on Instagram. As Mitch explains, "We believe that #SexisArt, or rather the way that we create it through our images and writing, is art."
Nude paintings, drawings, sculptures and the like have been considered art for millennia. Down through the centuries, individual interpretations of art have been varied and often great art has been controversial. What was considered scandalous or pornographic decades ago, is now considered mainstream. As Mitch and Sally explain, "our writing and images are created through love, there's obviously a very sexual aspect to the way we write, but those who can see through the physical aspect and consider the post on a whole can see the real beauty and defined art in our work."
Mitch and Sally's posts offer a unique perspective, on the relationship of sex as art. They believe that their posts represent the very definition of art by being a creative expression in a visual and written form that evokes beauty and emotional power.
The Daily Mail did a story about Mitch and Sally's steamy Instagram posts, some of which get removed for being a little too revealing. Between working on his art projects and posting photos of his personal life, Mitch always mixes in an opportunity to help with conservation efforts. He tells JustLuxe about his artwork, his love of nature, and what's next for the Instagram star.
When did you begin working as an artist?
I've been creating using resin for almost exactly four years now. It all started as a hobby, which turned into an obsession. I kept my work very quiet for the first two years after I had started, initially it took a lot of courage for me to actually show anyone my work, and I'm still my own biggest critique. Once I did start showing people my work was when it took off, as soon as it went up on social media and I sold my first couple of artworks, was when I started considering taking up my work as a full time career, which was really daunting at the time because I didn't have much money behind me but ultimately I decided to take and chance and it turned out to be the best decision I've ever made.
I've been a professional artist now for almost two years and thanks to social media, mainly Instagram, it's growing and becoming more and more exciting each day.
You are very involved with conservation, how do you feel that's affected your artwork?
It became a big part of my art early on, the first piece I ever sold was devoted to the late Steve Irwin, and I donated a portion of that sale to his charity. That sparked the idea to combine those to passions of mine.
It's given me a lot of confidence in promoting my work. Initially as I said, I was quite reserved. I never wanted to be in the spotlight, but when my art became about more than my own personal gain, it became obvious that I needed to in order to achieve different goals. To this day I know that the more effort I put into my art and the more successful it becomes, the more I'm able to give back to different conservation efforts.
How would you define your style as an artist?
Abstract, bright, colorful, using mainly resin. I incorporate a lot of different mediums into my work, I'm always looking for ways to advance what I do.
You've held quite a few different jobs on your journey to being an artist, how do you feel your journey has affected your art?
I have, I guess I was always looking for "the one" haha. But yes, it's all definitely been a great education for me and in different ways it all contributes to what I do now. I used to work as a carpenter, which has enabled me to build the frames well. I used to do photography, which has enabled me to photograph my work well. I used to work in business management, which has played a huge part in the success of my work. Being a professional artist is about much more than just the art, and I wouldn't be where I am now with out all of those previous experiences, as significant or insignificant as I thought they were at the time.
Where can people see your work?
Online. I've actually been based purely online for a few months now, which is pretty modern for the art world. Even though my latest original pieces are selling for over $10,000 USD, my clients put down the money without even actually seeing the work in person, which blows my mind, especially using resin because photos really don't do the work justice. My work is transparent in places with many different metallic pigments and glitter through the piece, which you can't see in the images. I think people appreciate the story behind my work just as much as the work itself, which is what I've always wanted. I always wanted my art to be a voice for conservation, for self-belief, for change, and it's amazing to see that happening.
Speaking of people seeing your work, tell me a bit about the Instagram saga with your partner Sally Mustang?
I've always believed that all aspects of my life have contributed to where I am now with my art. Sex has always been a huge part of my life, actually far more significant than my art has been. Anyway, Sal and I did a few posts on Instagram about some sexual experiences that we'd shared together and how that in many ways it related to art, being creative, being an expression etc and we also wrote those post in a way which we hoped would make them inspirational, we wanted people to think "I never thought of sex like that."
Our fans LOVED the posts, people went crazy, good and bad. Instagram decided that the posts were a little too raunchy and deleted some of them. A writer from the Daily Mail must've been following the stories, and we woke up one morning with this article that had gone viral all over the internet, stemming from the daily mail piece. It was all pretty insane and we definitely didn't think it would have turned out the way it did, but we're thankful for it, it's been a great experience for us.
Do you consider that a part of your art work?
I consider it a part of my life, rather than a part of my art but, I don't want people to just see pretty colors or designs when they look at my work, I want them to feel a higher connection, a story or a voice and I believe that this definitely creates that for a lot of people. Sex is very relatable.
What were you hoping to say or show with those images?
Above everything we wanted to appreciate the beauty of sex and a connection between to people. We wanted people to be inspired by something so brutal honest and real and in many ways we also hoped to maybe help others to explore themselves sexually. I've found a lot of confidence in myself through sexual experiences and we wanted to share that.
The Daily Mail and other media covered the story, why do you think it drew such attention?
Those articles definitely made the saying "Sex Sells" real for us, but I think it was more than that, I think people loved us as a couple, the lives we live, what we create and our connection together. Honestly, the life that Sal and I have created blows my mind. We live in paradise, we only answer to ourselves, we work when we want to and we have a huge amount of freedom and success through that. I think a lot of people are inspired by what we've created.
Where does the story go from here?
Into another story, literally. As I mentioned, Instagram has been very controlling of our stories, and we want freedom of speech. Our voice is our power. We've actually just started working on a novel, based on our true story as a couple and where we've come from to get here, including some pretty raunchy sex scenes haha. It's going to have a strong focus on sex but we also want it to be a motivational or inspirational story for success on a few different levels.