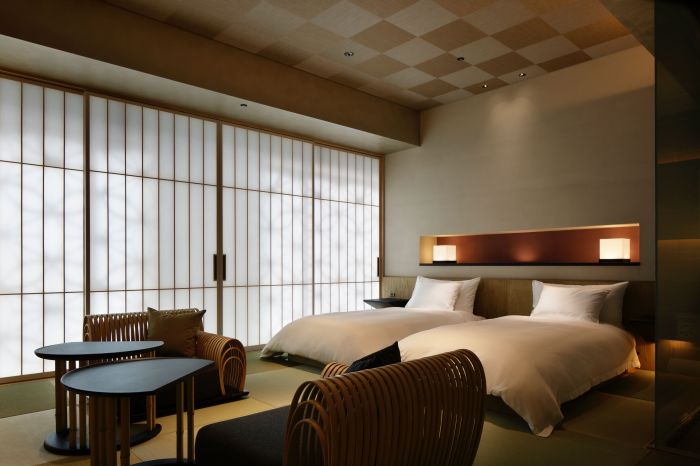 HOSHINOYA Tokyo
I walked along the bustling streets of the Otemachi financial district of Tokyo. Sleek high rises and local businessmen in crisp suits engulfed me. I spot HOSHINOYA Tokyo, standing out amongst the mirrored financial buildings. From the distance, it looks as those the building is a simple black monolith but with each step closer intricate details presented themselves. As I stood at the entrance, I could make out the entire façade is wrapped in an elegant lattice of a traditional leaf-like patterns that veils this special ryokan from the world.
A giant cypress wood door quietly opens, transporting you from the bustling streets of Tokyo to what feels like another world. Serene, gentle, and thoughtful touches immediately greet you, as well as a kimono wearing lady to take your shoes. This gesture is confirmation of this ryokan's exclusivity, as well as to make you feel as though the ryokan is your home. Your led along the soft tatami mats and to your dimly lit room where you're unable to feel any other emotions besides pure relaxation and content.
HOSHINOYA Tokyo opened its doors in 2016 under the well-known Hoshino Resorts. When building this unique property, they strived to blend traditional Japanese architecture and contemporary lifestyle in a city where 'traditional Japan' gets overshadowed by technology and flashing lights.
Ryokans are typically located in scenic areas, such as in the mountains or by the ocean where the beauty of the seasons are celebrated, and not found as often in cities. Hoshino wanted to bring the tranquility of a traditional ryokan to the bustling city so people could feel the true Japan without leaving Tokyo.
HOSHINOYA Tokyo is structured like a tower where every floor functions as a 6-room ryokan, only accessible to guests staying on that floor. Each floor consists of a traditional ochanoma- a lounge that is located in the heart of the floor. Each ochanoma, like at classic ryokans, features a wide selection of refreshments such as seasonal teas and confections during the day and alcohol at night. Guests are encouraged to use this relaxing space as a living room.
There are three unique types of guest rooms such as the Kiku (executive triple), Yuri (deluxe king), and the Sakura (deluxe twin). All rooms combine traditional design with contemporary furnishings with classic Japanese lighting, shoji screens, and tatami floors. Large soaking tubs in the bathroom evoke a peaceful ambiance as you enjoy this traditional, yet luxurious, Japanese-style room.
Located within HOSHINOYA Tokyo, like a traditional ryokan, is an onsen- a natural hot spring bath. On the 17thfloor, separated by gender, is where you can relax in baths that are fed by hot spring waters drawn from 1,500 meters below the ground. Open roofs provide guests with a full view of the sky as they soak in the high salinity soothing warm water. Adjacent to the baths is the spa, where guests can enjoy treatments that refresh both your mind and body.
The award winning executive chef at HOSHINOYA Tokyo Noriyuki Hamada strives to send you on a culinary journey through his innovative Nippon cuisine. The tasting menu is ever-changing as Chef Noriyuki Hamada only procures ingredients from his trusted farmers and fisherman. He transforms these ingredients so as though you can experience Japan's greatest culinary treasures.
In addition to a once in a lifetime culinary adventure and ultimate ryokan experience, HOSHINOYA Tokyo offers daily entertainment and sake and Japanese wine tasting complimentary to guests. This allows guests to get a glimpse into traditional Japanese culture in the evenings without having to leave the ryokan. They also offer a Japanese Tea Ceremony, helicopter rides, curated city tours, river cruise, and more.
To stay at a ryokan in Japan is a special experience in general. You get to enjoy the local geography, customs, and seasonal delights in the way suggested by the inn itself. At HOSHINOYA Tokyo, they have transformed an already unique experience into a luxurious and serene stay. This special property is one that I look forward to visiting again one day when I return to Tokyo.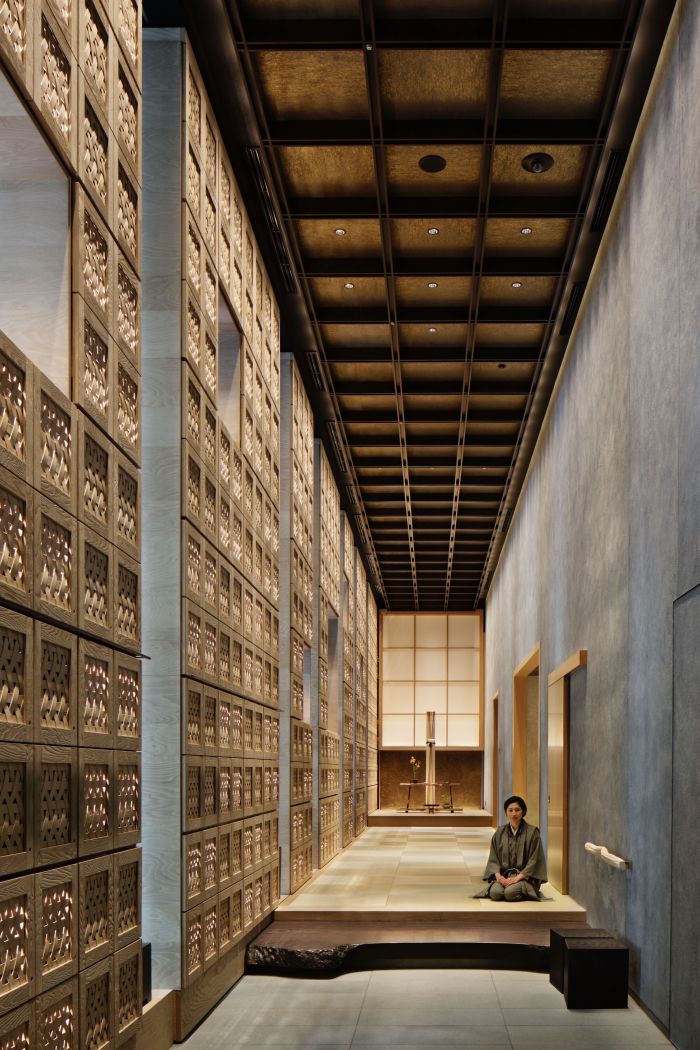 HOSHINOYA Tokyo
Entrance to HOSHINOYA Tokyo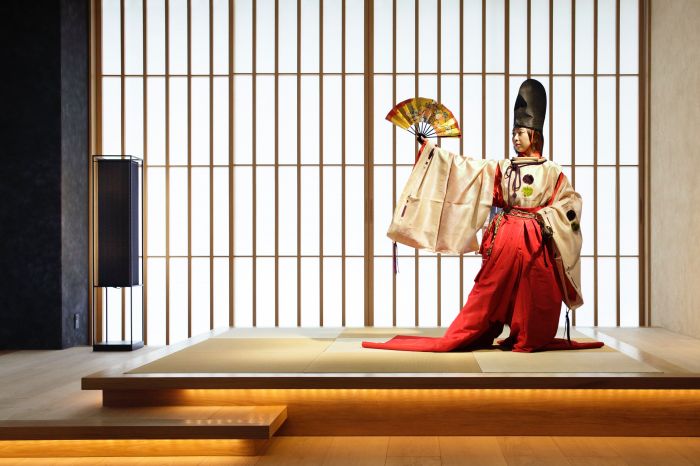 HOSHINOYA Tokyo
Tradtional Grand Kagura performans in the Sake Lounge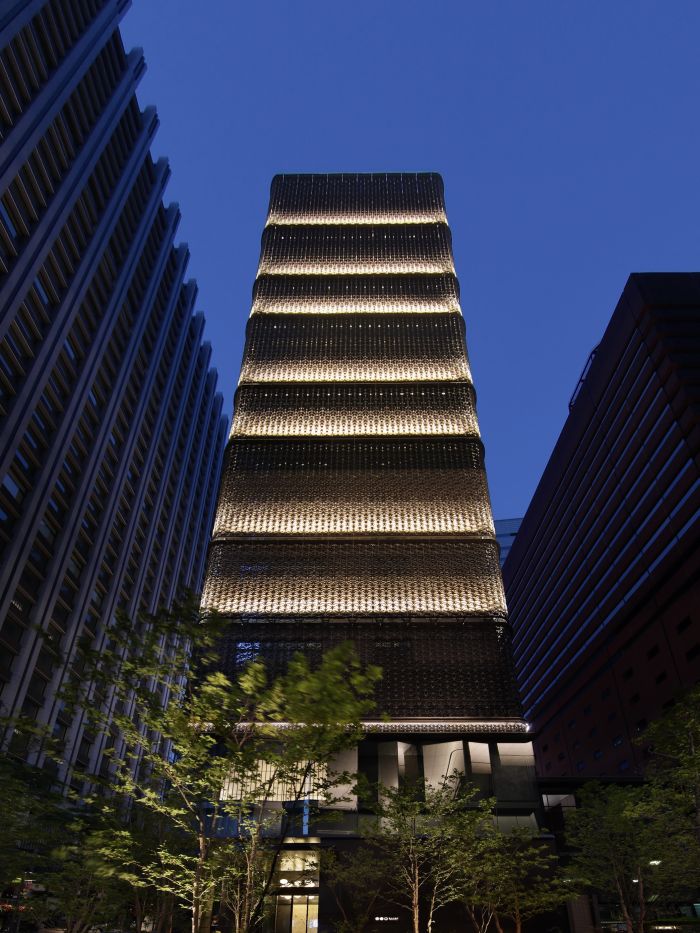 HOSHINOYA Tokyo
Exterior of HOSHINOYA Tokyo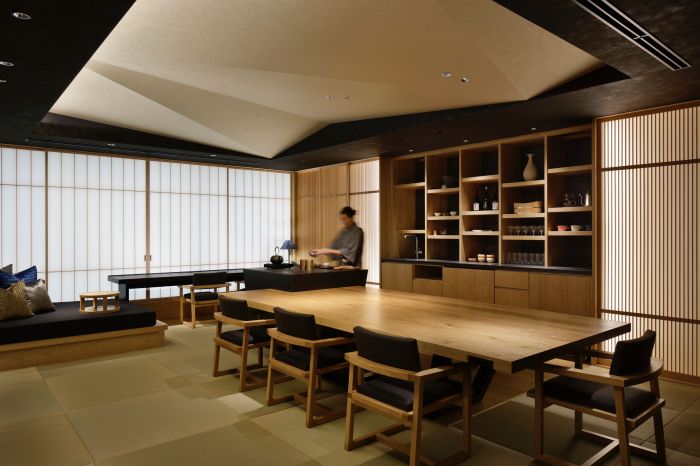 HOSHINOYA Tokyo
Ochanoma Lounge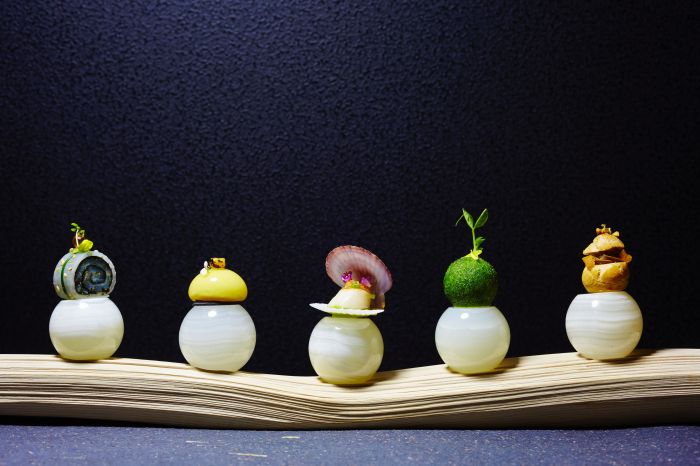 HOSHINOYA Tokyo
Dinner at HOSHINOYA Tokyo