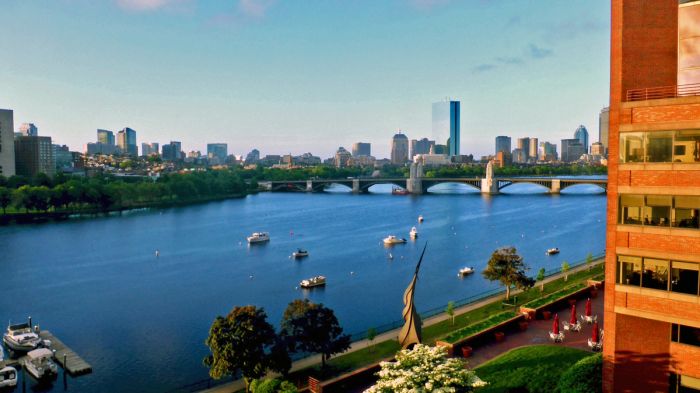 image courtesy of Sonesta Hotels
U.S. News & World Report named Boston the #1 Best Summer Vacation Destination for its sights, culture and food. There is a rich history as one of America's oldest cities, a vibrant arts and culture scene, world-class sports teams, and exceptional restaurants, hotels and boutiques.
We know it as a place to trace America's roots along the Freedom Trail and to enjoy world-class art and architecture. Catch a Celtics or Bruins game or root for the Red Sox at Fenway Park, a stadium on the National Register of Historic Places. Savor succulent seafood and indulge in the historic North End's Italian cuisine.
Boston led the nation with the first public school, public park, subway, and large municipal public library. It continues to lead with high-tech startups and the latest trends, fueled by its renowned academic institutions, in Boston and in Cambridge.
Cambridge, part of metropolitan Boston, is upriver and to the north. It was founded by Puritans as a defense against attacks by sea.
It is home to two of the world's most prestigious universities and an intellectual, creative and literary scene. Browse the bookstores or sip a coffee as you people watch at Harvard Square. Stroll past outdoor sculptures by artists like Picasso and cutting-edge 20th-century buildings designed by Eero Saarinen and I. M. Pei on the MIT campus.
MIT's Kendall Square initiative has created what is often referred to as the most innovative square mile on the planet. More startups are housed in the Cambridge Innovation Center than in any other building in the world. Cafés and restaurants featuring International cuisine prepared from local and sustainable ingredients serve the area. And it is a great place for a weekend getaway.
You can see Boston from another perspective, from the other side of the Charles, at the Royal Sonesta Boston, rated AAA 4-Diamonds by AAA. It is where Boston meets Cambridge, right around the corner from Boston's Museum of Science. Although it is across the river from the city's hustle and bustle and world-renowned medical facilities, it is within walking distance of many of the city's major attractions.
The Royal Sonesta Boston is the Sonesta group's flagship property. The riverside walkway just outside connects to Lechmere Canal Park, a lively restored area with green space and a tall jetted fountain designed around a canal built in 1895. It is a place for people to shop, dine, get exercise, or simply relax on one of the benches or read the plexiglass panels on the canal's industrial history.
In 2017 the Royal Sonesta Boston was awarded a TripAdvisor Certificate of Excellence for its commitment to families. Its salt-based pool is chlorine-free and one of the largest in Boston. Canine companions can enjoy a run along the river pathways.
The Sonesta name combines the first names of businessman and hotelier A. M. "Sonny" Sonnabend and his wife, Esther. Each of the international group of Sonesta hotels is unique to their region in design and focus on world-renowned original contemporary art, including Conceptual, Minimal, and Pop Art.
The Sonnabend's were avid art collectors. The Royal Sonesta's collection of contemporary art derives from their acquisitions as well as pieces commissioned specifically for the hotel.
The Royal Sonesta Boston's ArtBar, like the 400 guest rooms and event space, overlooks a panorama that includes the Charlesgate Yacht Club, the Charles River and the Boston skyline. Fire pits add warmth to the outdoor bar and patio area when there is a chill in the air. On summer nights live entertainment fills the air.
Specialty cocktails are "Liquid Art." Together with the seasonal New England-inspired "Food Is Art" cuisine they are crafted with fresh local ingredients and designed to indulge the senses. Executive Chef and Director of Food and Beverage Brian Dandro have just introduced a new menu for the newly renovated restaurant.
The Royal Sonesta Boston is one of the few hotels in the city to have its own pastry shop. Pastries by executive pastry chef Christina Allen-Flores are specially priced during the 3 pm- 8 pm Sweet Hours.
Linger over breakfast or the weekend brunch at the ArtBar or stop at Studio, a coffee shop, for a quick start to the day. Room service in 15 minutes or less is available, as are orders to go.
To see the sights from another perspective book a cruise on Boston Harbor. Classic Harbor Line's vintage Northern Lights is the style of the elegant motor yachts of the Roaring 20s used by the ultra-rich to travel quickly along the New England coastline between Boston or Fall River and New York City.
Today's cruises from Rowes Wharf are at a leisurely seed designed for enjoying the view of the Boston skyline, the harbor islands, historic sites, and wildlife. Northern Lights runs Boston Harbor sightseeing tours, Harbor Island tours, a Boston brunch cruise, sunset cruises and music cruises. Private charters for up to 149 passengers can also be accommodated.
The 80' historic schooner Adirondack III accommodates up to 40 passengers and is the harbor's most luxurious sailing experience. It is ideal for celebrating a special occasion.
For more about Sonesta, visit sonesta.com.For more on Classic Harbor Line cruises see https://www.boston-sailing.com.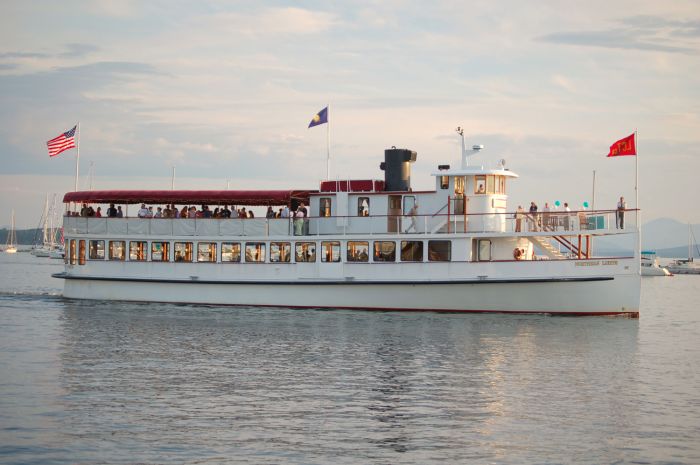 photo courtesy Classic Harbor Line
Northern Lights in Boston Harbor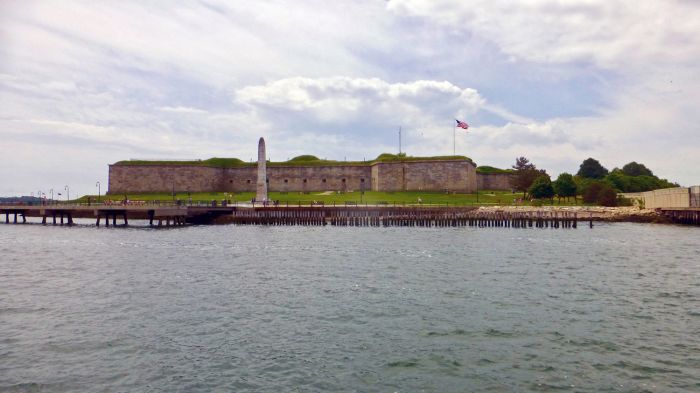 photo by Roger Fasteson
Fort Independence on Castle Island in Boston Harbor, viewed during Northern Lights cruise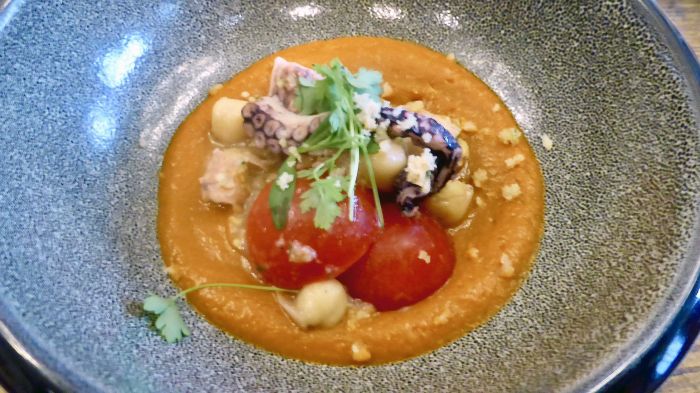 photo by Roger Fasteson
Octopus salad with carrot puree, tomato salad, chick peas, octo vinaigrette and buttery crumbs at the ArtBar, Royal Sonesta Boston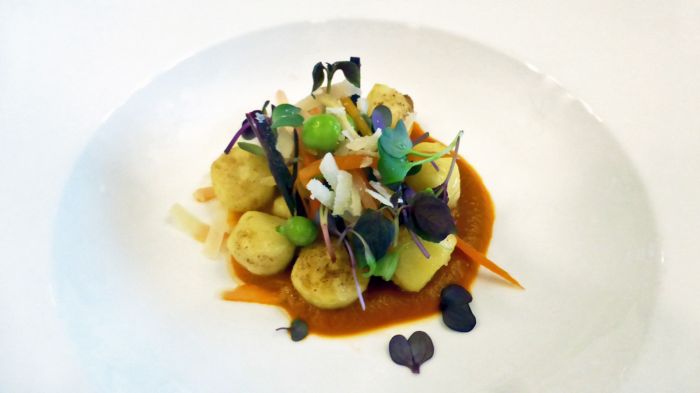 photo by Roger Fasteson
Parisian Gnocchi with carrot puree, peas, pea shoots, rainbow carrot salad and parmesan cheese at the ArtBar, Royal Sonesta Boston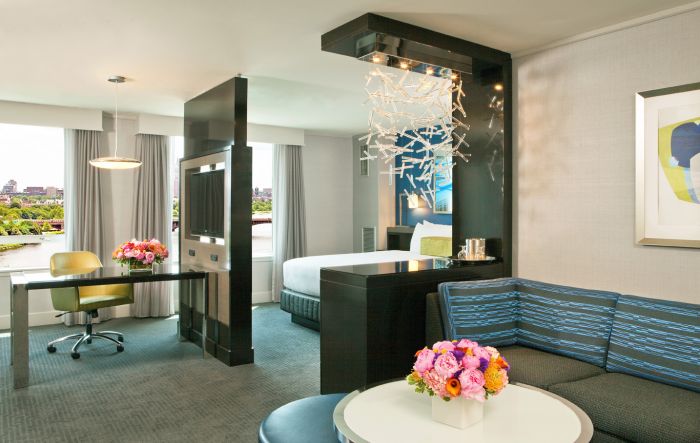 photo courtesy Royal Sonesta Boston
Suite H, Royal Sonesta Boston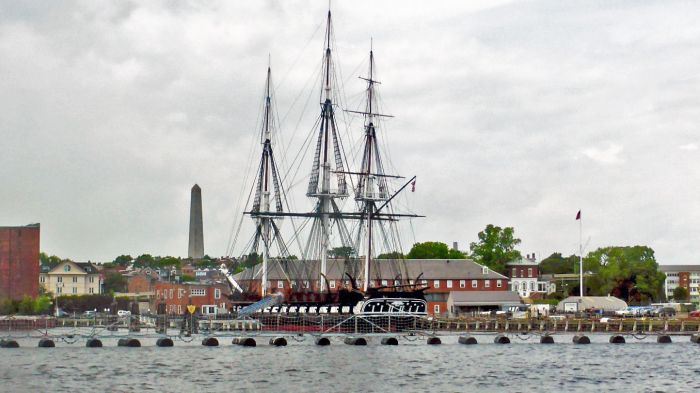 photo by Roger Fasteson
USS Constitution, 'Old Ironsides' viewed during Northern Lights cruise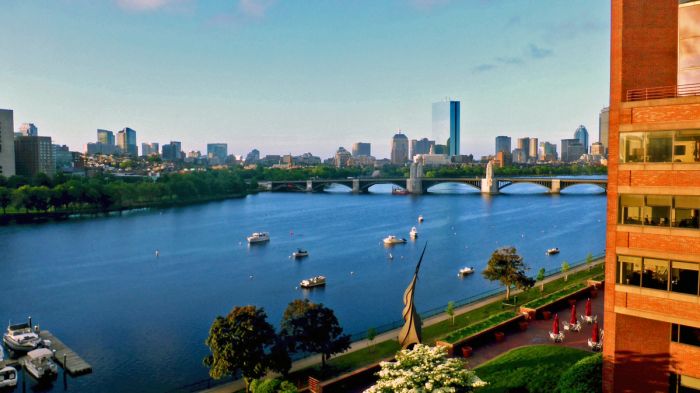 photo by Roger Fasteson
View of the Boston skyline and the Charles River from the Royal Sonesta Boston.
photo by Roger Fasteson
Yellow fin tuna tartar, spicy mayo and tobiko caviar at the ArtBar, Royal Sonesta Boston