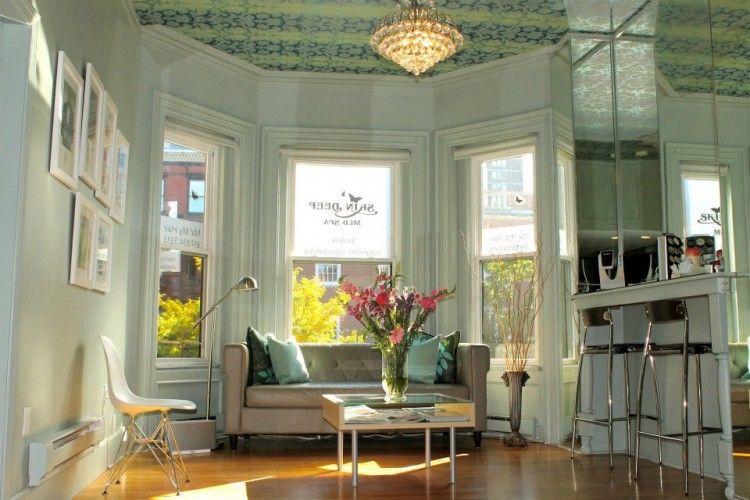 Skin Deep Med Spa
Everyone wants to look their best around the holidays. After all, it's the time of year for high school and college reunions, not to mention getting together with friends and family you may not have seen in a while. To get yourself in your best looking shape, we recommend a little help from Skin Deep Med Spa.
Head over to the second floor location on tony Newbury Street where you can choose everything from Botox and fillers to photofacials and laser hair removal. "We do everything here," joked Nichole Brennan, president of Skin Deep Med Spa, which opened eight years ago here. "One of our most popular treatments is Botox. We have about a dozen people coming in each day requesting to have it done."
Brennan began her career 12 years ago working for a world-renowned celebrity dermatologist in Miami. Eight years ago, she returned to her native Massachusetts and opened Skin Deep Med Spa on prestigious Newbury Street in the heart of Boston's Back Bay.Today, she specializes in facial rejuvenation with cosmetic injectables.
I recently visited the spa for a little Botox of my own to help with the "laugh lines" (as I like to call them) around my eyes, although there is really nothing funny about these wrinkles. Within just a few minutes and three quick shots to each eye, I was done. No wonder people come here on their lunch break for a quick fix.
"I have had people request Botox to shrink the master muscle around the mouth to give a square shaped face the appearance of an oval," Brennan said. "We also can do a non surgical treatment with filler that gives the appearance of a nose job by just giving the tip a little lift. People use fillers in their chins, around their lips, especially if they are a smoker, and in their necks."
While Botox is certainly one of their specialties, it isn't the only treatment people flock to Skin Deep Med Spa for. "We also offer laser treatments for hands that have sun damage or age spots," she added. "Another popular treatment is laser hair removal and vein treatment for legs. We are also have a lot of requests for PRP, which is also known as the vampire facelift where we draw blood, take out the platelets and re-inject it, which acts as a fertilizer for skin cells to regenerate."
Skin Deep Med Spa is located at 231 Newbury Street on the second floor in Boston. For an appointment or more information, call (617) 266-7546 or visit them online at www.skindeepmedspa.com.
Skin Deep Med Spa
Skin Deep Med Spa
Skin Deep Med Spa
Skin Deep Med Spa