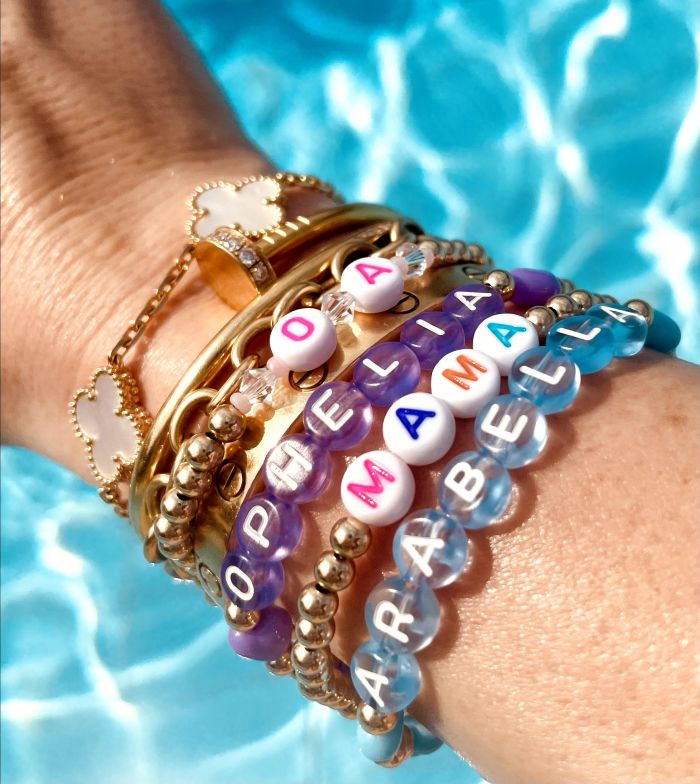 Elisabeth Rushton
Arm candy has become adult confectionary. The quest for the best, most Instagrammable stack of bracelets is seemingly unremitting. Traditionally, Cartier classics such as the Love bangle and Juste Un Clou have been the bedrock, but there has been a perceptible pivot towards personalized jewelry. Instagram has played a major role in this shift, providing a perfect platform for budding jewelry designers to showcase their designs and build their businesses.
One such runaway success story is Candy Beads, a company started in August 2020 by Livvy, a mum of two little girls (then aged just one and two). Like many mothers of very young children, Livvy was in a quandary. She wanted to work, but also to savor those ephemeral, precious pre-school years with her daughters. A monogram enthusiast, Livvy alighted on the idea of personalized, beaded bracelets. The scope of the idea offered her, and her customers, a broad canvas. She started making bracelets for individuals, plus their partners, friends, siblings, and kids. Her initial design range rapidly mushroomed, and in addition to her own creations, she began making bespoke bracelets.
Livvy declares that she finds beading 'incredibly therapeutic', and making bracelets became the perfect, soothing antidote to the travails of toddlerhood. Such was the speed with which Livvy's business grew within the first few months of its incarnation, that what started as an evening hobby turned with alacrity into a full-time day job, which she deftly juggles with the demands of looking after her children.
A large part of the success of her business, she humbly professes, is due to the amazing support from many 'influencers', who have raved about Livvy's creations on their social media platforms. Indeed, whilst Livvy initially received orders from clients via her Instagram DMs, demand was so great that she has recently launched a smart website to sell her designs. She has, she says, 'loved every second' of the experience of building and growing Candy Beads. For her, one of the best aspects of the experience has been the wonderful interactions with her happy customers.
I own four Candy Bracelets – two with my daughter's names, another with their initials, and one 'Mama' bracelet. Each of them is gorgeous, and every time I look down at my wrist I feel a little burst of happiness. Remember those candy bracelets you used to be able to buy from sweet shops, before sugar became satanic? Candy Beads are the grown-up, guilt-free equivalent.
For design inspiration, please visit Candy Beads' Instagram page
To purchase, please visit candybeads.co.uk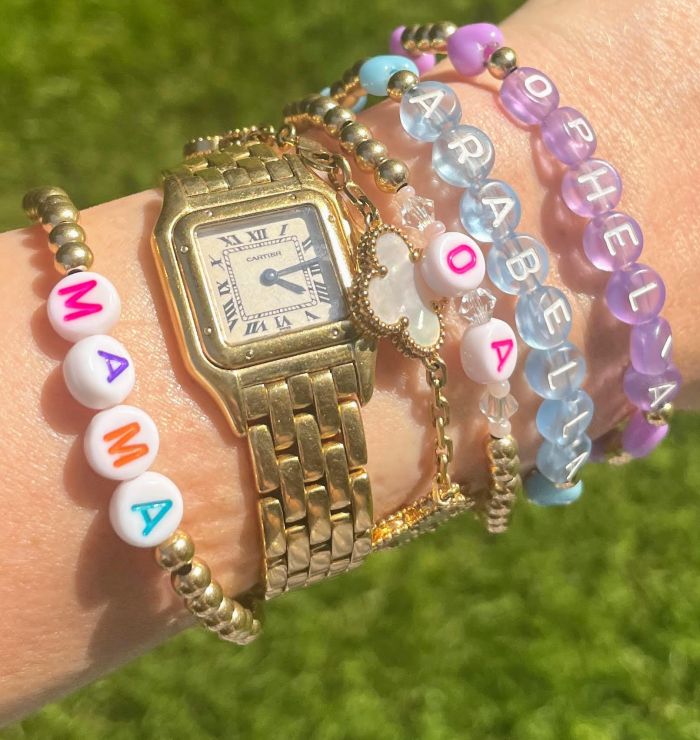 Elisabeth Rushton