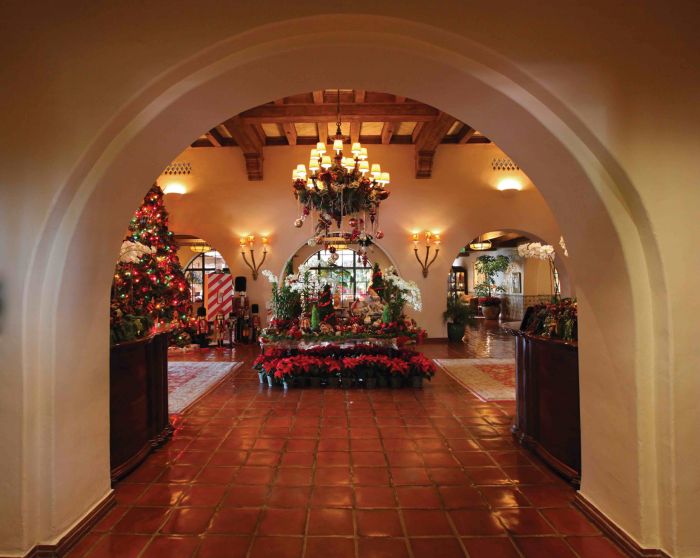 Four Seasons Resort The Biltmore Santa Barbara
Often called the American Riviera, Santa Barbara is the perfect location for a winter weekend getaway.
Originally built in 1927, the Four Seasons Resort The Biltmore Santa Barbara is known for its stunning oceanside location and Spanish Colonial architecture, but during the holidays the resort transforms into a romantic winter wonderland.
The drive to Santa Barbara from Los Angeles is one of the best to view California's beautiful coastal scenery. I hopped on PCH heading north and arrived a short 2 hours later at the majestic Four Seasons The Biltmore Santa Barbara.
Located directly across from Butterfly Beach and the Pacific Ocean, the entryway to the resort with its windy brick road and lush garden landscape resembles the entrance to a posh private country club. Holiday glam hits guests as they enter the regal walkway with hand decorated archways, terra cotta tile floors and antique furniture and arrive in the colorful Spanish Revival style lobby.
Under the huge elegant chandelier is a center display of poinsettias, small topiary trees and decorations. The corner of the lobby houses a giant lighted tree complete with presents, nutcrackers and an oversized light switch. There's also a big toy shop display filled with stuffed animals and a large impressive gingerbread house.
The 207 guest rooms, including 40 suites, sit on 22 lush acres of tropical gardens with romantic brick walkways. My gorgeous jungle suite featured a lovely cozy fireplace, plantation shutters, a luxurious big bed, beautifully tiled bathroom with a shower and soaking tub and a quaint patio overlooking the gardens. On the way to my suite I passed lush foliage, a large heated pool and Jacuzzi, croquet and shuffleboard and the fitness room and spa.
The resort offers a bevy of dining choices. It's signature Bella Vista restaurant has panoramic ocean views of Montecito's Butterfly Beach. The Italian inspired menu can be savored outside on the marble terrace by large cozy fire pits or inside by the warm fireplace. The restaurant is only one of 12 in California licensed to cure its own meats. In addition to delicious dinners, the restaurant also offers an outstanding Sunday brunch buffet.
Resort guests also have exclusive access to the neighboring Coral Casino Beach and Cabana Club for swimming, sunbathing and dining at Tydes Restaurant. Its oceanfront location offers panoramic beach views surrounded by glass walls and 1930s Art Deco-inspired interiors. Head to the unique round Aquarium Bar in the center of the space where a drink can be enjoyed while viewing live coral reefs and tropical fish in the clear acrylic counter.
The resort also houses the Ty Lounge, offering specialty drinks and classic cocktails.
The Santa Ynez Valley is home to hundreds of wineries and takes about an hour to reach by car from the Four Seasons. A perfect day of wine tasting can easily be arranged by Sustainable Wine Tours. They can customize a tour and provide exclusive access and tastings at private wineries and small scale vineyards throughout the wine country.
After being picked up in a Bond-Esque Tesla, I was driven to McKinney Family Vineyards. Owner Matt McKinney, who greatly resembled a forth missing Hemsworth brother, warmly greeted me as we arrived. Matt played professional volleyball around the globe before returning to his hometown in Santa Ynez to open the vineyard on his parent's property.
The handsome 6'7" McKinney produces single varietals and unique blends and sells the majority of the 1200 cases to his wine club. McKinney was a history major at ULCA and the names of some of his blends reflect his historical interest. We tried a few of his 15 wines including Blood of Jove made from Sangiovese with espresso and cherry flavors; Rosé of Pinot Noir with Pinot Noir grapes and flavors combining mango, lemon, cherry, vanilla and clove; Sauvignon Blanc with crème Brulee and vanilla flavors and my favorite the Tuscan Nights made from Sangiovese and Cabernet Sauvignon grapes resulting in an intense cherry flavor. I loved everything about this organic vineyard and had an exceptionally lovely time visiting and sharing a beautiful lunch from Sustainable Wines with Matt.
Next, we visited the huge family-owned Happy Canyon Vineyard. Sitting on 60 acres with stunning views, the vineyard is home to The Piocho Ranch with two polo fields and horse stables. It's location in the east end of the Santa Ynez Valley has the warmest climate of the area and is an ideal growing spot for Sauvignon Blanc and Bordeaux varieties.
Winemaker Sean Pitts met me for a tour of the massive winery and a lovely tasting of their Rhone and Bordeaux varieties. I sampled the Piocho Sauvignon Blanc, a mix of mostly Sauvignon Blanc and Semillon; the Piocho Red Blend of Cabernet Sauvignon, Merlot, Cabernet Franc, Petit Verdot and Malbec; The Piocho Reserve of Cabernet Franc, Cabernet Sauvignon, Merlot, Petit Verdot and Malbec; The Barrack Family Estate Blanc of Semillon and Sauvignon Blanc; the Barrack Family Estate Brand of Merlot, Cabernet Sauvignon, Cabernet Franc, Petit Verdot and Malbec and the Barrack Estate Ten Goal with Cabernet Sauvignon, Merlot, Cabernet Franc, Petit Verdot and Malbec. All were delicious. My favorites were the Piocho Red Blend with red plum and cherry flavors and the Barrack Family Ten Goal with black currant flavor and a smooth silky mouthfeel.
After a day in the vineyards and a relaxing swim back at the resort, a trip to the new festive Magic Castle Cabaret, a unique private magic club opened by Magic Castle founders Milt and Arlene Larson, was a great way to spend a magical evening. The cabaret is ornately decorated and offers two evening shows, one parlor style and one close up.
A trip to Santa Barbara is always magical and beautiful, but there is something really special about a winter weekend away from the hustle and bustle of LA holiday traffic and shopping.
The Four Seasons Resort The Biltmore Santa Barbara is located at 1260 Channel Drive, Santa Barbara; reservations at 805.969.2261. Wine tours from Sustainable Wine Tours can be found at https://www.sustainablewinetours.com.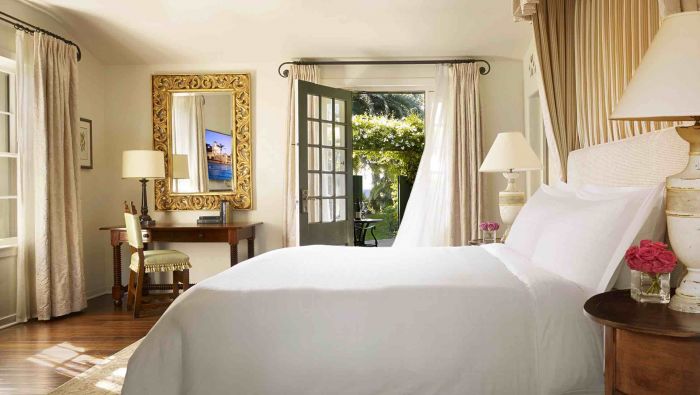 Four Seasons Resort The Biltmore Santa Barbara
The resort houses 207 guest rooms including 40 suites.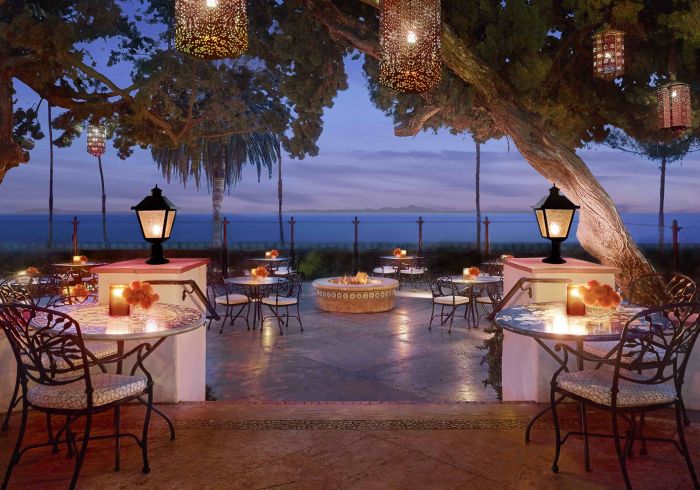 The Four Seasons The Biltmore Santa Barbara
The Bella Vista restaurant serves breakfast, lunch and dinner and weekend brunch.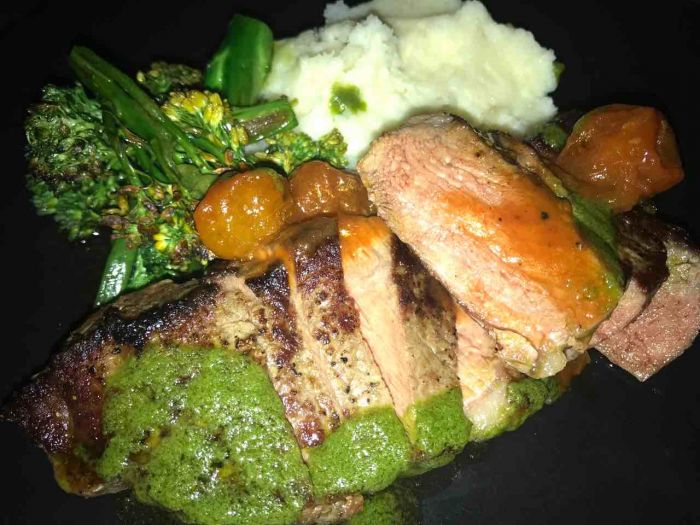 Shaena Engle
The Bella Vista restaurant serves classic Italian dishes as well as fresh fish and steaks.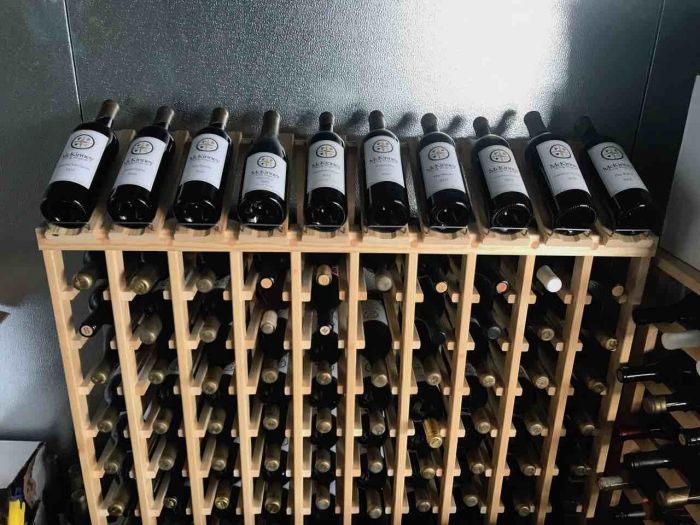 Shaena Engle
Mckinney Family Wines offer 15 different varieties.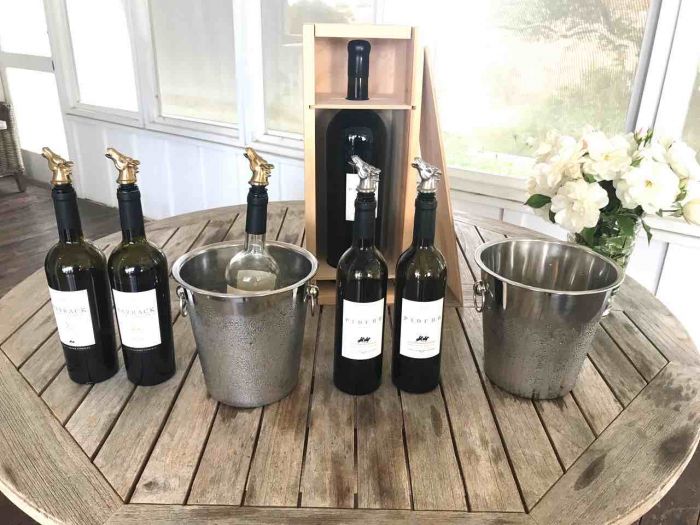 Shaena Engle
Wine tasting at Happy Canyon Vineyard.