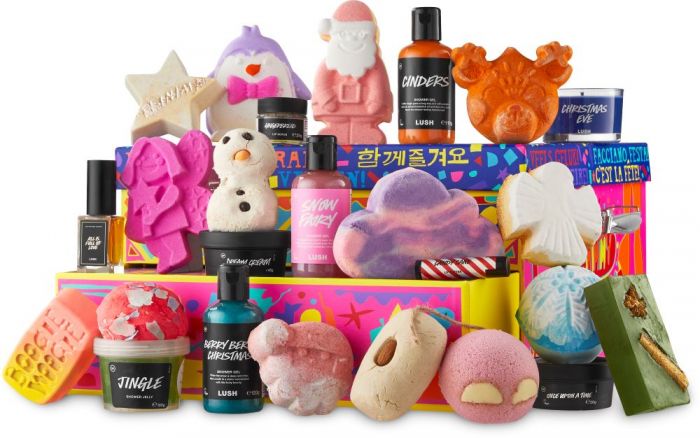 Lush
Halloween is over, and the countdown to Christmas is on! Even the staunchest Scrooge would struggle not to summon up some seasonal cheer when presented with Lush's Advent Calendar 2023. Long gone are the days when the lead up to Christmas would be marked by a colored festive picture or a measly morsel of chocolate behind a cardboard flap. The market for 'grown up' advent calendars has mushroomed over the past few years, and is now a serious business. There is a huge variety of advent calendars available, but Lush – best known for its bath bombs and vegan, ethically-produced, cruelty-free skincare products – makes one of the finest.
December can feel like such a slog – diminished daylight, dreary weather, the demands of relentless socializing – that it is a real pleasure to have a delightful little surprise to look forward to each morning. The calendar consists of 25 gorgeous, hand-picked bath, body, shower, and fragrance products, all designed to bring joy and festive cheer in the run up to the big day and beyond. There are 12 items exclusive to the gift, and all of the contents are packaged within an eye-catching vibrant, limited-edition box designed by Andre Williams at Trifle Studio, which is the perfect container for storing Lush treats all year round. As Suzie Hackey, Lush's Gifts Creative, notes: "We love to create packaging that can have a life long after it has been gifted and our Advent Calendar is no exception. This handmade box has been designed with reuse in mind, not only creating a beautiful keepsake that can be used throughout the whole year but a box that could be re-gifted for another present or occasion." As you would expect, the packaging is ethically sourced, and consists of 100% recycled and natural materials, which may also be reused and recycled.
It truly is a treasure trove of the brand's top seasonal vegan bath and skincare products, including some of our favorites: the Magical Santa bath bomb and the Sleepy bubble bar. Lush fanatics will appreciate the inclusion of two retro products (the Snowman Bubbleroon bubble bar and the Snow Angel bath melt) that are exclusively available in the advent calendar. There is a broad range of products, including the Christmas Eve scented candle, a mouthwatering Gingerbread lip scrub, the iconic Dream Cream hand and body lotion, and of course a broad medley of bath bombs and bubble bars for which Lush is renowned.
If you're after a treat (or 25) to make the run up to Christmas feel extra special and indulgent, spoil yourself with this lush assortment of goodies. December will be upon us before we know it, so be sure to get your Lush Advent Calendar 2023 soon; previous years' calendars have sold out in a flash, so buy early – either in-store or online – to avoid disappointment!
Contents:
All Is Full Of Love 15ml fragrance - Exclusively available in Advent Calendar gift
Penguin bath bomb
Cinders 100g shower gel - Exclusively available in Advent Calendar gift
Boogie Woogie soap - Exclusively available in Advent Calendar gift
Groovy Fairy bath bombSnowman Bubbleroon bubble bar - Exclusively available in Advent Calendar gift
Dream Cream 45g hand and body lotion
Magical Santa bath bomb
Gingerbread lip scrub
Marzibain bubble bar - Exclusively available in Advent Calendar gift
Snow Fairy 100g shower gel
Candy Cane lip butter
Strawberry Santa foaming shower wash
Jingle Jelly 100g shower jelly - Exclusively available in Advent Calendar gift
Once Upon A Time 50g hand and body lotion
Twinkle bath bomb - Exclusively available in Advent Calendar gift
Bob soap - Exclusively available in Advent Calendar gift
Sleepy bubble barSnowdrift bath bomb
Fairy Tail Sugar Scrub body scrub - Exclusively available in Advent Calendar gift
Berry Berry Christmas 100g shower gel
Reindeer bubble bar
Snow Angel bath melt - Exclusively available in Advent Calendar gift
Christmas Eve scented candle - Exclusively available in Advent Calendar gift
Christmas Morning bubble bar - Exclusively available in Advent Calendar gift
Lush Advent Calendar 2023, £195/$310
To purchase, please visit lush.com (UK) or lushusa.com (USA)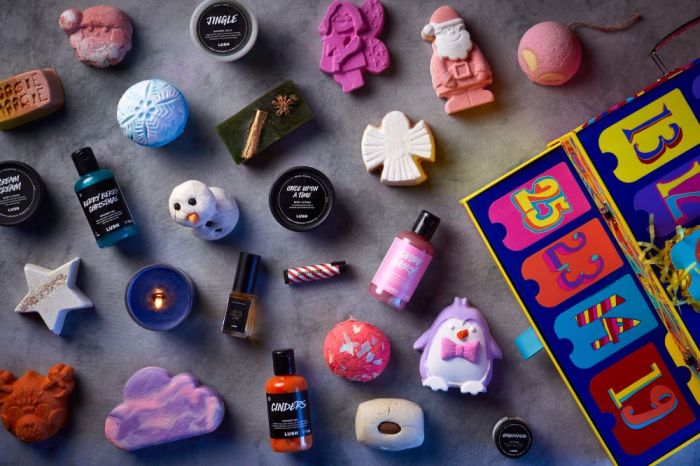 Lush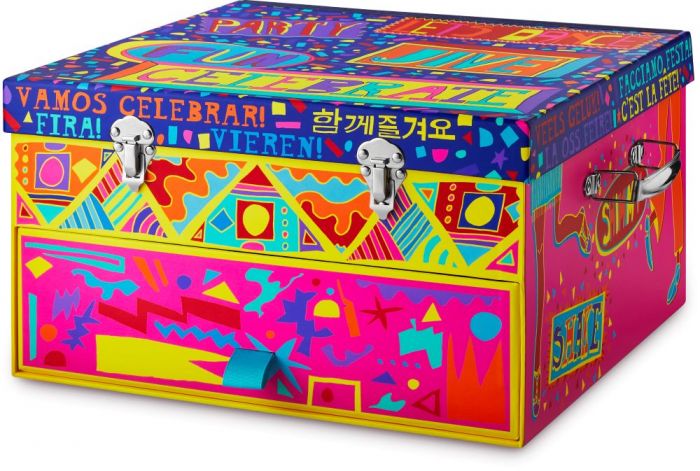 Lush