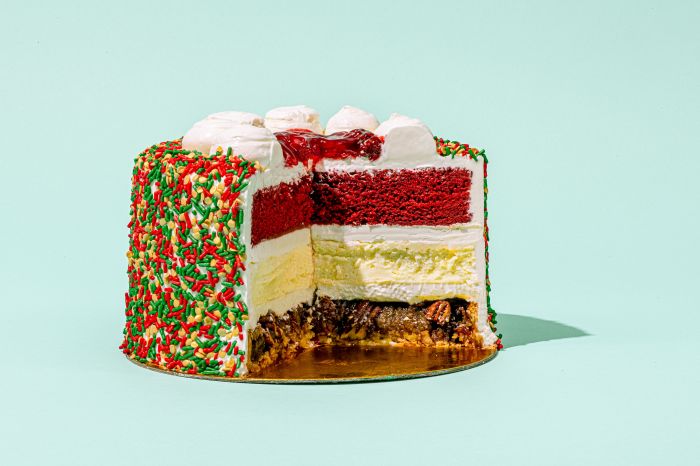 Courtesy of Goldbelly Christmas PieCaken
Wow your family this December with a Christmas PieCaken. Winning Pastry Chef Zac Young brightens up pandemic weary families and dessert lovers with a sweet whimsical spin.
Goldbelly collaborated with Chef Zac Young's take the most popular desserts for the holidays - pecan pie, eggnog cheesecake, and red velvet cake and layers each with amaretto buttercream, before topping with sweet and tart cherry pie filling. The PieCaken is 8" in diameter, 5" tall, and nearly 6 lbs in weight.
A whole cake can be cut into 8 large servings or 16 smaller slices. Since its distinctive layers include pie, cheesecake and cake, it's satisfying, filling and just a few bites will gratify any sweet tooth lover's craving.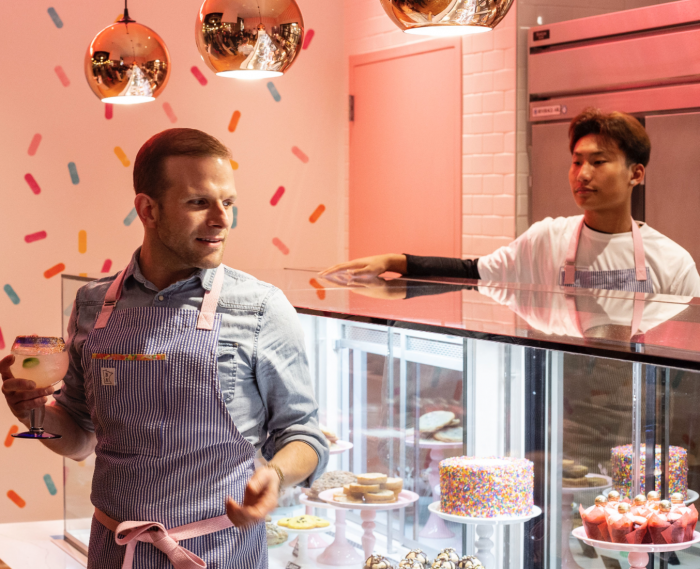 Photo courtesy of PieCaken
This creative chef got his start a Bouchon Bakery, and was inspired to make a PieCaken after discovering a Thanksgiving main course - the Turducken. He and his pastry team set out to make the Turducken of dessert.
Perfecting a layered dessert made from pie, cake and flavorful buttercream frosting, he posted his PieCaken on Instagram, and within minutes had multiple comments about where to buy this holiday showstopper.
The next morning, Zac checked his text messages and learned that morning talk show host Kelly Rippa told the world about his PieCaken on her Live show. Zac thanked her for the shout out by bringing a PieCaken to the show. When she declared, "This is the greatest thing that's happened to me since the birth of my children," Zac and his team purchased all the pumpkin puree in New York City and made 400 PieCakens in two days.
He also has made a PieLogen, a festive take on a yule log and a cupcake version for valentine's day the PieCupen. He became the Pastry Director of the Craveable Hospitality Group and oversees the dessert creations at all the company's restaurants.
In 2018, he opened the brightly colored PieCaken Bakeshop, and now some of his favorite products can be shipped to your door thanks to Goldbelly. He was one of the Final Four on the inaugural season of Top Chef: Just Desserts, and his charm and pastry wisdom is displayed on The Cooking Channel's long-running show, "Unique Sweets".
Each Christmas PieCaken is $99 and can be delivered nationwide. It's one of the sweetest Christmas gifts to send to loved ones who you can't be with this year.