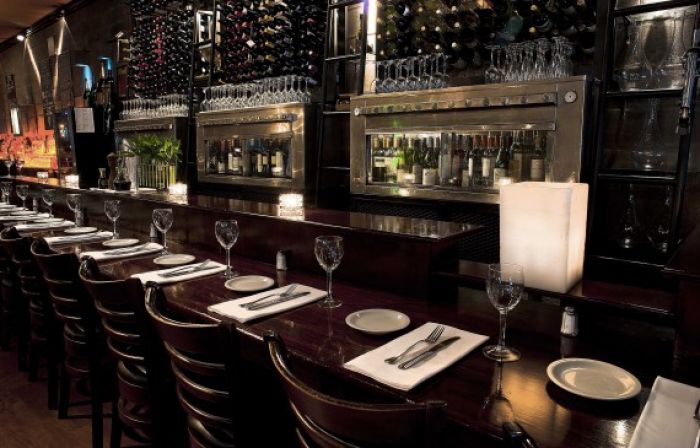 Gran Bar Danzon in Buenos Aires
Libertad 1161
http://www.granbardanzon.com.ar/contacto.html
Georgina, a gusty girl who isn't afraid to drink alone waves her hand to indicate the expanse of the bar and declares, "I like the smell of this place." Really? I'd never thought much about the way bars smelled. Unless, that is, they sport a rum soaked, wine doused carpet with a pattern of ground in cigarette burns like the old "Bourbon and Beefsteak" in Sydney. Once you got to King's Cross, you could follow your nose for the last half block.
"Yes," interjects Hernan, the manager at the Gran Bar Danzon, "we have a special scent we spray at the door to clean the air before it opens." And, silly me, I'd just thought it was the resident orchids scattered around the bar and restaurant areas.
"And," Georgina continues, "it is safe for a woman to come here alone. I know because I live in the building next door and am here regularly." A quick look around the room confirms there don't seem to be any Jack-the-ripper types among the well-heeled men along the bar and sitting at the tables. "Sometimes older men hit on me. But I just say, "Please, I just came here to relax and have a drink" and they don't bother me anymore."
She endorses that "Another attraction is that the bar tenders here prepare the best drinks in town." I take a sip of my negroni – a combination of Campari, gin, Martini Rosso with a slice of orange that Henan suggested – and nod. Behind the bar, Rodrigo grins, flips a bottle, catches it behind his back and starts to pour.
Take a look at the web site – http://www.granbardanzon.com.ar/contacto.html – because what you see is what you get. The bar list goes on forever and the bodega offers wine by the glass. The bar shifts into the restaurant space – with only an opening big enough for the wait staff – and it keeps going. But it turns into a space for single diners, or passionate couple who want to play footsie. It is a refreshing change from the usual table-for-one plopped between the kitchen and the men's. "This is an ideal place for the lonely tourist," smiles Hernan. "People can come here alone and we will look after them."
Georgina sighs, "It is like being in a bar in New York, low light, music." I ask if she has been there and she shakes her head. But it doesn't matter as we've seen enough New York bars in the movies to be able to recognize one when we see it. The wine bar-restaurant-nightclub all rolled into one makes the Gran Bar Danzon an easy place to be.
Hernan's Suggestions
Wine: Best buy
Clos de les 7, 111 pesos ($26USD)
Cocktail: Red Hot Caipi (Smirnoff, cinzano, maracuya, frutos rohas, Tabasco, lime and sugar). I've tried one and it gets my stamp of approval. Just ask for the Tabasco so you can top up the "hot". 35 pesos ($8USD)
Food: Duck Confit, 95 pesos ($22USD)
Sushi: Crispy Shrimp Roll with Salmon Tartar Served with Miso Soup, 78 pesos ($18USD)
Dessert: Dulce de Leche Souffle, 39 pesos ($9USD)
Additional Information
Opening hours:
Monday 19:00 to 02:00
Tuesday 19:00 to 02:30
Wednesday 19:00 to 03:00
Thursday 19:00 to 03:30
Friday 19:00 to 04:00
Saturday 20:00 to 04:00
Sunday 20:00 to 02:00
Music:
Jazz piano player on Wednesday from 19:00 to 21:00
DJ from Thursday to Saturday
Happy Hours
Monday to Friday 19:00 to 21:00
Saturday and Sunday 20:00 to 22:00