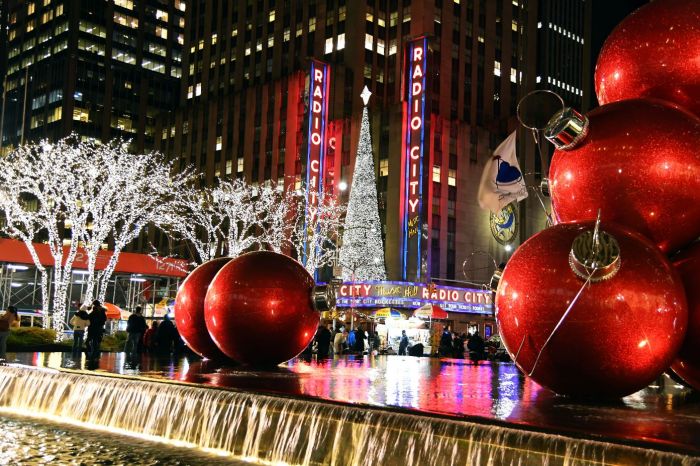 New York Christmas time is wonderful and it's an experience that you'll never forget. Going when you're a student is the best time to go – you can plan your studies around the break and don't have to worry about getting time off work or taking dependents with you. If you're planning to visit Christmas NYC with friends, you'll want to know where to go. This guide will help you to decide where to visit to make your festive trip truly unforgettable.
But, what about studying?
Yes, you're a student, but that doesn't mean you can't have fun and forget about school, college or university for a little while. Between all of the essay writing, exam papers, and studying, everyone needs to let their hair down for Christmas. This time of year is one to forget the integrals, formulas, and mathematics. You've likely spent enough of the last two years learning or online studying and, let's face it, your teachers are probably relaxing over Christmas anyway.
If you're really worried about missing your education while you're away or you feel you've fallen behind in your subjects, course, or grades, being on campus likely won't make much difference. However, to put your mind at ease, there is online help available. Did you know, for example, that you can pay for college essay writing? Whatever you decide, consider traveling in college is part and parcel of your wider education!
Things to do in New York During Christmas
Back to the main event: things to do in New York during Christmas. Let's take a look at our top five best places to visit.
1. Bryant Park Winter Village – Midtown Manhattan
The winter markets in Bryant Park, Midtown Manhattan are not to be missed. These markets are the largest in the city as well as being the nicest. In addition to the stalls, you'll find lots of great places to eat and drink – and there's even an ice rink for that true winter wonderland experience. And what's best about it is that it's free! You can also book cozy, personal igloos at the Curling Café and Bar. You can also see Santa at the Bryant Park Winter Village too!
2. The Christmas Tree at the Rockefeller Center
Christmas isn't Christmas without admiring a beautiful Christmas tree. If you're really wanting to feel festive, head to the Rockefeller Center where you'll get to see one of the most impressive Christmas trees in the whole of New York. Usually, the tree is lit to mark the beginning of the holiday season on the Wednesday following Thanksgiving.
This tree pulls in around 125 million visitors each year. It's normally a Norway spruce that measures between 70 and 100 feet.
3. Dyker Heights, Brooklyn
When it comes to Christmas, there's something to be said about admiring Christmas lights. To see the most beautiful decorations and lights, head to Dyker Heights in Brooklyn. For me, Christmas in NYC isn't complete without a trip to Dyker Heights!
The best time to see Dyker Heights is from the middle of December until New Year. However, a lot of the homeowners put up their lights following Thanksgiving. The best time of day to visit is between dusk and 9 pm.
If you're unsure where to head to, the lights are breathtaking from 11th-13th Avenues (aka Dyker Heights Boulevard) and between 83rd and 86th Street.
4. The Empire State Building Holiday Light Show
For around one week during Christmas time, the Empire State Building showcases an impressive display of lights synchronized to music. You'll hear some real classics from John Legend, Carrie Underwood, and Maria Carey to name a few. It truly is a magical experience.
The lights have been a New York tradition since the late 1970s. The lights change color to acknowledge important occasions throughout the year. Since 2012, the lighting system has been revamped and now uses state-of-the-art LED lights. These have the capacity to display over 16 million different colors!
In 2021, the building was lit up to Christmas songs by Ed Sheeran and Elton John. The lights came on at 7 pm ET.
5. See Santa at Macy's
Ok, so we get that you're not five years old but there's still something magical about seeing Santa or just being in his presence! Macy's Santaland is an experience on another level. It's a really magical experience even for adults. Santaland has a history dating back to the 19th century. Each year, the event pulls in around 200,000 visitors and has been this busy every year since 1977! Be sure to reserve your ticket online so you're not disappointed! Afterward, you can view your souvenir photos online and purchase a souvenir from the event.
Final thoughts on Christmas in New York
As you've read, New York is such a wonderful place to spend the holiday season. Whether you're a traditionalist and love the history of the winter season or you like to sample new foods and events, New York at Christmas has it all. As a student, you're really spoilt for choice and going with friends is so much fun. So, leave the thoughts of studying behind, and get planning your itinerary!