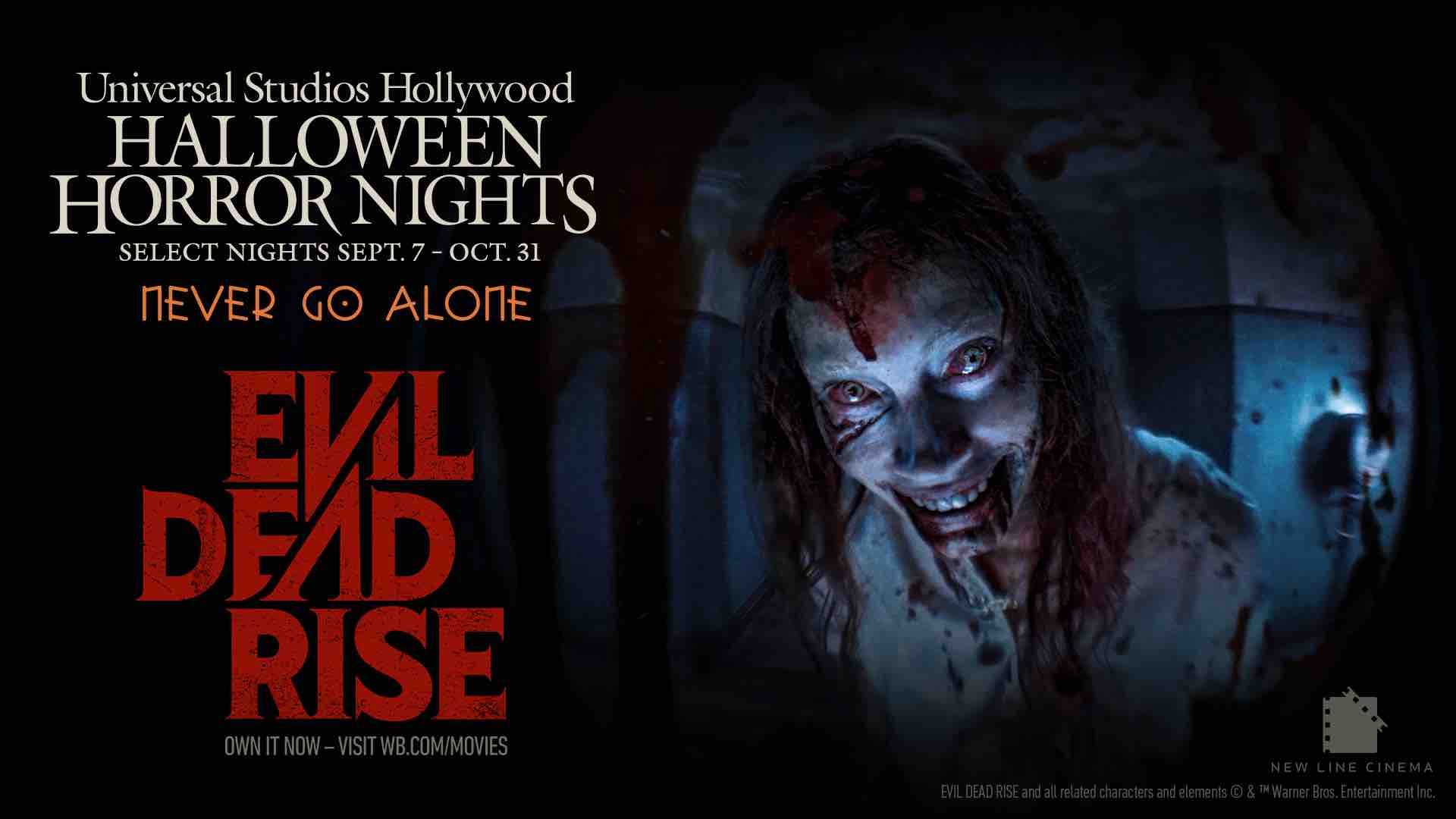 Universal Studios
Universal Studios Hollywood is ready for Halloween with this year's Halloween Horror Nights lineup including the demonic "Evil Dead Rise" and frightening original houses, "Monstruos: The Monsters of Latin America" and "Holidayz in Hell." The notorious "Terror Tram" returns with "Terror Tram…The Exterminatorz" to petrify guests starting Thursday, September 7 and running select nights through October 31.
The full line-up in eight haunted houses and Universal Studios Hollywood's exclusive Terror Tram includes:
· "The Last of Us" engrosses guests in a struggle to survive against fearsome Clickers, Bloaters, and more from Naughty Dog and PlayStation's award-winning video game.
· "Stranger Things 4" transports guests to Hawkins, Indiana where they will face off against the evil Vecna in the fourth season of Netflix's original series.
· "The Exorcist: Believer" invites visitors into a terrifying new beginning in horror, as two families battle a sinister demonic force that has possessed their young daughters.
· "Universal Monsters: Unmasked" expands on the Universal Monsters legacy with horror icons The Invisible Man, Dr. Jekyll and Mr. Hyde, The Phantom of the Opera and The Hunchback of Notre Dame coming together for the first time ever in a chilling new story.
· "Chucky: Ultimate Kill Count" features the infamous slasher doll and his best kills throughout the hit USA & SYFY series and cult classic films.
· "Evil Dead Rise" brings guests to a new twisted tale, based on New Line Cinema's return to the iconic horror franchise and 2023 box office hit.
· "Monstruos: The Monsters of Latin America" includes the most terrifying ghosts and creatures from Latin American folklore.
· "Holidayz in Hell" takes visitors on a petrifying trip through a series of psychotic seasonal celebrations.
· "Terror Tram…The Exterminatorz" puts guests on the world-famous Universal backlot and in the middle of an insect uprising led by the devious Larry Larva whose goal is to exterminate humans from the Earth. Horror fans will also walk along the Jupiter's Claim set from Nope where they will encounter The Tethered from Us in an epic crossover from two of director Jordan Peele's blockbusters.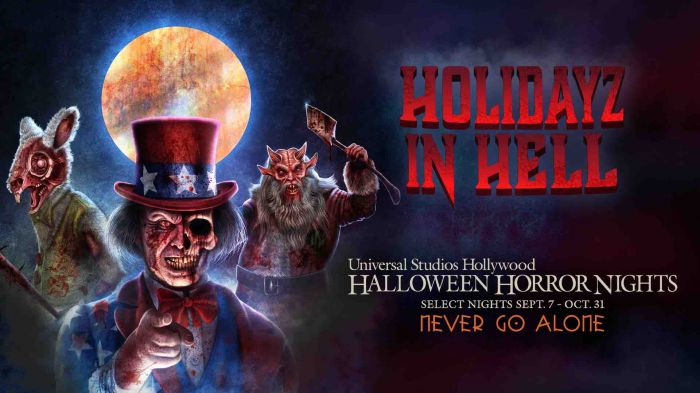 Universal Studios
Horror-themed food and drink items will be available, including:
· "Stranger Things" fans can visit Surfer Boy Pizza for a variety of pizza flavors, Scoops Ahoy for tasty ice cream creations and a new 80's themed Stellar Bar with mixed cocktails.
· Quick service restaurant Hollywood & Dine will transform into a "Chucky"-themed BBQ featuring brisket and Nashville popcorn chicken sandwiches, pulled pork macaroni and cheese, funnel cakes and themed drinks.
· The Carl Laemmle Patio will feature Peacock's Halloween Horror Bar with themed cocktails from The Purge and "Chucky" and photo opportunities with scareactors.
· Universal Plaza will serve up a celebration in honor of Dia de Los Muertos featuring an array of Latin Folklore-themed cocktails, Lil Cocina Taco Stand and a margarita bar.
Horror fans looking to commemorate their Halloween Horror Nights experience can find a selection of merchandised themed to this year's houses, including t-shirts, hoodies, mugs and more.
Guests also can experience select theme park attractions open during the run of event, including "Jurassic World—The Ride," "Transformers™: The Ride-3D," "Revenge of the Mummy—The Ride"and "The Simpsons Ride™."
Additionally, "The Wizarding World of Harry Potter™" will be open during Halloween Horror Nights, inviting guests to experience some of their favorite attractions, including "Harry Potter and the Forbidden Journey™" and "Flight of the Hippogriff™." Returning for another year, Death Eaters™, a group of Voldemort's most devoted followers, will roam Hogsmeade™ village looking to find others willing to show loyalty to the Dark Lord's cause.
Universal Studios Hollywood offers a variety of Halloween Horror Night ticket options, including General Admission, Universal Express, after 2 P.M. Day/Night, the premium R.I.P. Tour, the new Early Access Ticket, which provides access to select haunted houses prior to the scheduled event opening (starting at 5:30 p.m., subject to change), and the popular Frequent Fear Pass and Ultimate Fear Pass. For more information about each ticket type and Terms and Conditions, visit www.HalloweenHorrorNights.com.
Halloween Horror Nights runs select nights from Thursday, September 7 through Tuesday, October 31 at Universal Studios Hollywood and Friday, September 1 through Saturday, November 4 at Universal Orlando Resort.