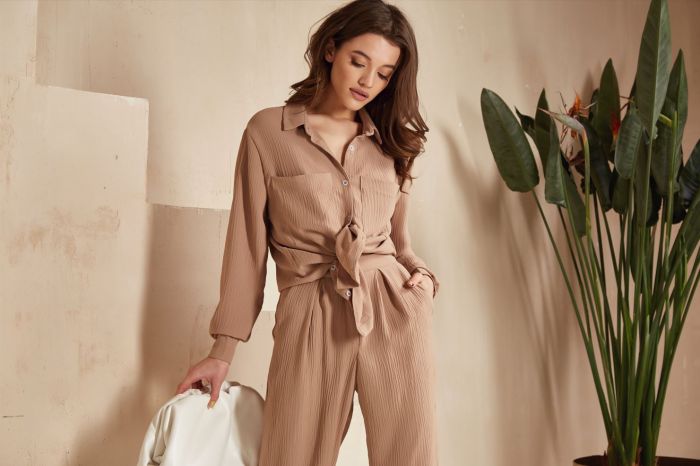 Photo Credit: Shutterstock
At home, you can dress up or dress down, and nobody will see, so why should you care? You can start work just by rolling off your bed and dressing up in a highly sloppy manner, picking up some old clothes here and there.
Or, you can go a little further and work from home in style and comfort. You might get tired of your fleece pants in the long run, so why not invest in a few pieces to upgrade your work-from-home wardrobe?
Comfort is essential when dressing at home, but that doesn't mean you should forgo style.
So here are some tips for dressing comfortably and stylishly with everyday clothes.
Start with the first layer: Don't go with only a t-shirt
The t-shirt is, of course, entirely appropriate. It offers many pros to a lot of people. It's comfortable in many materials, colors, and styles, and it's something everyone has in their wardrobe.
Is there a guide to choosing the right kind of t-shirt? Not really, but you want to invest in quality, structured t-shirts like those found on Lunya. On the other hand, you don't need to wear a formal shirt, and we can all agree that it's not the most comfortable garment. However, a casual shirt with cotton flannel would be the most appropriate choice. You can also alternate some days with a polo shirt for days when you need to show a little professionalism on video calls.
Think knit for the second layer
One of the most straightforward solutions for your second layer is to put on a knit (round neck, turtleneck, cardigan) or a sweatshirt. If your top has a lightly textured material, it's often the best because it adds visual richness to your outfit. If it's cold outside, a sleeveless vest can be added for extra warmth. Sleeveless vests can easily fit over most sweaters.
To be stylish and comfortable, you can look for unstructured jackets or knitted blazers.
Looking at you from the bottom up
Sure, the first thing crossing your mind would be not to overthink it because who else is watching? Even if you're doing a video conference, your chances of sitting are higher than standing. Don't compromise your bottoms with torn-out jogger pants or old boxer shorts. Here are some ways to up the ante with what you wear for pants:
Drawstring pants are an ideal choice.
Jeans are not the first choice when it comes to comfort at home. So, your next comfortable yet stylish choice would be drawstring pants. These pants come in such a broad category that you can find them in cotton twill, chino versions, classic athletic pants, and even cropped drawstring pants.
Drawstring pants are designed to be comfortable, from the adjustable waistband to the cut, leaving just enough room for the pelvis and thighs.
If you're adding drawstring pants to your wardrobe, why not choose a color different from the traditional gray or brown? This can add some texture and choices to your weekday clothing choices. You can also find pants made of chino fabrics with a drawstring waist.
For warmer weather, what about wool jogging pants? These pants are lovely in terms of style and thermal performance. As long as the pants don't constrict you, it's also an excellent choice to combine comfort and style.
Stretch Chinos
Chinos are also an excellent choice if drawstring pants aren't your thing. Firstly, medium-weight stretch chinos are ideal for work-from-home situations. This type of attire can be found everywhere, at all price points. Plus, medium-weight chinos also come with a little bit of elasticity on the waistband that can elevate the comfort level.
Go for corduroy
If you're looking for something a little more structured so you can go in and out of your home without constantly changing, the corduroy pants would be something to look into. This is an incredible option for dressing up at home. Like flannel, corduroy is a very comfortable material on the skin, significantly when temperatures drop.
Stiff, thick jeans are a big NO.
Let's clarify- there's nothing wrong with wearing jeans at home, especially if it's your favorite pair. However, there are more comfortable options than this, especially if your jeans are thick and stiff.
Cozy up with cotton
If you need help deciding what bottoms to go for, one way to choose is by material. There are no problems with wearing cotton clothing at home, and cotton is moisture-wicking, relaxed, and of course, comfortable. Unlike other materials such as wool or leather, cotton offers a variety of options. You can go down in price without compromising the quality of the material.
But that's not the only reason for cotton's undeniable popularity. Here are some others:
It's a natural, breathable material.
It is hydrophilic, so it absorbs moisture quite well and is antistatic.
It is easy to maintain.
It is an all-four-season material
It's also an all-type of budget clothing
Working with wool
Wool is known for its insulating, thermoregulating, and anti-bacterial properties. They are perfect to be worn indoors. Like cotton clothing, you'll also find all types of wool clothing. Compared to cotton, wool has a thermal advantage: it insulates better from the cold and retains less odor. It's also an excellent choice for both fall and winter.
Fleece it up!
Synthetic fleeces like polyester and acrylic have a significant disadvantage: they are not breathable. That is to say; they do not release heat from your body very efficiently.
Therefore, a synthetic fleece garment is not very relevant in environments where temperatures change rapidly (cool in the morning and hot in the afternoon, hot on public transport and cold outside, etc.).
Nevertheless, it is a good option if you are at home. If you're not moving too much, your body temperature doesn't fluctuate too much. So the fleece can play its role in keeping you warm.
Elevating your work-from-home wardrobe requires a few simple investments in quality clothing that you can mix and match with what you already have. Adding a few pieces can genuinely combine style and comfort at home.