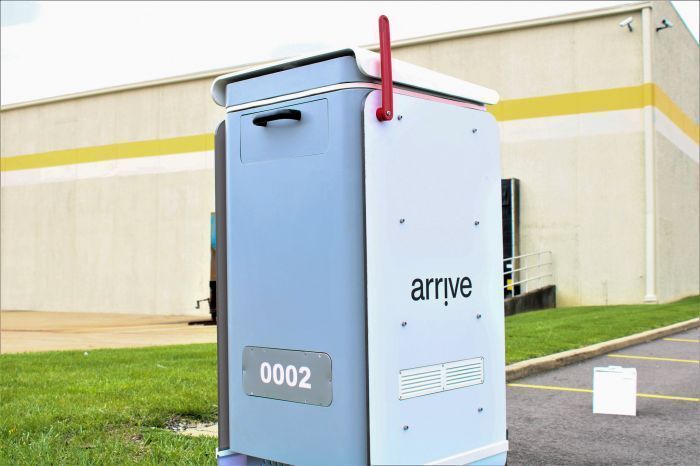 Photo courtesy of Arrive
Dronedek, the pioneer of smart Mailbox-as-a-Service (MaaS) solutions for autonomous delivery networks (ADNs), has rebranded to Arrive and will reveal its new look, along with a second-generation smart mailbox and new service models at XPONENTIAL 2023 in Denver May 8-11.
"Arrive is the only smart, secure and agnostic AND mailbox infrastructure and platform that supports frictionless deliveries and pickups between people, robots and drones," said Arrive CEO Dan O'Toole. "It enables businesses to provide continuous, asynchronous, multi-modal deliveries and pickups across their networks while securing their position at the forefront of autonomous and artificial intelligence (AI) powered logistics."
Arrive COO Mark Hamm said the rebranding dovetails perfectly with the company's latest advances and its support for robotic and drone ADNs.
"The market is moving beyond deliveries and thinking about autonomous pickup and multi-modal networks," Hamm said. "Arrive is the world's first MaaS infrastructure and platform for ADNs. It's the final piece of the autonomous logistics puzzle."
Hamm said customers will be able to seamlessly scale their ADNs with Arrive, thereby maximizing returns and enabling smarter business decisions.
The Arrive crew will celebrate National Tech Day (May 11) throughout XPONENTIAL (Booth #1839) by showcasing its new branding, as well as:
Discussing the company's focus on a healthcare and medical operations vertical and its talks with healthcare industry leaders and innovators working to develop ADNs to provide safer, cheaper and more expedient ways to move everything from surgery kits and custom treatments to human tissue samples for better patient outcomes and more efficient operations.
Demonstrating precision winch and tether deliveries to a Gen-2 Arrive smart mailbox (Arrive Point) as well as Arrive's other solution models:
Arrive Point – a tri-modal cross-dock that enables frictionless pickup and delivery of packages in ADNs between people, robots and drones.
Arrive Bank – several Arrive points working together for commercial or multiple-home dwelling use
Arrive Convey – delivery and pickup from an Arrive Point into and from a building using an integrated conveyor, which is useful for higher-volume medical operations, labs and hospitals, warehouses and fast-food restaurants
Arrive Carousel – larger capacity delivery and pickup from an Arrive Point into and from a "Package Tower" with carousel enabling packages to be repositioned internally for optimal and secure pickup and delivery
Participating at XPONENTIAL: O'Toole is a panelist May 8, starting at 2:50 p.m., discussing intellectual property rights.
Arrive VP of Business Development Lora O'Toole also serves as president of the Rocky Mountain AUVSI Chapter, which is host to XPONENTIAL, considered highest impact gathering of the year regarding autonomous innovation, offering exhibits, workshops, speakers, networking events and more.
"If you're involved at all in autonomous innovation, or you want to learn more about it, you don't want to miss this event," she said. "Arrive is a great example of the emerging tech we'll see throughout the venue."
To learn more, visit the site: https://www.arrive.tech.