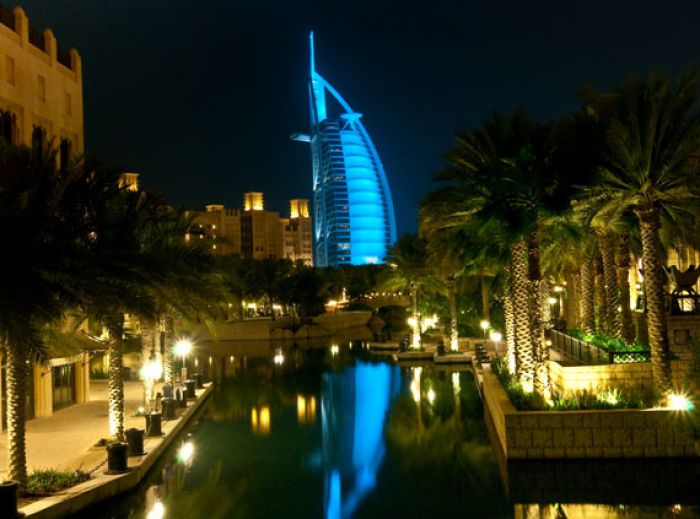 You probably wouldn't consider a city in the middle of the desert to be the world's mecca of luxury. But despite its surroundings, Dubai is the epitome of opulence. At the crossroads of Europe, Asia, and Africa, Dubai has no shortage of magnificent architecture, superb cuisine, and every amenity imaginable. Here, the extreme luxury is the point, and no expense is spared toward proving that this city is unparalleled in its extravagance. Here's why Dubai is the ultimate experience in luxury.
If you're looking for the most luxurious VIP accommodations in the world, look no further than the iconic Burj Al Arab. One of the most photographed sites in the world, the Burj Al Arab defines contemporary architecture and stands as the most opulent hotel in the world. No detail is overlooked for guests spending a night or more in the hotel and that's the reason for staying here. For those looking to arrive in style, Burj Al Arab offers an arrival package that can't be matched, as guests enter the hotel's private island off the mainland by either a chauffeured fleet of Rolls Royce or, alternatively, by a helicopter transfer service. Guests are treated as royalty (and many are, indeed, royals) throughout their entire stay, with every amenity imaginable at their fingertips, including private butlers.
Dining is another experience that cannot be missed in Dubai. You'll find five-star quality cuisine from all across the globe. In a city native to Muslims whose religion prohibits them from drinking alcohol, the most expensive and decadent wines are readily available. Little of the food is native to Dubai, but a traveler can find anything she desires here in this land of luxury and indulgence.
Even the well-traveled shopping aficionados will find shopping in Dubai on par with the best venues in the world. Dubai has been called "the shopping capital of the Middle East" and it's no secret why. The Dubai Mall, the world's largest shopping mall, is essentially a city within a city, featuring nearly every major fashion brand in the world. Don't look for bargains here as the products are imported into the city, and besides, you're in Dubai, so who cares about cost, right? And the high-end brands are just the beginning of this shopping adventure that includes world-class dining, an indoor ski resort (yes, with lift, slopes and distichal-clad, sandal-sporting attendants toasty inside their parkas), theme park, aquarium, and so much more.
Finally, the proof that luxury living is alive and well in Dubai is found in the lush, green golf courses that are literally everywhere. Consider that Dubai sits in the middle of the desert, where water is not exactly in abundance, and you'll soon understand why all of this living, manicured turf is a sign of opulence and splendor. And they're surrounded by lavish and gorgeous botanical gardens, resplendent with every sort of tropical plant and flower. I'm talking about green as a rainforest, despite the fact that the heat can rise to 55 degrees Celsius (that's 140 F!) and rain is rare.
In my years of experiencing vastly different countries and cultures, I have not found another city quite like Dubai. It's an anomaly, a city of superlatives - the fastest, biggest, tallest, largest, and highest. The most expensive, most famous, most outrageous, you name it, it's there. You might visit Parisfor the art, culture, cuisine and fashion, and you might choose to stay at the Ritz or some other amazing hotel. You would visit Dubai because you want to see, for yourself, what over-the-top luxury means because here, luxury is the entire experience. This is the reason you visit, and take it from someone who knows. You will definitely not be disappointed with what you discover there. If you could only take one more trip in your lifetime and want an unparalleled lavish experience, Dubai is the way to go.