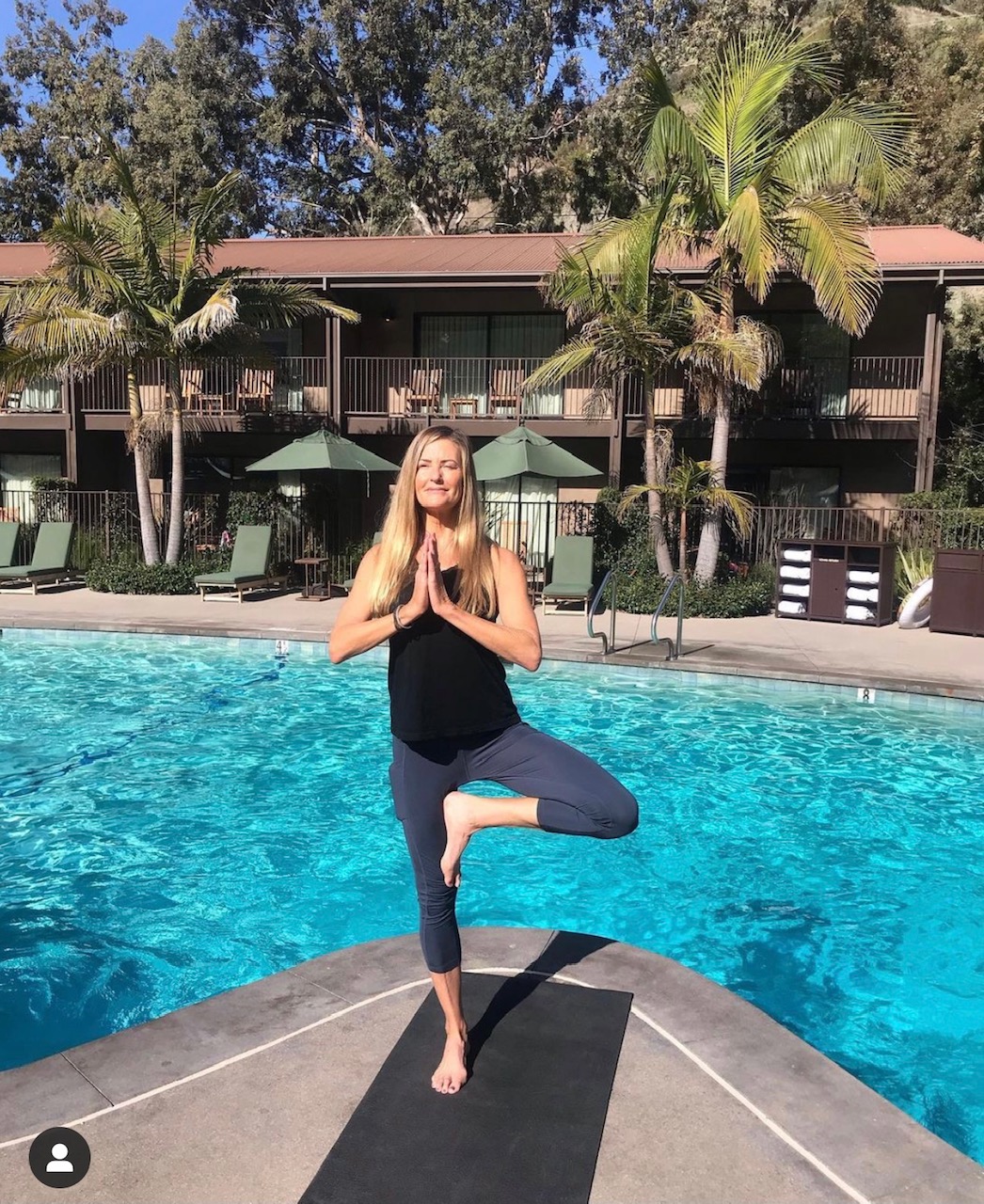 Jill Weinlein
Driving off Coast Highway in South Laguna Beach one will notice a wood sign displaying The Ranch. Turning onto the driveway, one can feel the coastal breeze as they enter a resort hidden from the street.
Set among the 9-hole Ben Brown golf course in Aliso and Wood Canyon, The Ranch is where the canyons meet the sea. Offering 97 renovated guest rooms, The Ranch is all about relaxing, renewing and recharging for Easter and Spring Break. Couples and families can participate in a multitude of wellness opportunities including outdoor morning yoga by the pool and fitness classes near the sand volleyball court. Play a round of golf or walk down to the beach for breakfast and a beach walk.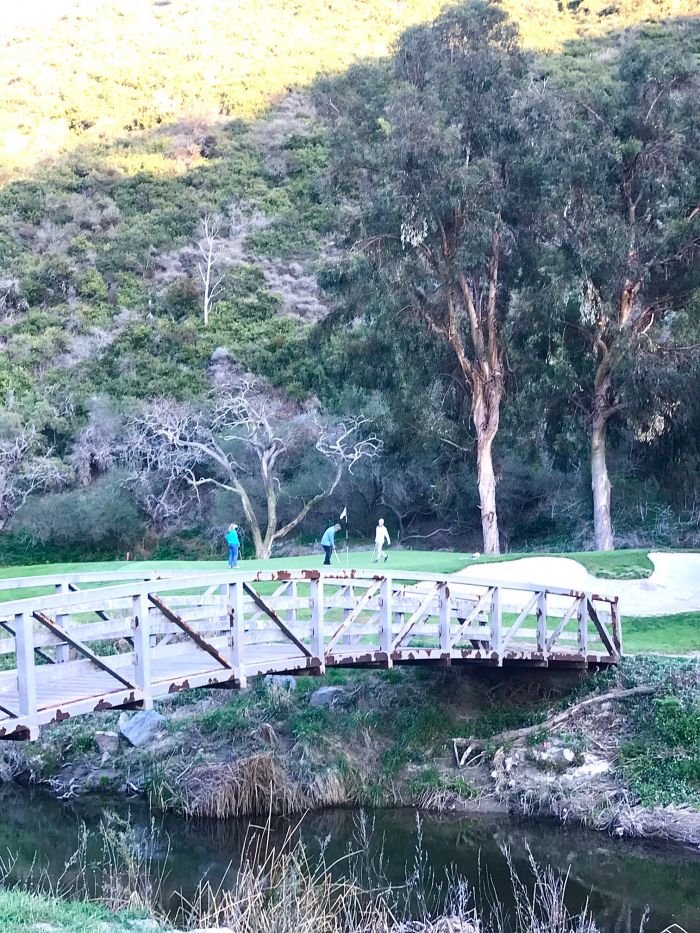 Jill Weinlein
There is a lot of local history at this resort, starting in the 1940s when William "Bill" Bryant purchased the 87-acre site within Aliso Canyon and built a 9-hole golf course within the dramatic canyon walls. He named it the Laguna Beach Country Club and it became a local favorite. In 1956, Ben and Violet Brown purchased the golf course and soon built a destination resort, naming it Laguna Beach Country Club and Village. In the village, Brown opened Ben Brown's restaurant and a new golf shop. Later in the 1970s, it was renamed Ben Brown's Motel and Golf Course.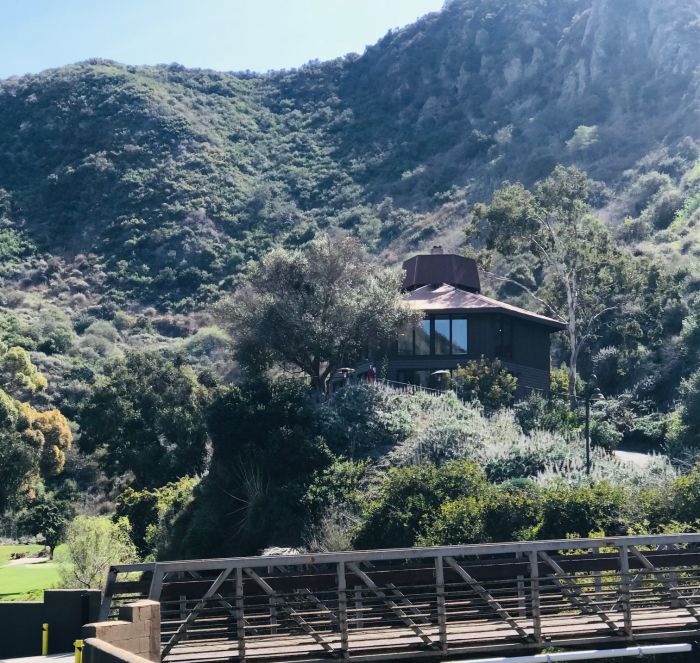 Jill Weinlein
The Browns built themselves a wood Pentagon-shaped house above the resort's golf course. In 1978, it became the Aliso Creek Inn and Golf Course and then in 2003, locals who formed Aliso Creek Properties purchased the property, put some money into it and introduced The Ranch - a resort for all to unwind and take in the beauty.
One of the owners, Mark Christy, a lifetime Laguna Beach resident and owner of Hobie Sports, had a vision for The Ranch in decor and feel. Inspired by the historic Crystal Cove Cottages and Laguna Beach community, "There is something genuinely magical and timeless about this natural setting," Christy says. "I really don't believe that there is anything comparable in Southern California. With that in mind, we plan to preserve its integrity while embracing the future."
Christy renovated the Brown's home with some modern touches and renamed it The Treehouse. Open the private gate to enter the single family home perfect for families, bridal parties, romantic getaways, reunion groups. The two-level, 1,600 square foot home, still reflects some of the 60s and 70s decor and features. There are two bedrooms, three bathrooms, a full kitchen, an expansive wraparound deck, a living and dining space, and floor-to-ceiling windows offering spectacular golf course and canyon views. It's remote and away from the rest of the guest rooms, yet guests have a personal golf cart to use to travel up to Harvest for dinner.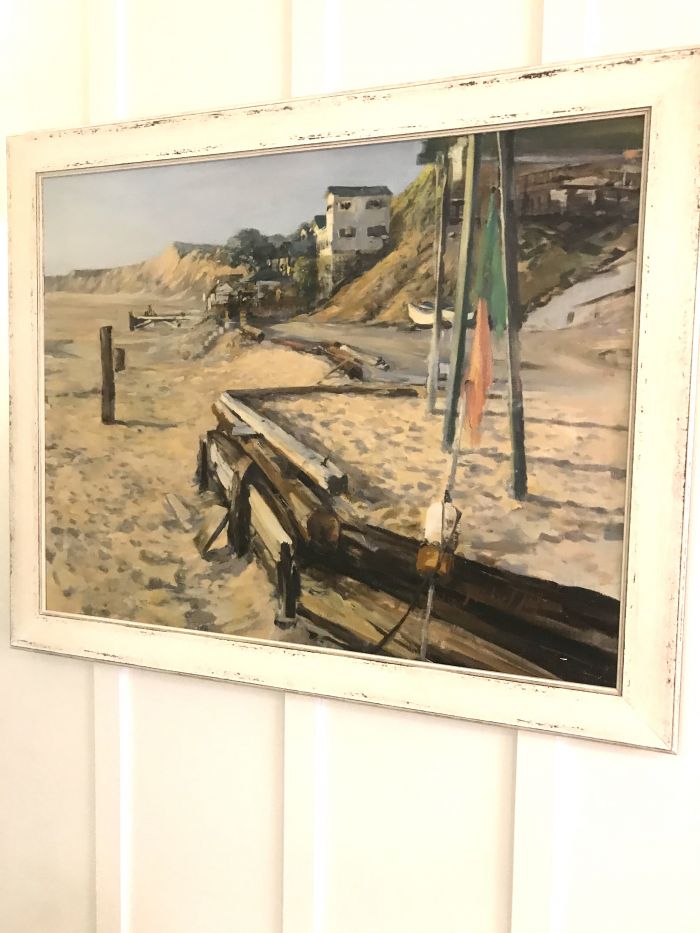 Jill Weinlein
Four years ago, the owners took the property down to the studs and hired local Interior Designer, Laurie Alter to enhance each room with a coastal-centric design. Alter founded Tuvalu Home, a décor destination and design studio located in downtown Laguna Beach. Her vision for The Ranch was to intertwine the history of the iconic property and the comforts of a modern day beach cottage living.
Throughout the property and guest rooms, there are a variety of Laguna Beach's famous Plein Air paintings displayed offering realistic beach and canyon scenery.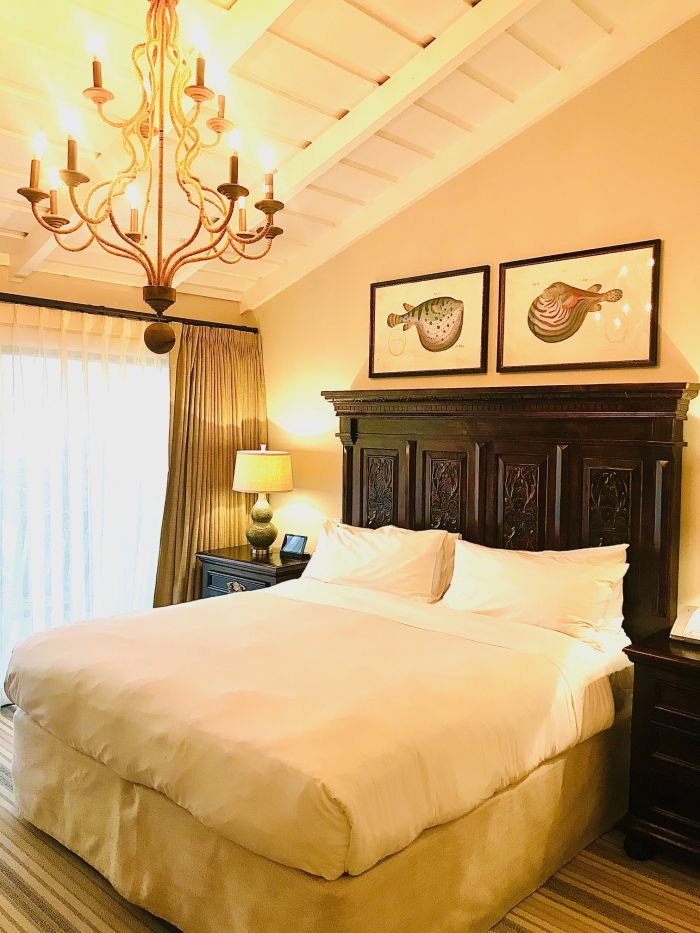 Jill Weinlein
Canyon rooms offer 410 square feet of interior space and a sliding door leading to an outdoor patio. Coastal appointed rooms have either a King bed or two Queen beds, and beautifully Spanish tiled bathrooms offering upgraded bath amenities, an oversized walk-in shower, dual vanities and mirror.
The Ranch also has two-story cottages featuring 1,125 interior square feet and over 300 square feet of outdoor space. Besides a half bath downstairs, there is a full bath and two bedrooms upstairs. One room has a king bed and a door leading out to a balcony overlooking the golf course. The other bedroom offers a queen bed and views of the canyon. The large downstairs area is beautifully appointed with a step down living area with a sofa, table and chairs, plus a dining table and bar area offering coffee and tea service.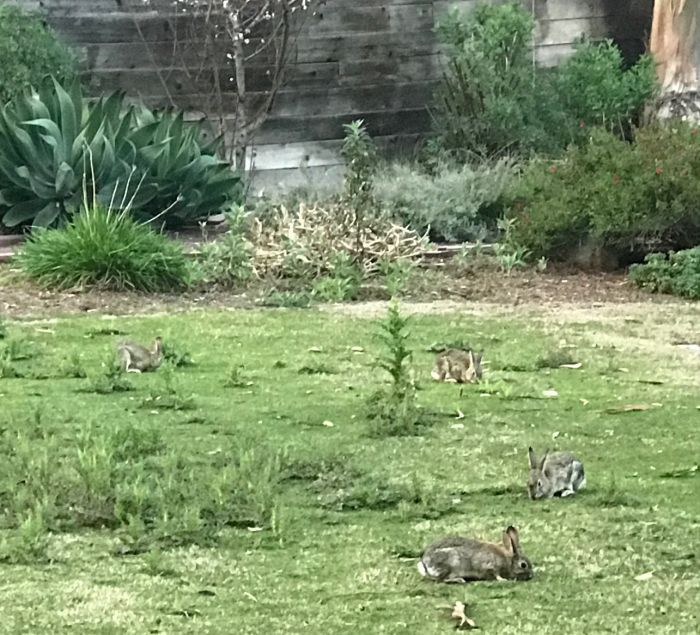 Jill Weinlein
Onsite beyond the golf course is a half acre, Farmer Leo's Garden by the Sea. Not only do flowers, herbs and produce grow here, but Chef Kyle St. John also visits the garden daily to enhance his culinary delights and offers the onsite bar freshly picked garnish for the creative cocktails.
Guests have the opportunity to tour Farmer Leo's Garden by the Sea on certain days of the week. Bunny sightings are frequent, especially during Easter and spring.
This area was once the Elizabeth Dolph Girl Scout Camp in the 1920s to the 1950s. During the summer, The Ranch captures the adventure and spirit of summer camp under manicured eucalyptus groves. Guests can enjoy the serenity in this revitalized and environmentally preserved space for weddings or events.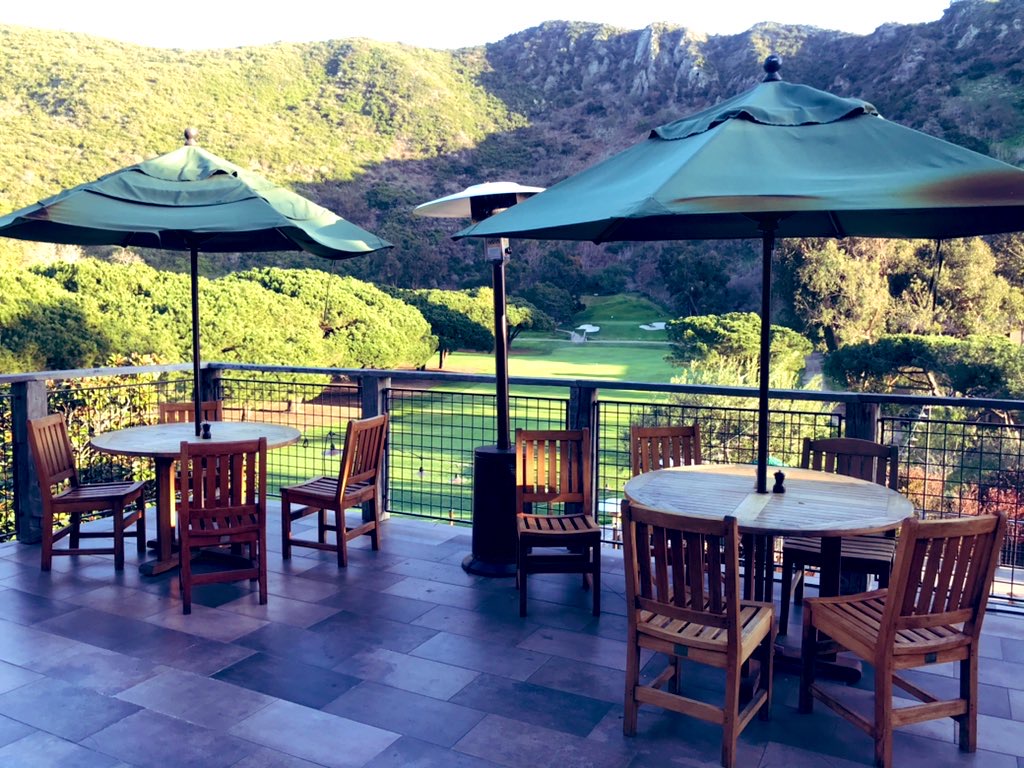 Jill Weinlein
The Porch is a popular spot for brunch and a beverage after a round of golf. Offering gastropub fare and an innovative handcrafted cocktail menu, as well as an enticing wine list and 18 craft beers on tap. The nearby Harvest offers a more fine dining menu with tables inside and outside overlooking the stunning beauty of Aliso Canyon and the first and last holes of the golf course.
Local musicians entertain guests daily by performing various musical genres including classic rock, jazz, acoustic twist Top 40, soul, blues and folk music. Find a spot next to one of the firepits to enjoy Executive chef Kyle St. John's seasonal dishes layered with pleasing flavors. He skillfully integrates fresh herbs, fruit and vegetables with fresh grilled fish and proteins artfully.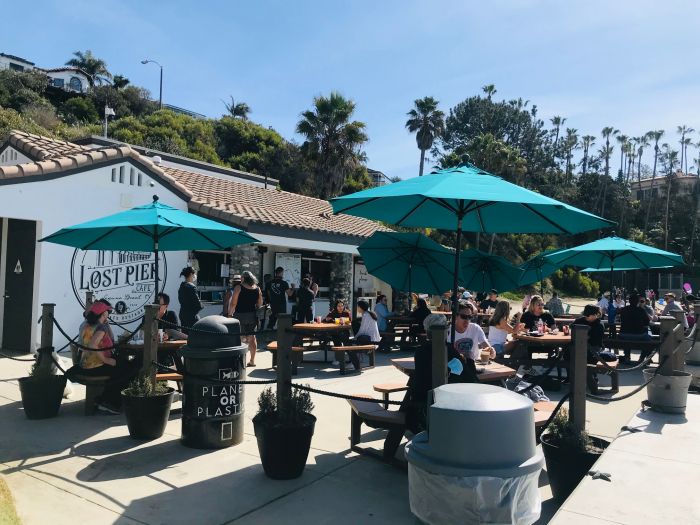 Jill Weinlein
Take one of the resort's golf cart shuttles or walk 350 yards along the resort's designated walking pathway to Aliso beach. There are stairs leading down to a tunnel along Aliso Creek, under Coast Highway to the beach.
The Ranch has its casual beachside Lost Pier Cafe, where guests and locals dine under turquoise umbrellas next to the sand. This is a public beach and popular during sunset, weekends during lunch and the summer months.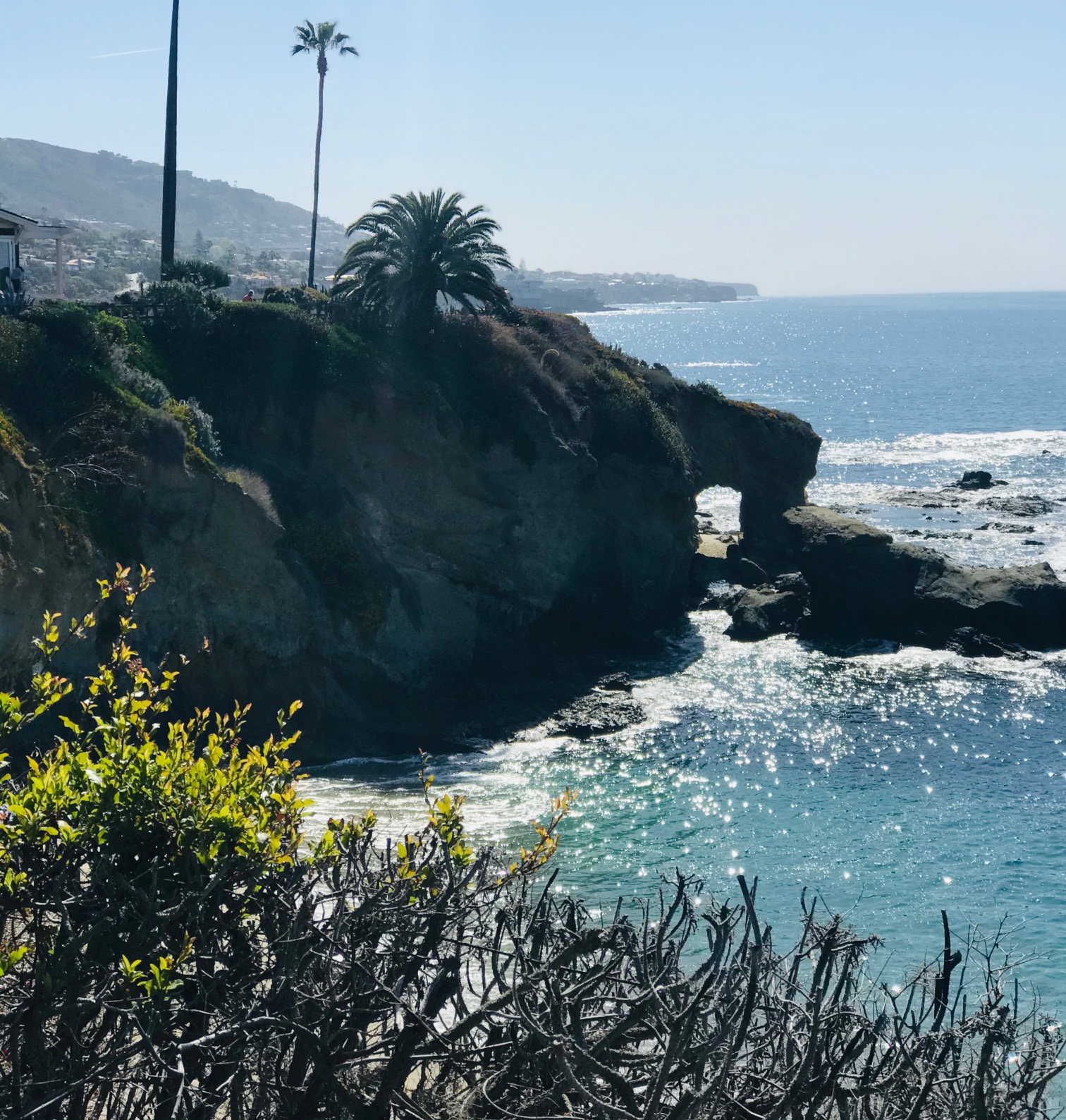 Jill Weinlein
Afterward, take a walk along the water's edge to Treasure Island Beach. This is one of the most striking stretches of land in Laguna Beach. Start at Aliso Beach Cove and walk north up to a paved pedestrian walkway along the bluff to see a dramatic archway. This is Middle Man Cove and beyond is Goff Cove Beach. The pyramid-shaped rock formation at the point is Goff Island. When the tide is low, there are tide pools all around this protected area. Beyond Goff Cove Beach is Christmas Cove Beach. The Montage Laguna Beach Resort takes care of the beautifully manicured landscaping along this stretch of Treasure Island Park.
The Ranch encourages guests to press pause, and enjoy the beauty of Laguna Beach from sunrise to sunset.
Specials include stay two nights and save 15%, stay three or four nights, save 20% and stay five nights and save 25%. Valid for select stay dates through May 27, 2021.