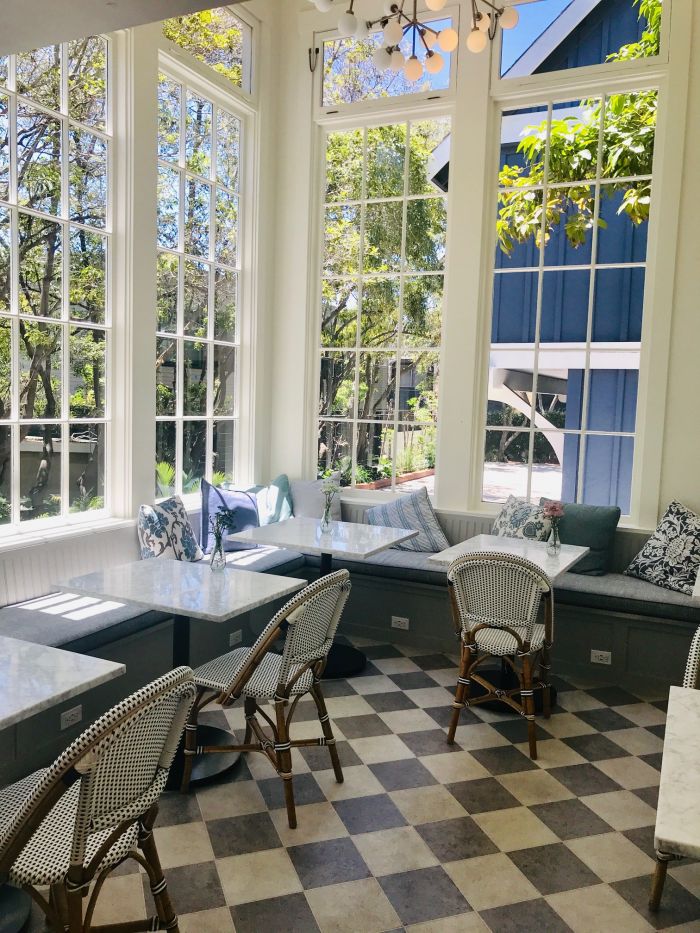 Jill Weinlein
An enhanced 1908 California Craftsman home and carriage house was recently turned into a nine-room Hideaway Santa Barbara hotel by Kirkwood Collections. Located in the West Beach area on Montecito Street, it's within walking distance to the Funk Zone for wine tasting, a short stroll to the iconic Santa Barbara wood pier, Santa Barbara City College, and Santa Barbara train depot.
The historic home was extensively renovated and opened in June 2019. Walking into the front door, there is a light and bright solarium featuring triple-height windows allowing natural light inside. Guests sit below a custom art bird installation while enjoying a complimentary European breakfast served daily starting at 8 a.m. This pretty room is also an ideal workspace during the day, and a relaxing lounge to rest with a glass of wine at sunset.
Nearby a large skylight illuminates the slatted wood reception desk, fireplace and seating area. There is a small kitchen nearby for a personal chef to prepare a different breakfast each day.
The elegant beach decor in this boutique hotel by Michelle McClory, Kirkwood Collection's design director, offers a coastal palette of white, sea foam green and blues. The light wood flooring, along with contemporary furnishings is similar to a multi-million dollar Santa Barbara home.
Guest room number 3 is soothing yet sophisticated, offering multiple windows upstairs on the second floor with a high ceiling and open loft. The color palette includes sand, cool white, grey and soft mint green. The air-conditioned room has a large king size bed with luxury bedding, a 55" LED display with Apple TV & DirecTV, JBL Bluetooth clock radio, writing desk with views of trees and the historic Victorian Queen Anne designed Fernald Mansion. In the closet is a dual-zone wine cooler mini-fridge. This room didn't have a fireplace, however, six of the rooms do include a fireplace and a separate seating area.
The reception staff offers a map and directs guests to the nearby Funk Zone, home to numerous tasting rooms including Pali Wine Co. Around 4:30 p.m. the staff offer guests complimentary flutes of champagne with pours from the local Stanford Winery, along with sparkling water and homemade and freshly baked cookies.
Kirkwood Collection has various boutique properties across California. Besides Santa Barbara, they have properties in Palm Springs, Rancho Mirage, and San Luis Obispo.
To book reservations or learn more about Hideaway Santa Barbara,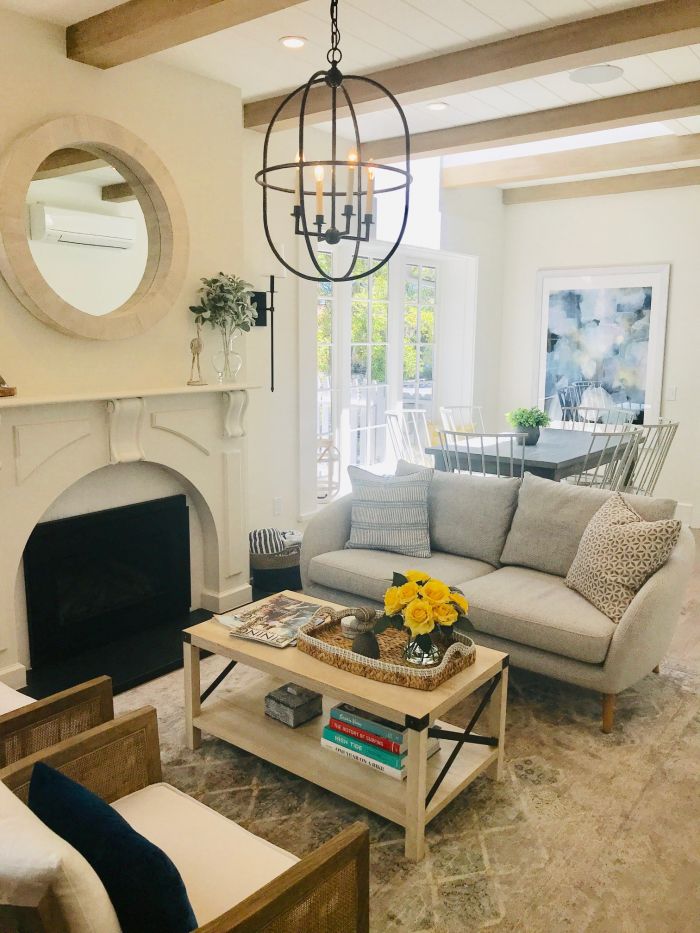 Jill Weinlein
The common area offers comforable elegant coastal decor similar to one of the mutl-million dollar homes in Santa Barbara.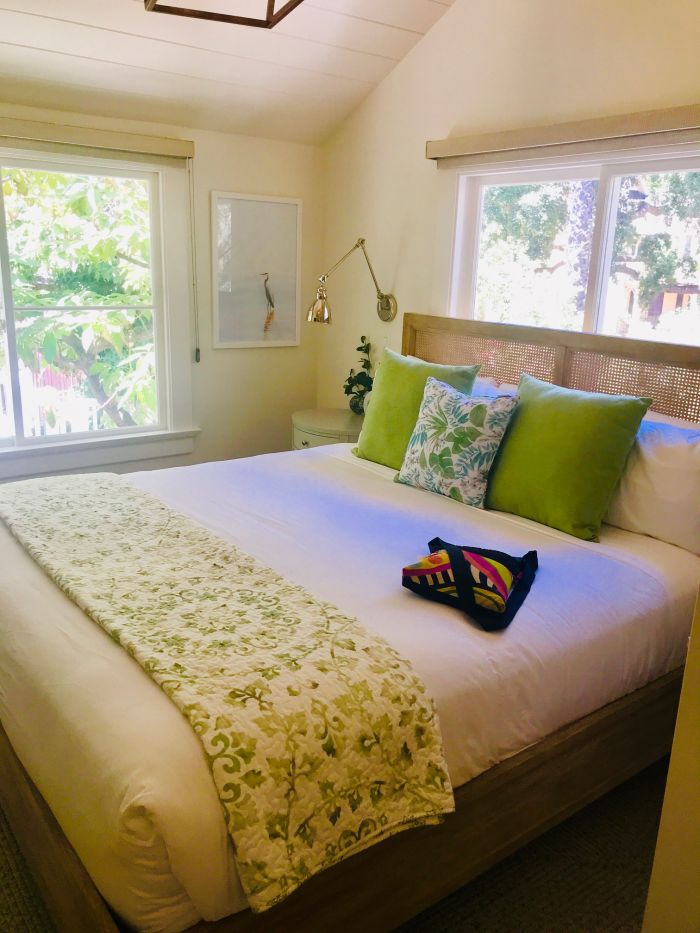 Jill Weinlein
The second level room #3 offers tree views, almost as if your were staying in a treehouse in Santa Barbara.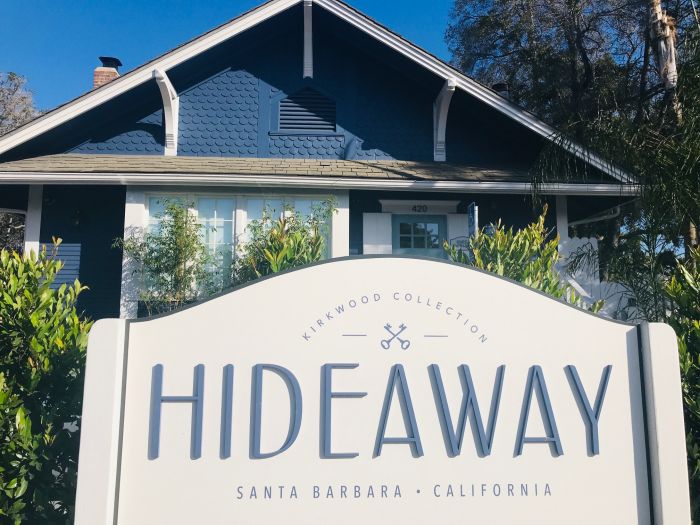 Jill Weinlein
Hideaway Santa Barbara is located near Santa Barbara City College, the iconic pier, the Funk Zone wine blocks and Santa Barbara train station.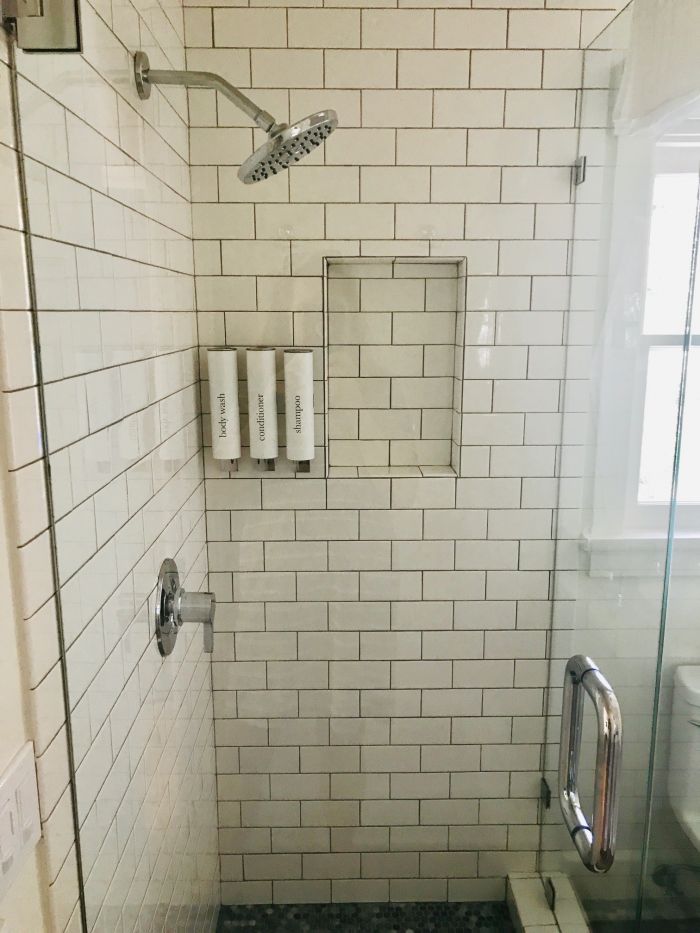 Jill Weinlein
The spacious shower offers a large shower head and elevated bath products.