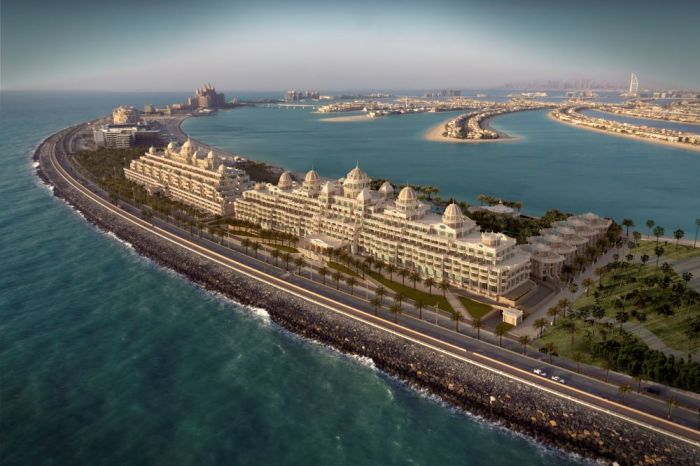 Kempinski
Dubai boasts a plethora of opulent hotels, but Emerald Palace Kempinski Dubai is extraordinarily lavish, even by local standards. From the foundation of its first hotel in 1879, the Kempinksi Group has sought inspiration from the palace of Versailles, and Emerald Palace Kempinski Dubai is a striking statement of ancien regime architecture reinterpreted through the lens of a cutting-edge luxury hotel.
Opened in 2018, this majestic property is also one of the newest in the city, and occupies a coveted spot on the West Crescent of the Palm Jumeirah, one of the world's largest man-made islands. The hotel overlooks the Arabian Gulf and affords a fabulous view of the Burj Al Arab, Burj Khalif and the Dubai Marina Skyline. It would be easy to spend a month here without leaving the hotel grounds – such is the variety of dining options and diversions on-site - but it is only a five minute cab journey to nearby Aquaventure, whilst Dubai Marina, Mall of the Emirates and Downtown Dubai are all accessible in under twenty minutes by car, and Dubai International airport is around 35 minutes' drive from the hotel. A variety of airport transfer vehicles are at guests' disposal, ranging from a BMW 7 Series to a Rolls Royce.
From the instant we arrived, we were impressed by the regal hotel lobby, which features a grand atrium hand-painted in 24-carat gold-leaf, a glittering chandelier encrusted with 40,000 Swarovski crystals, and eight spectacular marble columns crafted from rare pink Portuguese marble. The neoclassical grandeur holds sway throughout the hotel and grounds, with custom-designed furniture, classical friezes and landscaped gardens inspired by the Palace of Versailles. When we visited in December, the hotel was also decked out flamboyantly for Christmas, with gigantic, shimmering Christmas trees in the main lobby and outside Le Jardin restaurant.
We were shown to our room – a Junior Suite Ocean View, which was fit for Louis XIV with its sweepingly high ceilings, crystal chandeliers, platinum furnishing and a capacious outdoor terrace. The hotel offers some of the most spacious rooms in Dubai; even the entry-level Deluxe Rooms are around 63 sq m in size, and come with expansive balconies, walk-in wardrobes, lounge areas, and vast marble bathrooms with separate showers and tubs, twin vanities and gorgeously perfumed Salvatore Ferragamo toiletries. For even more stately splendour, there are suites with separate living rooms and bedrooms, or stand-alone four- or five-bedroom Royal or Imperial villas flanking the gardens with their own rooftop or outdoor pools. Regardless of category, however, each room in the hotel is serviced 24 hours a day by a dedicated butler.
Indeed, impeccable service is in evidence throughout the hotel, from the signature 'Lady in Red' ambassadors who greet guests and can personalise your stay even before arrival, to the efficient butlers who are happy to unpack your suitcases or make reservations. Staff go above and beyond – a charming Lady in Red named Selina even made some personalised colouring books for our girls, and delivered them, along with a little hamper of paints and colouring pencils, to our delighted daughters.
The youngest guests are taken exceptionally good care of at Emerald Palace Kempinski Dubai. This is without doubt the most family-friendly resort in Dubai, and little princes and princesses get the royal treatment with mini bathrobes and slippers and a turndown sweetie service from a royal carriage. Restaurants offer varied children's menus and activity packs full of colouring books, pencils, stickers and paper crowns. The cavernous Little Kingdom kids' club has its own soft play room, art and crafts section and activities like regal dress-up and mini medieval banquets, while teenagers have their own space with video games, arcades and football. My daughters spent many happy hours there, and parents may leave their children unattended from the age of four. I would have absolutely no qualms about leaving my children in the hands of the cheerful and competent staff we encountered in the Little Kingdom.In terms of facilities, there are myriad options. Guests can enjoy a movie in the 80-seat private cinema, play a round at the 18-hole putting green, take a dip in the outdoor lagoon pool or the city's largest (18 metre) heated indoor pool before booking in for a treatment at the Cinq Mondes Spa, a sanctuary with 23 treatment rooms, traditional deep-soaking Japanese wooden bathtubs, separate male and female hammams and a vitality pool. There is also an excellent fitness centre, equipped with state-of-the-art equipment, for those of an energetic disposition, like my husband, who reported the facilities to be extremely spacious, with an abundance of machines and equipment.
There are also numerous dining options to choose from. The hotel contains eight restaurants and lounges, including the elegant Le Jardin, overlooking the gardens where European breakfast dishes such as pastries, cheeses and eggs are served alongside Arabic mezze and dim sum. Palatial Blüthner Hall with its marble columns, red drapes and grand piano serves themed afternoon teas, while laid-back Villamore is the spot for fresh, organic Mediterranean fare and fish dishes. For a unique dinner experience try All'onda where Italian dishes get a Japanese or Indian twist like king prawn risotto with Madras curry and lobster tagliatelle with white miso butter or experience miX by Alain Ducasse, the Michelin-star chef's first restaurant in Dubai, which offers a menu of seasonal French dishes.
The inexorable pace of expansion and development in Dubai means that a new hotel needs a very special concept to set itself apart from its competitors. In a city which is constantly pursuing the latest superlatives of architecture and luxury, this resort truly stands out. Emerald Palace Kempinski Dubai is right at the top end of the market, and with its outstanding service, enormous rooms, exquisite interiors and unrivalled dining and leisure facilities, it is definitely worth the splurge.
Emerald Palace Kempinski Dubai, Crescent West, Palm Jumeirah, Dubai, United Arab Emirates.
For further information, and to book, please visit: https://www.kempinski.com/en/dubai/emerald-palace-kempinski-dubai/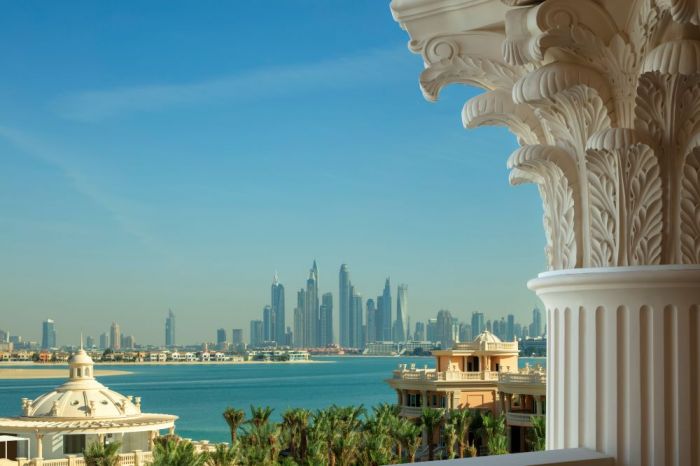 Kempinski
View of the Dubai skyline from Emerald Palace Kempinski Dubai.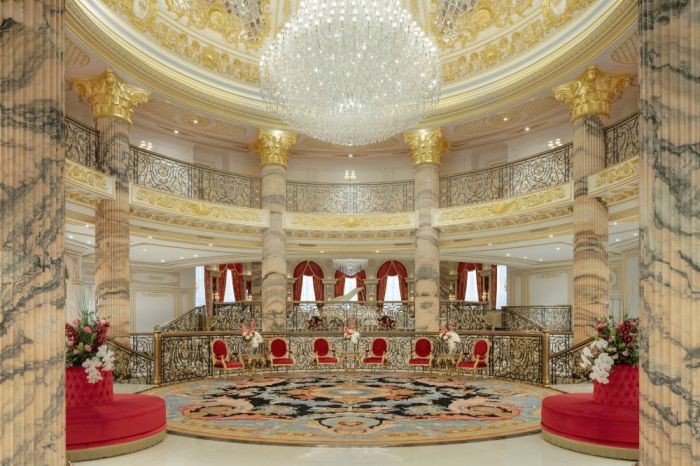 Kempinski
The breathtaking lobby of Emerald Palace Kempinski Dubai.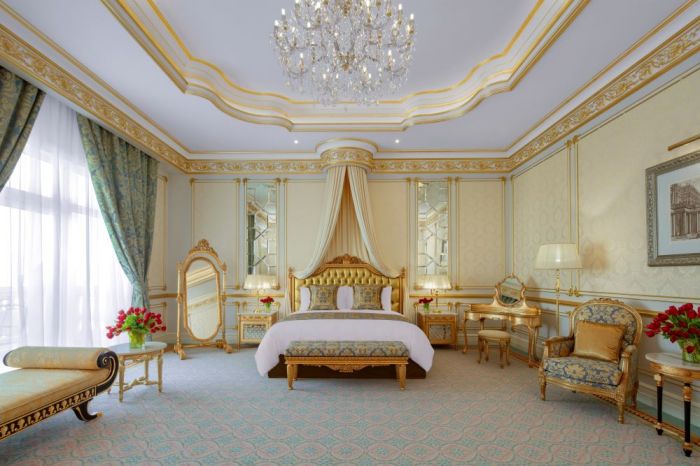 Kempinski
The Royal Suite's master bedroom.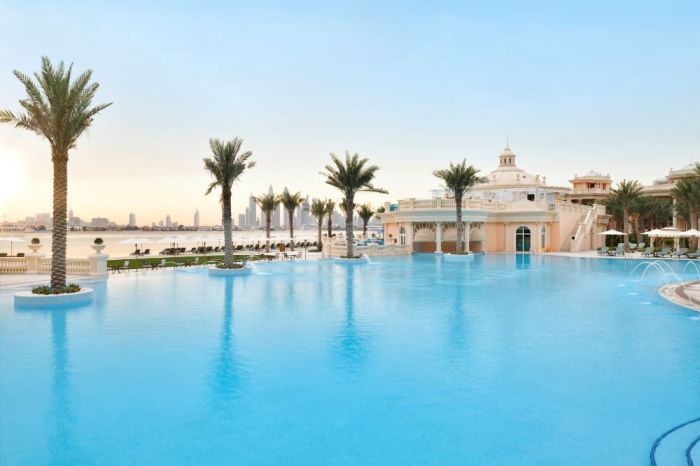 Kempinski
The majestic infinity pool and beach.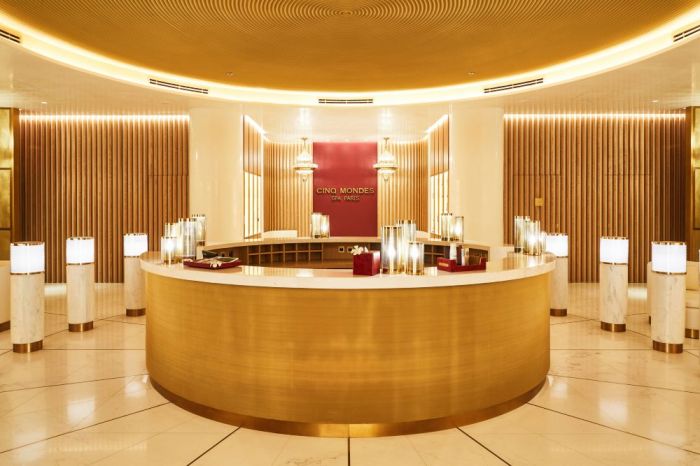 Kempinski
The reception of the Cinq Mondes Spa at Emerald Palace Kempinski Dubai.